Amit Shah defends Citizenship (Amendment) Bill, slams Congress' past
Amit Shah defends Citizenship (Amendment) Bill, slams Congress' past
Dec 09, 2019, 06:58 pm
3 min read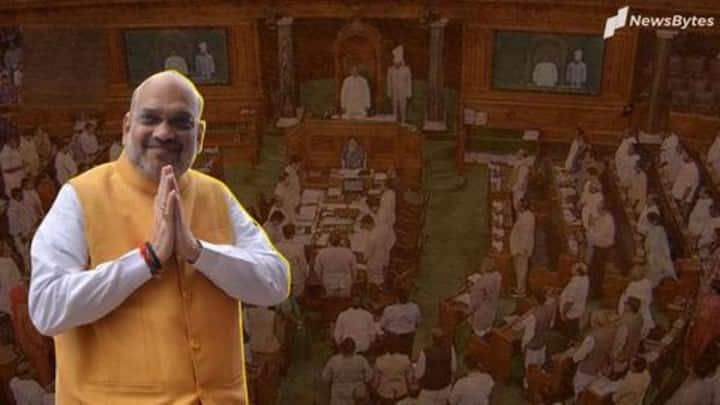 The Citizenship (Amendment) Bill seeks to correct Congress' mistakes, said Union Home Minister Amit Shah on Monday as he defended his government's decision to give Indian citizenship to persecuted non-Muslims from neighboring countries. Saying that the Bill is not unconstitutional, Shah reminded of Congress' previous actions. To note, Bill's introduction got 293 AYES and 82 NOES, paving way for discussions. Here's what happened.
What will happen if Citizenship (Amendment) Bill is passed?
If passed in both the Houses, the Bill will give Indian citizenship to persecuted Hindus, Sikhs, Buddhists, Jains, Parsis and Christians of Pakistan, Bangladesh, and Afghanistan. This Bill seeks to make changes in the Citizenship Act, 1955 and has evoked massive protests in the Northeast. Citizenship being a sensitive topic, residents feel this proposed law will impact the area's demography.
Shah said Bill seeks to rectify Congress' mistakes
Just like Northeast residents, several opposition parties are up in arms against the Centre, opining that the Bill targets a particular community and is bigoted. Dismissing these charges, Shah said the Bill was necessitated as Congress divided the country on religious grounds decades ago. "The Citizenship (Amendment) Bill wouldn't have been needed if Congress had not allowed partition on basis of religion," he said.
Congress discriminated against Hindus and Muslims, claimed Shah
"It was the Congress who discriminated between Hindu and Muslim refugees. The claims that this Bill has taken away the rights of the Muslims are wrong. In Afghanistan, Pakistan and Bangladesh, the Hindus, Sikhs, Buddhists, Christians, Parsis, and Jains have been discriminated against," he said.
Were Indira Gandhi's actions also unconstitutional, asked Shah
Taking a leaf out of history books, Shah reminded that late Prime Minister Indira Gandhi gave Indian citizenship to Bangladeshi refugees in 1971. "Was her move also unconstitutional? These protests cannot continue as the government has been elected for five years, you will now have to listen to us," he said, and claimed none of the articles are being violated due to the Bill.
Muslims can get citizenship, but won't be favored, clarified Shah
HM Amit Shah: If any Muslim from these three(Afghanistan,Pakistan,Bangladesh) nations, applies for citizenship according to our law, then we will consider it, but the person won't get benefit of this amendment as the person has not faced religious persecution pic.twitter.com/MmbKXFdvZ4

— ANI (@ANI) December 9, 2019
Earlier, several MPs opposed the Bill, called it divisive
Earlier in the day, Saugata Roy of the Trinamool said the Bill was divisive and not what the country's founding father envisioned. Separately, AIMIM's Asaduddin Owaisi urged Speaker Om Birla to save the country from such laws, and also Shah. He said the Home Minister might be likened to Hitler. Subsequently, calling the language unparliamentary, Birla expunged these remarks of Owaisi.