Rajiv Gandhi remark: Congress asks EC to act against Modi
Rajiv Gandhi remark: Congress asks EC to act against Modi
May 06, 2019, 11:12 am
3 min read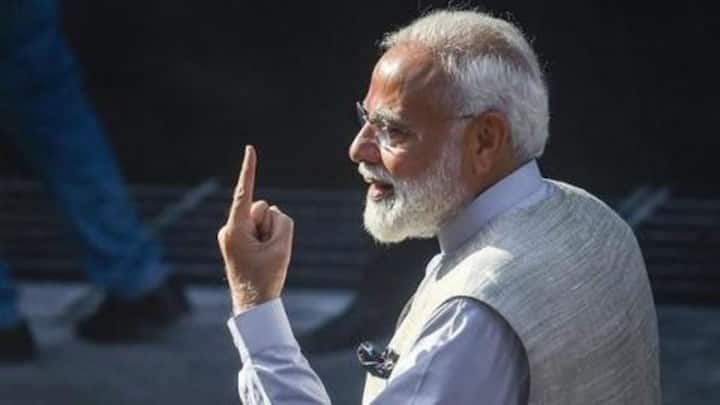 The Congress has complained to Election Commission asking the body to take action against Prime Minister Narendra Modi for his choice of words against former Prime Minister Rajiv Gandhi. Congress told EC that PM Modi not only violated Model Code of Conduct (MCC) but also insulted a Bharat Ratna awardee. The party wants EC to ban PM Modi from addressing rallies. Here's what happened.
Backstory: PM Modi called Rajiv 'brashtachari number 1'
On Saturday, PM Modi used Rajiv's name to attack Congress President Rahul Gandhi. He said the former PM died a "brashtachari (corrupt) number 1" and only his courtiers thought Rajiv was "clean". Soon, Congress erupted in anger and slammed PM Modi. Rajiv's son Rahul took to Twitter to tell PM Modi that "Karma is awaiting him" and sent him hugs.
Congress wants EC to ban PM Modi from rallies
PM Modi was apparently referring to Bofors scam which shed a poor light on Rajiv's tenure. Allegedly, Gandhi Sr. and his accomplices received kickbacks in return for defense deals of India. Taking offense at PM Modi's words, Uttar Pradesh Congress Committee wrote, "We appeal the EC to take action against Prime Minister Narendra Modi by barring him from speaking at public rallies."
Notably, EC gave PM Modi and Shah clean chits
Notably, EC on Sunday gave clean chits to PM Modi and BJP president Amit Shah in connection to all pending complaints. Last week, Supreme Court had ordered the polling watchdog to expedite complaints against the duo after Congress MP Sushmita Dev filed a petition. Dev claimed EC was biased towards PM Modi and Shah. The matter is also listed in SC for Monday.
Meanwhile, Several union ministers opined PM Modi was right
While Congress fumed over PM Modi's remarks, BJP leaders didn't find anything wrong. Union minister Prakash Javadekar said, "Now the brother-sister have started hurling new abuses. Whatever the prime minister said is true." To recall, Priyanka Gandhi Vadra also slammed PM Modi and said the country would not forgive treason. Finance Minister Arun Jaitley also came out in PM Modi's support.
Jaitley reminded Indira Gandhi was murdered to make his point
Backing PM Modi, Jaitley put out a series of tweets. In one of his tweets, he wrote Indira Gandhi was also assassinated yet "Congress is questioned about Emergency and Operation Blue Star." He wondered why was Rahul so disturbed. "Why did Ottavio Quattrocchi get kickbacks in Bofors? Who was the 'Q' connection? No reply has come," Jaitley wrote and praised PM Modi's integrity.
Shouldn't dynasty be answerable, asked Jaitley
The Dynast can attack the integrity of India's Prime Minister – a man of utmost honesty. Does he believe that the dynasty does not have to answer any questions?

— Chowkidar Arun Jaitley (@arunjaitley) May 5, 2019