Rahul sends love to Modi after he calls Rajiv "corrupt"
Rahul sends love to Modi after he calls Rajiv "corrupt"
May 05, 2019, 02:37 pm
2 min read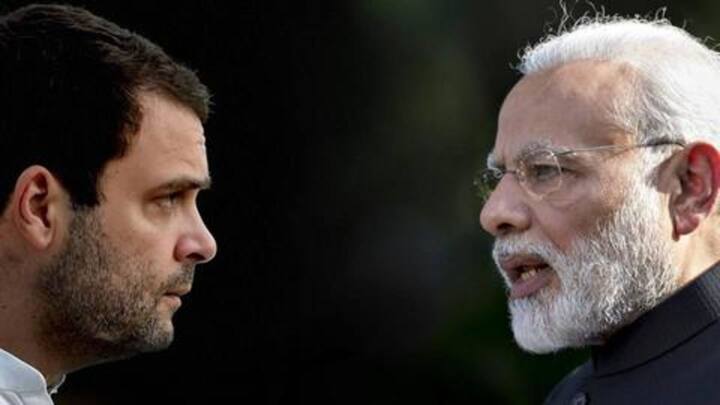 Taking the political discourse in the country to a new low, Prime Minister Narendra Modi on Saturday told Rahul Gandhi that his father Rajiv was "corrupt number 1" when he died. As his statement at a rally in Uttar Pradesh sparked row, Rahul took to Twitter to tell PM Modi that "Karma is awaiting" him. He also sent PM Modi love and hug.
Only Rajiv Gandhi's 'courtiers' called him clean, said PM Modi
PM Modi attacked Rahul for raking the Rafale deal issue. He reminded Congress President that he wasn't born rich. "Your father was termed 'Mr. Clean' by his courtiers, but his life ended as ''Bhrashtachari No 1'' (corrupt number 1). By tarnishing my image and by making me look small, these people want to form an unstable and weak government in the country," he said.
Rahul replies to PM Modi, says battle is over
Modi Ji,

The battle is over. Your Karma awaits you. Projecting your inner beliefs about yourself onto my father won't protect you.

All my love and a huge hug.

Rahul

— Rahul Gandhi (@RahulGandhi) May 5, 2019
PM Modi didn't take names but was talking about Bofors
What PM Modi said about Gandhi Sr. gained attention. Though he stayed away from taking names, he was obviously referring to Bofors scandal which mired Rajiv's tenure. Media reports unearthed that Rajiv and his accomplices got kickbacks from Swedish defense manufacturer Bofors for sale of artillery to India. The scam ensured Rajiv didn't return to power. Notably, he was assassinated in 1991.
When Congress spoke about Rafale, BJP looked towards Bofors
To recall, BJP has reminded Congress of Bofors scam and its implications, whenever the latter spoke about Rafale. In her impassioned rebuttal to Rahul's allegations that PM Modi ignored rules and ensured Anil Ambani became an offset partner of Dassault Aviation, Nirmala Sitharaman said in Lok Sabha in January that "Bofors brought down Rajiv Gandhi but Rafale will bring back PM Modi".
Obviously, Congress leaders fumed at PM Modi
After PM Modi's speech got attention, Congress leaders naturally slammed him. Former Union Finance Minister called tweeted, "Mr. Modi has crossed all limits of propriety and decency by defaming a man (Rajiv Gandhi) who died in 1991." "Those whose nationalism is pseudo and whose politics is based on dividing people will never understand Rajiv Gandhi and his sacrifice for the nation," wrote Ahmed Patel.
Priyanka Gandhi also slammed PM Modi for his comments
शहीदों के नाम पर वोट माँगकर उनकी शहादत को अपमानित करने वाले प्रधानमंत्री ने कल अपनी बेलगाम सनक में एक नेक और पाक इंसान की शहादत का निरादर किया। जवाब अमेठी की जनता देगी जिनके लिए राजीव गांधी ने अपनी जान दी। हाँ मोदीजी 'यह देश धोकेबाज़ी को कभी माफ नहीं करता'।

— Priyanka Gandhi Vadra (@priyankagandhi) May 5, 2019