DUSU elections: ABVP bags 3 seats; NSUI takes Secretary's post
DUSU elections: ABVP bags 3 seats; NSUI takes Secretary's post
Written by
Siddhant Pandey
Sep 13, 2019, 06:56 pm
2 min read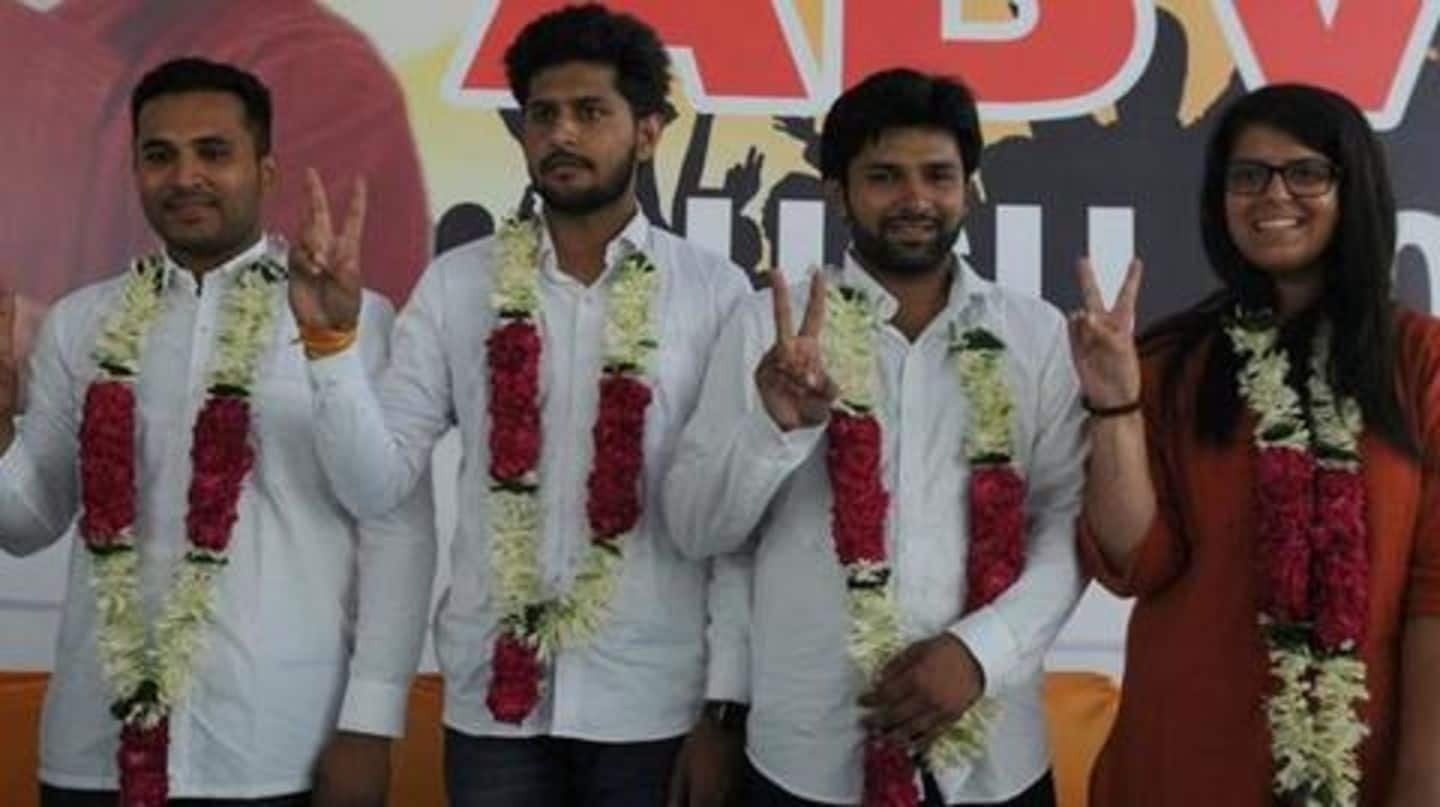 The Rashtriya Swayamsevak Sangh (RSS)-affiliated Akhil Bharatiya Vidyarthi Parishad (ABVP) swept the Delhi University Students' Union (DUSU) elections, winning three out of four seats on Friday. Meanwhile, the rival Congress-affiliated National Students' Union of India (NSUI) bagged the position of Secretary in the central panel of DUSU. ABVP's Ashwit Dahiya has been elected the President of DUSU. Here are more details.
Dahiya won President's post by a stunning 19,000 votes
Reportedly, Dahiya bagged 29,685 votes in the DUSU elections, defeating NSUI's Chetna Tyagi by a huge margin of 19,000 votes for the President's post. ABVP's Pradeep Tanwar secured 19,858 votes, winning the position of Vice President by a margin of 8,574 votes. Additionally, Shivangi Karwal secured the Joint Secretary post for ABVP, winning by a margin of 2,914 votes.
NSUI's Ashish Lamba defeated ABVP's Yogit Rathee by 2,053 votes
The only seat that the ABVP lost was the post of Secretary. NSUI's Ashish Lamba secured 20,934 votes for the post, defeating ABVP's Yogit Rathee, who managed to bag just 18,881 votes. Meanwhile, Left-backed All India Students Association (AISA) candidate Vikas Kumar bagged 6,804 votes.
ABVP thanks DU students "for reaffirming their faith" in them
Celebrating their victory, ABVP tweeted, "We have done it, yet again! We thank the students of Delhi University for reaffirming their faith in our leadership & choosing #ABVP4DUSU." Meanwhile, NSUI's Akshay Lakra said, "ABVP fielded Yogi Rathee who was college president of Ramjas College when the violence took place in 2017. The students have given a clear mandate against violence."
We have done it, yet again!, ABVP congratulates its workers
DUSU polls this year witnessed a 39.9% voter turnout
Reportedly, the counting of votes started two hours later than the scheduled 8:30 am as the candidates showed up late. The polls were shrouded by allegations of EVM malfunctioning. Notably, this year's DUSU polls recorded a voter turnout of 39.9%, a drop from the 44.46% voter turnout observed during last year's polls. Over 1.3 lakh students were eligible to cast their vote.
Separately, expressing happiness over their increased vote share, an AISA functionary told PTI, "Our Joint Secretary candidate Chetna got over 10,000 votes. The party's vote share has improved since last year. We are happy about it."