#PranabAtRSS: Hatred, intolerance would dilute our national identity
#PranabAtRSS: Hatred, intolerance would dilute our national identity
Jun 07, 2018, 09:05 pm
3 min read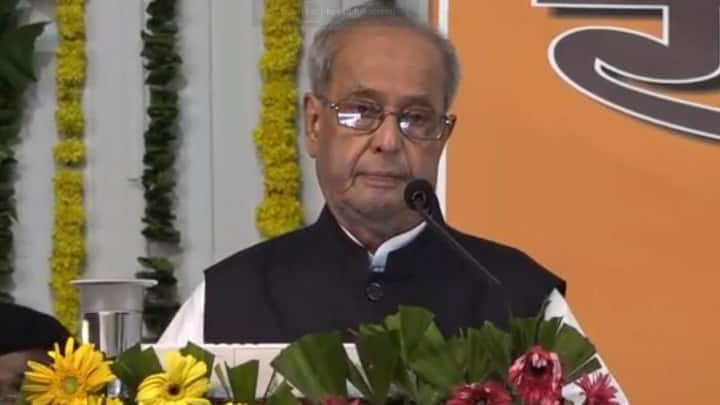 Speaking at the concluding ceremony of the RSS's Tritiya Varsh Training programme, former President Pranab Mukherjee said, "Any attempt to define India in terms of dogma and identities or religion, region, hatred, and intolerance will only lead to dilution of our identity." Talking about India's diversity, he said that the "confluence and assimilation, the multiple cultures and faiths make us special and tolerant." Here's more about it.
"Each conquerer and foreign element has been absorbed in India"
Elaborating on the fact that India has been under foreign rule for long, Dr. Mukherjee said that India has absorbed every conquerer and foreign element in its cultural milieu. He opined, "One thing needs to be kept in mind, even after so many rulers, the 5000-year-old continuity of the civilization remained."
Dr. Mukherjee's message in the visitor's book
'Today I came here to pay my respect and homage to a great son of Mother India': Former President Dr.Pranab Mukherjee's message in the visitor's book at RSS founder KB Hedgewar's birthplace in Nagpur pic.twitter.com/ax76NCzJMa

— ANI (@ANI) June 7, 2018
Attending RSS event won't change Pranabda's ideology: Bhagwat
RSS chief Mohan Bhagwat, who spoke before Dr. Mukherjee, said the controversy around Mukherjee's invite was unnecessary. He said it was RSS's tradition to invite people not subscribing to its ideology. "The Sangh is the Sangh. Pranab Mukherjee will be Pranab Mukherjee. Attending RSS event won't change his ideology," Bhagwat had quipped.
RSS explains why it invited Pranab Mukherjee
Amid the hullabaloo, RSS tweeted its reasons to invite Dr. Pranab Mukherjee to the event. "In the #RSSTritiyaVarsh valedictory, it is customary to invite people who have made significant contributions to national life as Chief Guest and have the benefit of their experience. In line with this, Sri Pranab Mukherjee (Pranabda) was extended an invitation," read the tweet.
However, Pranab da's daughter wasn't happy
Within days of Mukherjee accepting the RSS invitation, criticism poured from many fronts. Among them was his daughter Sharmistha who said that no one, not even the RSS was expecting him to endorse the views of the Sangh. "But the speech will be forgotten, visuals will remain and those will be circulated with fake statements," she had said in a series of tweets.
Speak on what's wrong with their ideology: Chidambaram
Pranab Mukherjee, the veteran Congress leader, was reportedly asked by many Congress leaders not to attend the event. But party member P. Chidambaram said, "Now that he has accepted the invitation, there is no point in debating why he accepted it." Taking a dig at the RSS, he further asked Mukherjee to "please go there and tell them what is wrong with their ideology."