Tamil Nadu under the watchful eye of Jayalalithaa's 'photograph'
Last updated on
Oct 26, 2016, 03:31 pm
Tamil Nadu Chief Minister J. Jayalalithaa has been away from public eye and under close medical supervision while recovering from a serious lung infection.
Over the last several weeks, there has been mounting speculation regarding the state of her health and TN's fate under her leadership.
As reassurance to the state, Cabinet members now hold meetings with Jayalalithaa's 'photograph' presiding over as Chief Minister.
Reverence for Jayalalithaa in the realm of the divine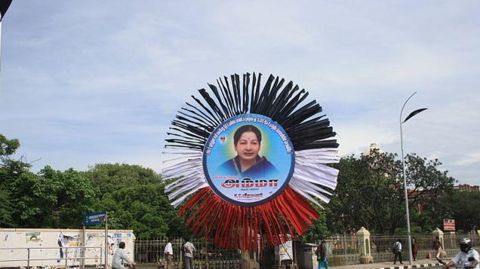 Tamil Nadu for long has had a tradition of putting their leaders on a pedestal and giving them 'divine' status.
Way back in 1995, thousands of posters were splashed across Chennai depicting Jayalalithaa as Tamil folk goddess Adi Parasakhthi.
Over the decades, photo-shopped images of her wearing a crown, silk-robes while holding a sceptre or depicted as Virgin Mary have bee a familiar sight.
The detractors are a minority
Chennai-based writer Charu Nivedita explains South Indians, "have an emotional nature that can be naive". The influx of cinema along with political and entertainment culture has gradually led to classical aesthetics eroding. He adds, "Cinema has contributed to a culture of deification of film stars."
When reverence blends into sycophancy
Deification of political leaders in South India no longer raises an eyebrow, sycophancy by supporters does invite ridicule.
Senior functionaries and ministers of Jayalalithaa's party routinely prostrate themselves by falling at her feet in full public view.
Other such instances are ministers eating food off-the-ground, rolling in corridors of temples, a female minister wearing leaves in religious procession solely to demonstrate loyalty towards Jayalalithaa.
Obsessively appeasing politicos extends far beyond TN
South Indian leaders and their propensity to be venerated by the local populace, although unique in itself is not restricted to specific states. Political leaders across states, parties and regions continue to be revered and given the absence of action against it, indirectly encourage it.
Extreme lengths to demonstrate loyalty
During India's emergency period in the 70s, Congress functionaries coined a slogan, "Indira is India and India is Indira."
To-be Indian president, Zail Singh, expressed his unabashed reverence for Indira Gandhi and said he would, "gladly sweep the ground on which she walked."
Recently, newly appointed Chattisgarh in-charge stated he would even pick up the broom and sweep Congress's office if Sonia Gandhi asked.
Appeasement manifests bizarrely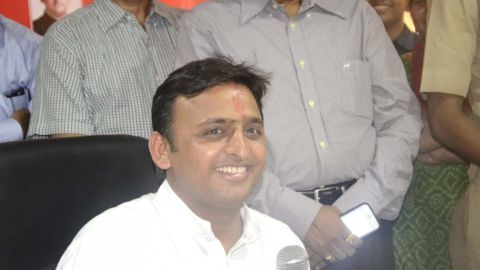 Few years ago, there was an uproar when UP CM Mayawati's shoes were cleaned by her personal security officer; he defended it as a "humanitarian-gesture".
In a cricket match between Akhilesh Yadav and bureaucrats, the CM was inadvertently bowled-out leaving the bowler, an IAS-officer horrified and panic-stricken.
For Rahul Gandhi's 44th birthday, supporters whipped up a 44-kg cake even though Gandhi was abroad.
Narendra Modi's larger than life persona
Union Minister, V. Naidu, in trying to appease PM Modi, calls him 'Modifier-of-Developing India' given Modi's penchant for acronyms.
Censor Board Chief, Pahlaj Nihalani made a song for the PM calling him 'Modi-Kaka'; the song was lambasted for being cringe-worthy.
There was an attempt to build a 'Narendra Modi' temple in Gujarat however the temple was razed when PM Modi vehemently objected.