#KarnatakaPoliticalCrisis: CM Kumaraswamy returns from US; holds series of meetings
#KarnatakaPoliticalCrisis: CM Kumaraswamy returns from US; holds series of meetings
Written by
Ramya Patelkhana
Jul 08, 2019, 11:18 am
3 min read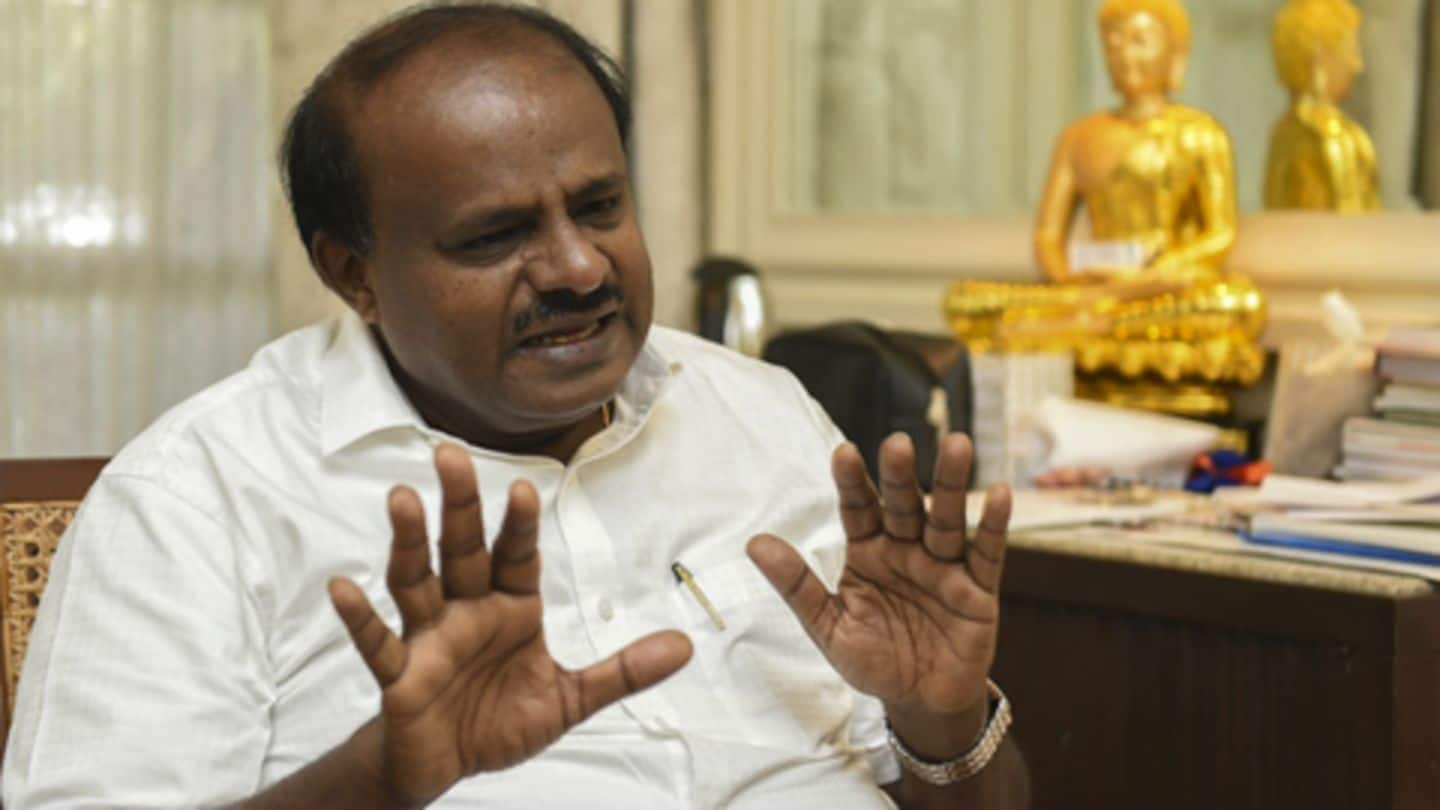 Karnataka CM HD Kumaraswamy returned to Bengaluru on Sunday night after a 10-day US trip following the resignations of 13 MLAs of the Congress-JD(S) coalition in the state. Soon after landing in the Karnataka capital, he began holding a series of meetings with leaders of his JD(S) party and Congress to save the coalition government, which plunged into crisis on Saturday. Here's more.
Assembly Speaker yet to accept resignations of the MLAs
However, the resignations of the 13 MLAs of the coalition are yet to be accepted by the Karnataka Assembly Speaker. In the 224-member Karnataka Assembly, the Congress-JD(S) coalition has 118 seats, including one BSP MLA and one Independent lawmaker. If the lawmakers' resignations are accepted, the number will come down to 105 and the coalition will not have a majority in the House.
Congress seeking appointment of Kharge or Siddaramaiah as CM: Reports
Also, there are reports that Congress is seeking the appointment of senior leader Mallikarjun Kharge or Siddaramaiah as Karnataka CM. However, Kumaraswamy's brother HD Revanna said, "We have held discussions...there has been nothing on a change of leadership." Congress leader DK Shivakumar also said, "I am not willing to backstab Kumaraswamy by saying make someone else the CM—it is left to the party."
5-6 rebel MLAs keen to defect to BJP: JD(S) sources
"Only 5-6 of the 13 rebel MLAs are keen to defect to the BJP. The others have other demands and are not keen to give up their seats if their demands can be met... All the different interest groups have united now," JD(S) sources said.
We are prepared for any eventuality: BJP General Secretary
Meanwhile, BJP, which has 105 seats in Karnataka Assembly, is also prepared to form the next government, if the current government falls. "We, in the BJP, are prepared for any eventuality. But we don't want to rush, we want to watch things closely. We are waiting for decisions of the Speaker and the Governor," BJP General Secretary P Muralidhar Rao told Indian Express.
Atmosphere is conducive for the BJP: Karnataka BJP leader
BJP, meanwhile, maintained it isn't responsible for Karnataka's political crisis. "It's the Congress leaders' foolishness that they blame the BJP for the current crisis. It's the failure of the Congress leadership, its move to go for an opportunistic alliance, and the internal crisis that have led to this situation," said Muralidhar Rao. "The atmosphere is conducive for the BJP," said a Karnataka BJP leader.