Gujarat is land of Rambhakts: Modi on Kharge's 'Raavan' jibe
Gujarat is land of Rambhakts: Modi on Kharge's 'Raavan' jibe
Dec 01, 2022, 04:53 pm
2 min read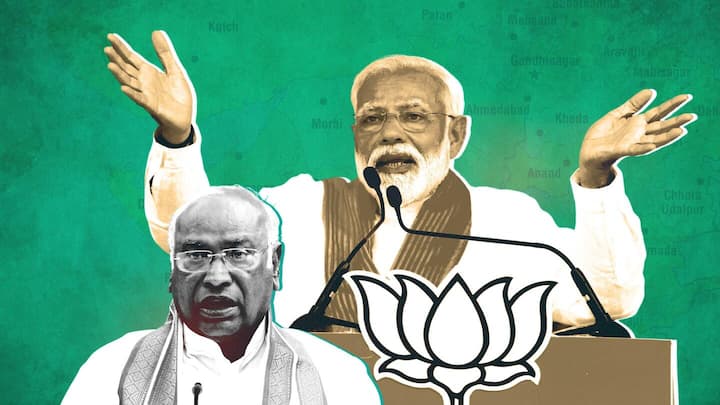 As the first phase of polling for Gujarat state Assembly elections is underway in 19 districts on Thursday, Prime Minister Narendra Modi addressed a campaign rally at Kalol, Gandhinagar district. He attacked the Congress saying its leaders were in a competition of abusing Modi. Hitting back at Congress president Mallikarjun Kharge's comment likening him to Raavan, he said Gujarat is the land of Rambhakts.
Why does this story matter?
Speaking at a rally in poll-bound Gujarat on Monday, Kharge took a dig at PM Modi for leading every election campaign of the BJP.
"We see your (Modi's) face in corporation elections, MLA elections, or MP elections, everywhere...Do you have 100 heads like Raavan?," Kharge questioned.
Soon after his comments, BJP reacted sharply saying the words were insulting to Gujarat and its son.
Watch: Modi addressing a gathering in Gujarat
'Is Modi going to come and work at municipality?'
Kharge earlier said, "I've been seeing that votes are sought in the name of Modiji, be it municipality elections, corporation elections (or Assembly elections). Is Modi going to come and work at the municipality?" Days before this, talking about renaming a stadium named after PM Modi, Congress leader Madhusudan Mistry said, "We want to show Modiji his aukat (status)."
Respect Kharge, but he said what was asked: Modi
PM Modi said, "A few days ago, a Congress leader said Modi will die a dog's death, another leader said Modi will die Hitler's death, another said I'll kill Modi myself." He said, "Congress thinks it's their right to insult Modi, the Prime Minister of this country." Modi said, "I respect Kharge, but he must have had to say what was asked of him."
Here's what Kharge earlier said