Mumbai: BJP's Devendra Fadnavis detained over protest against Nawab Malik
Mumbai: BJP's Devendra Fadnavis detained over protest against Nawab Malik
Written by
Siddhant Pandey
Mar 09, 2022, 05:31 pm
3 min read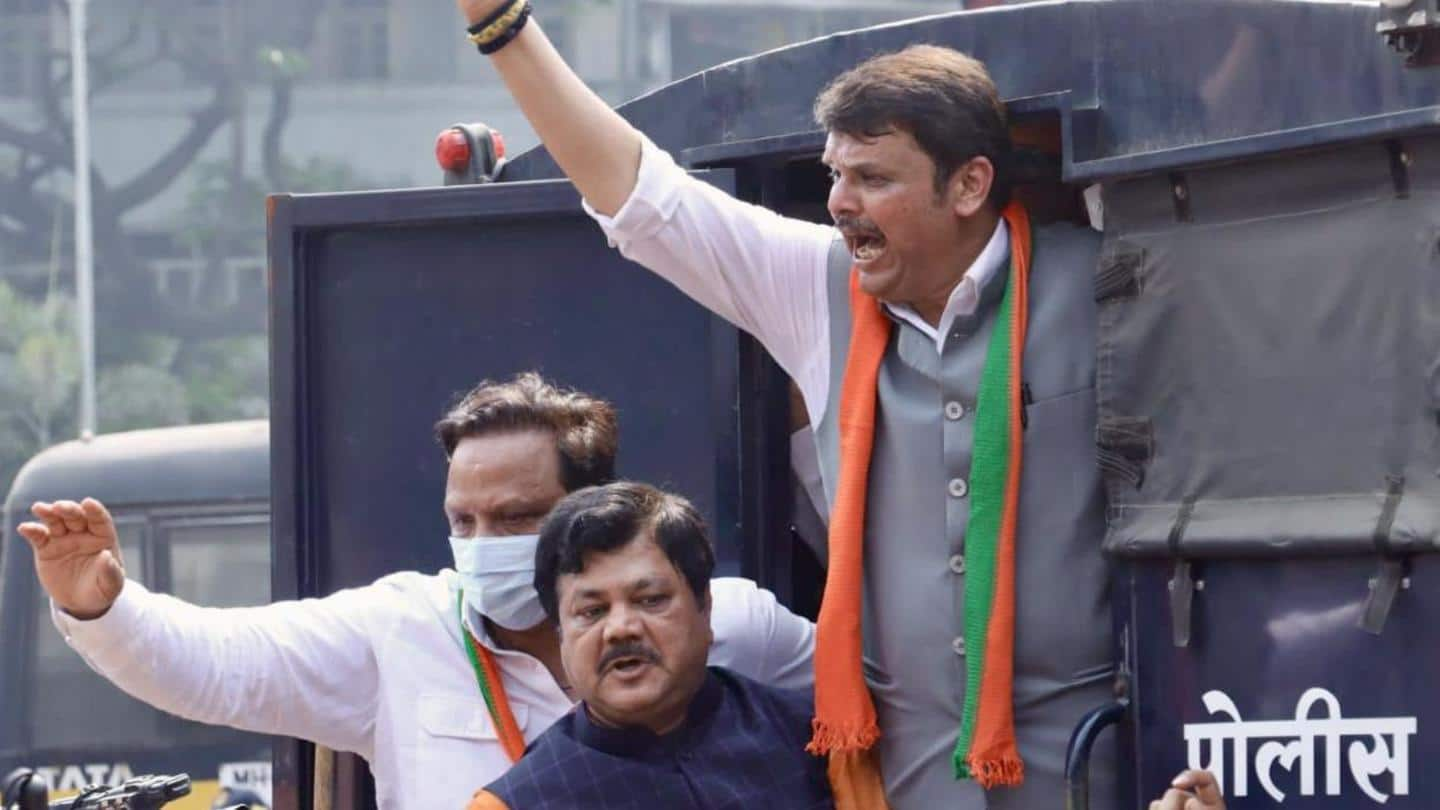 The Mumbai Police detained Bharatiya Janata Party (BJP) leader Devendra Fadnavis on Wednesday. Fadnavis—the leader of opposition in the Maharashtra Legislative Assembly and a former state chief minister—was detained from a protest demanding the resignation of arrested state minister Nawab Malik. Other BJP leaders had also been detained from the protest. Fadnavis and the others have since been released.
Why does this story matter?
Fadnavis's detention is the latest dramatic event that has unfolded in Maharashtra, which has turned into a political battleground.
The ruling Maha Vikas Aghadi (MVA) in Maharashtra comprises the Shiv Sena, Indian National Congress, and the Nationalist Congress Party—all rivals of the BJP, which rules the Centre.
The Maharashtra BJP has leveled grave allegations linking Malik to underworld don Dawood Ibrahim.
BJP's protest started from Jeejamata Chowk
BJP leaders were staging a protest that started at Mumbai's Jeejamata Chowk and was scheduled to end at Azad Maidan. The protesters were raising the slogan "Nawab hatao, desh bachao (Remove Nawab and save the country)." Fadnavis tweeted that the protests will not stop until the "traitor who supports terrorists" resigns. His office tweeted saying that the Maharashtra government detained the "killers of Mumbaikars."
The BJP has alleged that Malik entered into a deal related to land owned by Dawood Ibrahim and his gangster sister Haseena Parkar. Fadnavis has submitted 125 hours of purported video evidence to Maharashtra Legislative Assembly Speaker. He said several ministers were involved and the state's top law officer was a co-conspirator. The Maharashtra government has said that it will verify the evidence.
'Power of attorney under names of Dawood's aides'
"The power of attorney was in the name of Sardar Shahawali Khan and Salim Patel, who are accused in the 1993 serial bomb blasts and also the aides of gangster Dawood Ibrahim," CNN-News18 quoted Fadnavis as saying. "The money out of the land deal was given to Haseena Parkar," he said, adding that the real estate deals were used for terror activities.
Malik currently in judicial custody
Meanwhile, a special PMLA court on Monday sent Malik to 14-day custody in a money laundering case linked to the BJP's allegations. Malik had been arrested by the Enforcement Directorate on February 23. Both Malik and Fadnavis have previously accused each other of having underworld links. Moreover, members of Maharashtra's ruling party have accused the BJP of abusing central agencies to prosecute state leaders.