Stalin files nomination for the post of DMK President
Stalin files nomination for the post of DMK President
Written by
Ramya Patelkhana
Aug 26, 2018, 06:46 pm
3 min read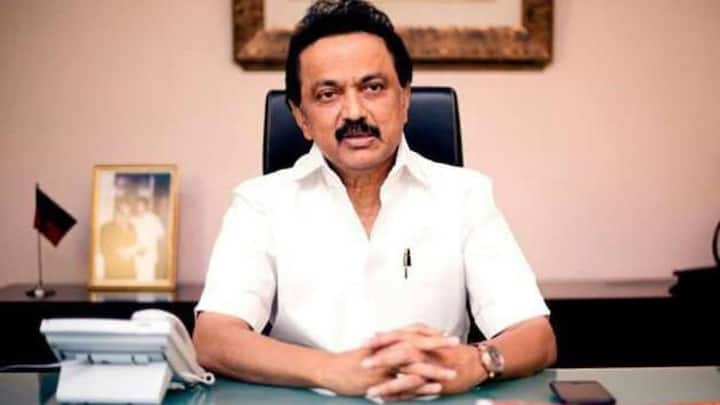 DMK Working President MK Stalin, set to be elected the party President, has filed his nomination for the post at Anna Arivalayam, DMK's headquarters, in Chennai today. Senior leader and party Principal Secretary Duraimurugan filed the nomination for the post of treasurer, hitherto held by Stalin. They are likely to be elected during DMK's General Council meeting on August 28 in Chennai. Here's more.
Stalin visited Dayalu Ammal before formally filing nomination
The process to elect Stalin as the President of DMK following the death of his father and party chief M Karunanidhi began with the 65-year-old leader formally filing his nomination for the post. Before filing the nomination papers, Stalin, Duraimurugan, and senior party colleagues TR Baalu and A Raja had visited Dayalu Ammal, Karunanidhi's wife, at her Gopalapuram residence.
Stalin visited veteran leader Anbhazhagan and later Annadurai, Karunanidhi memorials
Stalin and others later also met party veteran and General Secretary K Anbhazhagan and headed straight to the memorials of DMK founder and former Chief Minister CN Annadurai and Karunanidhi at the Marina beach-front and paid floral tributes, party sources said.
Stalin, Duraimurugan would be elected unanimously: Raja
Stalin, who was given a rousing reception on his arrival by party men at DMK HQ formally, submitted the nomination papers to DMK Organizing Secretary RS Bharathi. Also, the names of Stalin and Duraimurugan were proposed by all 65 DMK district secretaries for the post of President and Treasurer respectively. Raja said Stalin and Duraimurugan would be elected "unanimously" at the General Council meeting.
Stalin's brother Alagiri earlier claimed Karuna loyalists were with him
The sibling rivalry between Stalin and his elder brother MK Alagiri came to the fore recently, when the latter claimed that true loyalists of Karunanidhi were with him. Alagiri, who was expelled from DMK by Karunanidhi in 2014, has been questioning the leadership of Stalin. Alagiri announced he would lead a peace rally in Chennai on September 5, to the mausoleum of Karunanidhi.
Stalin's DMK journey began when he was just 14
Stalin, the younger son of Karunanidhi, had held several party posts, including that of Treasurer and Secretary (youth-wing). His journey in the party began early when he campaigned in the 1967 elections as a 14-year-old school student. He became the party's Youth-wing Secretary in 1984. He was also put in prison under Maintenance of Internal Security Act in 1976 during Emergency.
Stalin was elected thrice as MLA from Thousand Lights constituency
Stalin's growth has been steady and he became DMK's Deputy General Secretary in 2003. He was re-elected Treasurer for the second five-year term in Jan'15. He became an MLA for the first time in 1989 from Thousand Lights constituency in Chennai from where he was re-elected thrice. In 2006, he became the Municipal Administration Minister and later become the Deputy Chief Minister in 2009.