Modi in Bengal: Praises Citizenship Bill, asks for TMC's support
Modi in Bengal: Praises Citizenship Bill, asks for TMC's support
Feb 02, 2019, 02:28 pm
3 min read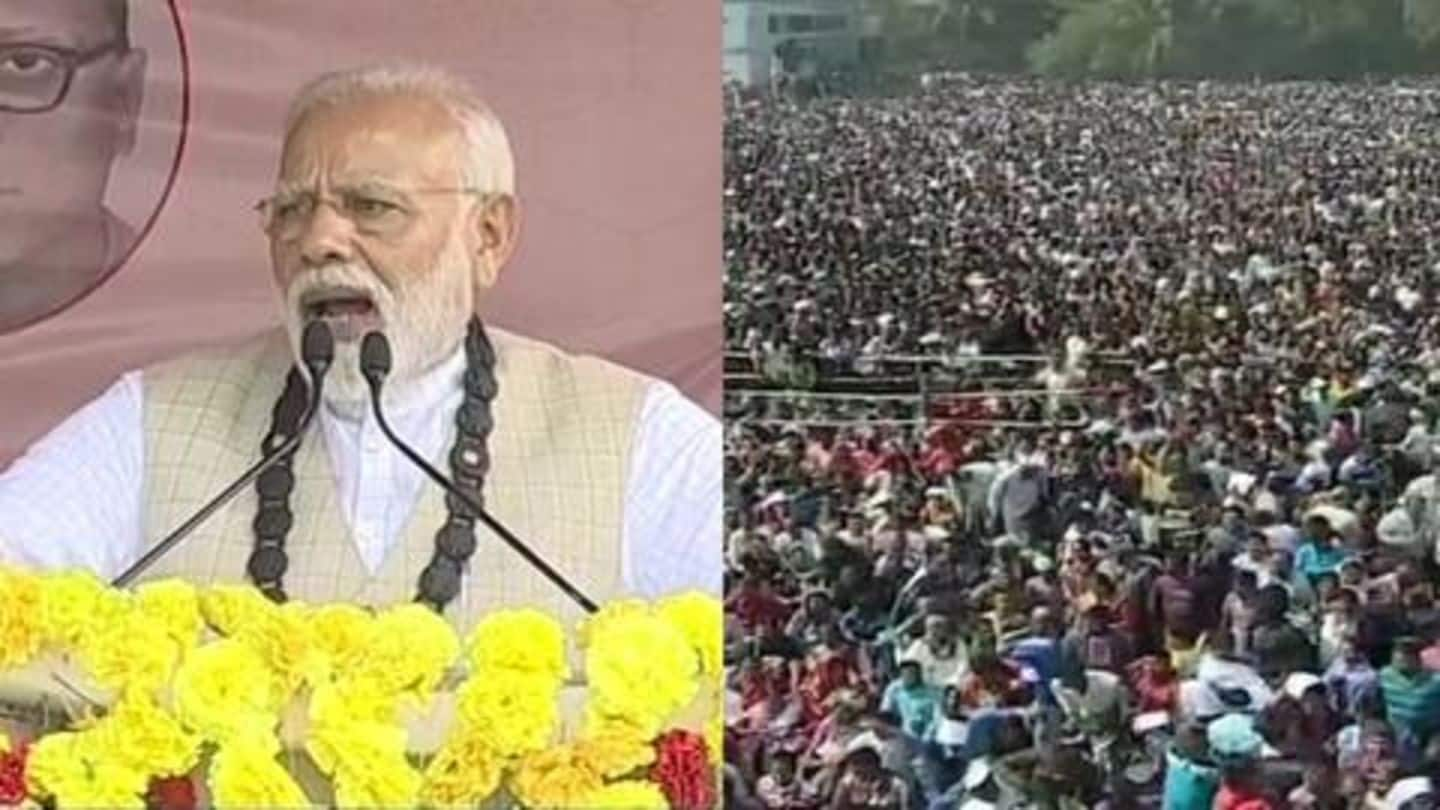 Addressing a rally in West Bengal's Thakurnagar, Prime Minister Narendra Modi on Saturday said the crowd's strength rattled Chief Minister Mamata Banerjee. Hence, Didi has taken the route of violence, he quipped. PM Modi, who is on a one-day visit to the state, said he wanted Trinamool Congress to support the Citizenship (Amendment) Bill. He also said the budget was just a trailer.
The rally was organized by All India Matua Mahasangha
The rally was organized by BJP-aligned faction of All India Matua Mahasangha at a ground spread over 2,73,600 sq ft. Before addressing the rally, Modi paid a visit to the temple at the house of Dalit Matua community matriarch Binapani Debi, referred to as Baro-ma.
Money will be sent to bank accounts: Modi tells farmers
In his address, PM Modi spoke about the interim Budget, which was presented on Friday. Explaining the flagship Pradhan Mantri Kisan Samman Nidhi scheme, under which marginalized farmers will get Rs. 6,000/year, PM Modi said they won't have to pay syndicate tax for it. "The money (to farmers) will be paid directly to your bank account," he told the sea of people.
Wait for the main budget, says PM Modi
Prime Minister Narendra Modi addressing a public rally in Thakurnagar, West Bengal: This is just the beginning, the main budget after Lok Sabha election will have much more for the youth, farmers, and other sections of the society. pic.twitter.com/8LCKFNSe5F

— ANI (@ANI) February 2, 2019
PM Modi says loan waivers didn't help many
PM Modi also said politics of loan waivers was an attempt to 'throw dust in eyes'. He said in Madhya Pradesh, after promising to write off loan worth Rs. 2.5 lakh/head, the state government only gave a respite of Rs. 13. In Rajasthan, the government washed its hands off, PM Modi claimed. Notably, BJP lost MP, Rajasthan, and Chhattisgarh in recently-held assembly elections.
Trinamool should support Citizenship (Amendment) Bill: PM Modi
He went on to say in Karnataka, police hounded those who couldn't repay loans. "And the chief minister of this state (Banerjee) is supporting the Karnataka CM (HD Kumaraswamy)," he said. On the controversial Citizenship (Amendment) Bill, PM Modi said his government took concrete steps in this direction. "I am asking Trinamool to support it," he said ending his speech.
Ahead of PM Modi's rally, BJP, TMC fight over posters
PM Modi will also address a rally in Durgapur, where BJP and TMC locked horns over posters. BJP National Secretary Rahul Sinha said TMC workers put posters of Banerjee above PM Modi's banners. When the workers protested, they were attacked, Sinha claimed. Subsequently, BJP filed a police complaint. Interestingly, Bengal has 42 Lok Sabha seats and BJP is hoping to win at least 22.