#RafaleInLokSabha: Nirmala Sitharaman says first-jet will be delivered in 2019
#RafaleInLokSabha: Nirmala Sitharaman says first-jet will be delivered in 2019
Jan 04, 2019, 03:25 pm
2 min read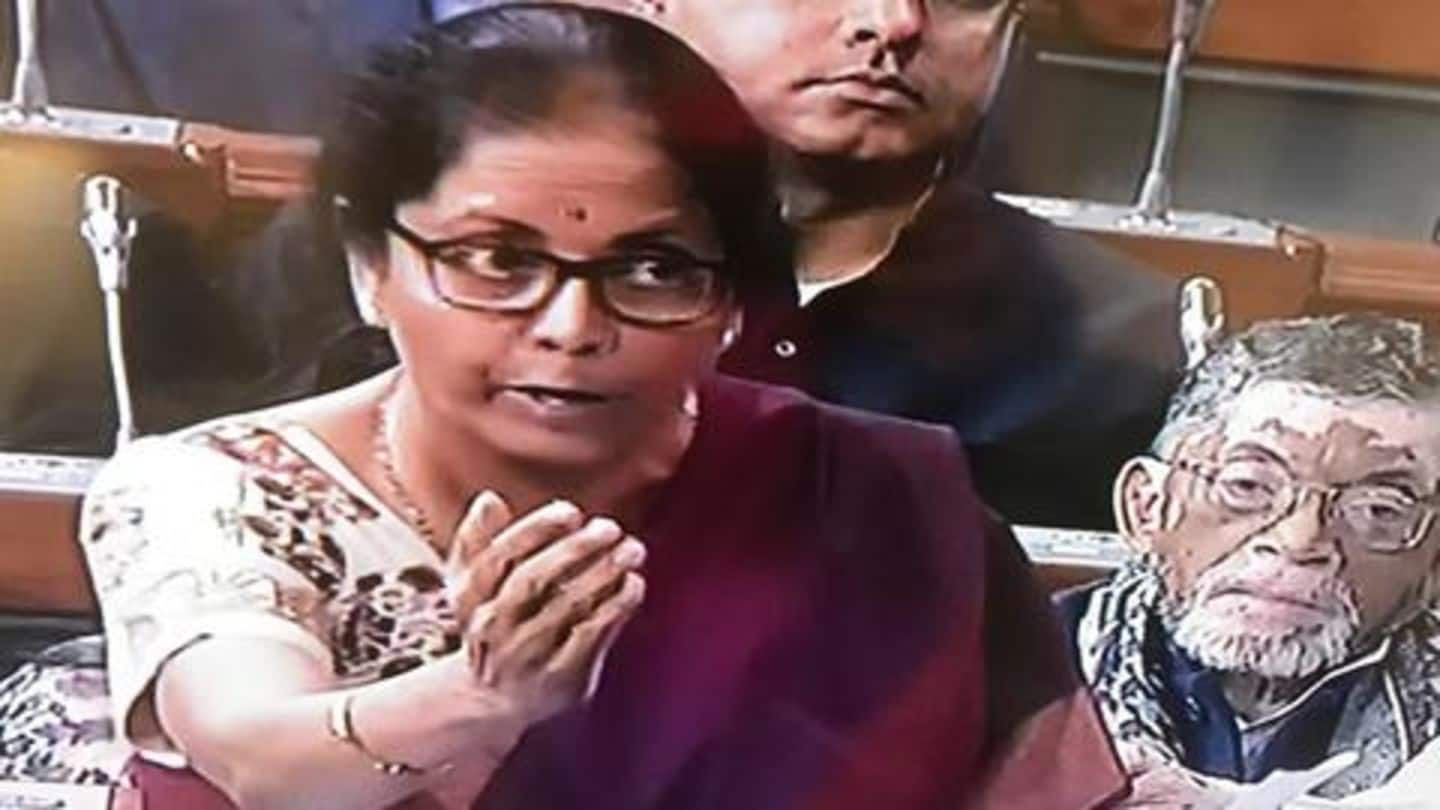 On Friday, Union Defense Minister Nirmala Sitharaman defended the Rafale deal passionately in the Lok Sabha and said the first jet will be delivered in 2019. The last jet will be delivered in 2022, she noted. Sitharaman said the Opposition forgot the importance of national security and they had a problem in the deal because it didn't suit them and 'someone didn't receive money'.
UPA didn't intend to buy the jets: Sitharaman
Sitharaman alleged the UPA didn't intend to purchase the jets, as it never cared about national security. When the Opposition started cheering and mentioned AA (Anil Ambani), Sitharaman said, "For every AA there is an RV (hinting at Robert Vadra) and another Q (Ottavio Quattrocchi)." She said the Opposition was scared of facts and only wanted to create an uproar.
Sitharaman slams Opposition over defense deal
Defence Minister in Lok Sabha: There is a difference between defence dealings and dealing in defence. We don't do defence dealings. We deal in defence with national security as a priority. pic.twitter.com/wfPWbEd7VC

— ANI (@ANI) January 4, 2019
"You shed crocodile tears for HAL, but don't do anything"
Sitharaman said Rahul Gandhi visited Hindustan Aeronautics Limited (HAL) and said Rafale was their right, but the previous government didn't do anything to improve it. Instead, the Congress run government gave it 53 odd waivers. "Now they are shedding crocodile tears saying nothing was done for HAL. We have given contracts worth Rs. 1 lakh crore to HAL," Sitharaman said. We scaled up HAL, Sitharaman claimed.
18 flyaways have been enhanced to 36: Sitharaman
Sitharaman said opposition asks who gave the Prime Minister the authority to bring down the number of jets from 126 to 36. She added the previous government made the deal for 18 jets in flyaway condition. "What we saying is that we will get two squadrons in flyaway condition. You are misleading country by saying number of jets was reduced to 36," she said.
Entire campaign being run on lies, says Sitharaman
Sitharaman went on to ask why was the Congress speaking on HAL, but didn't give them a contract for helicopters and signed AgustaWestland instead. They did so because HAL wouldn't have given them anything, said Sitharaman. She said entire campaign is being run on lies
On pricing, Sitharaman said Congress isn't serious about Rafale debate
About prices, Sitharaman said the inconsistency in Congress' statements showed they weren't serious about Rafale. She said, "The 'Rs 526 crore' quote was from 2007. Will it remain the same in 2011 or 2014? There were escalation costs and exchange rate variation." She said comparing weaponized aircraft with normal ones was wrong. "Rs. 526 crore can be compared to Rs. 737 crore," she said.