No AAP-Congress alliance in Haryana, Punjab; decision on Delhi soon
No AAP-Congress alliance in Haryana, Punjab; decision on Delhi soon
Apr 07, 2019, 02:34 pm
2 min read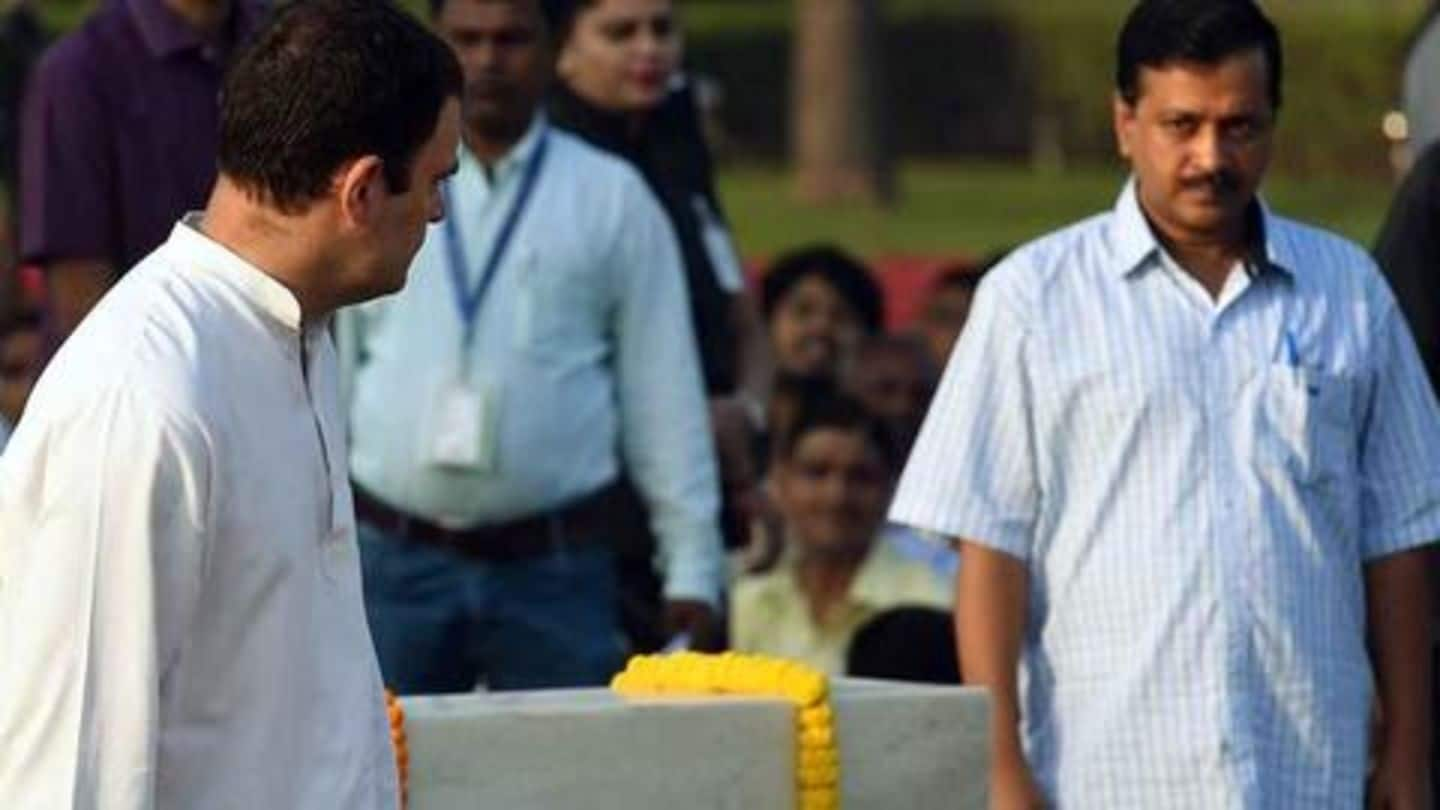 The spokesperson of Congress Randeep Singh Surjewala has confirmed the party will not forge an alliance with Aam Aadmi Party (AAP) in Haryana and Punjab for the upcoming polls. A decision on alliance for Delhi will be taken soon, Surjewala added. Earlier, reports claimed AAP and Congress have joined hands not only for Delhi but for Punjab and Haryana as well. Here's more.
Backstory: Understanding why AAP wants to team up with Congress
Delhi Chief Minister Arvind Kejriwal has been keen on forging an alliance to ensure anti-BJP votes aren't divided. Earlier, Congress was firm that it won't partner with AAP, but after Pulwama attack and Balakot strikes, the party thought over the options. Notably, Kejriwal's predecessor and chief of Congress Delhi unit Sheila Dikshit opined an alliance will hurt her party in the long run.
Earlier, Kejriwal said Dikshit was a "small leader"
However, the reluctance of Congress miffed AAP. Recently, Kejriwal clarified the alliance won't happen and went as far as calling Dikshit a "small leader". But political circles remained abuzz. It was reported that several Congress leaders, including PC Chacko, are keen for an alliance. Delhi has seven Lok Sabha seats and AAP was reportedly ready to give three seats to Congress.
AAP increased its demands when Congress showed interest
When Congress took a step towards AAP, the latter upped its demands. Reportedly, Congress was even willing to back AAP's long standing demand of full statehood to Delhi. Reportedly, AAP told Congress it will get as many seats in the national capital, as the former gets in Haryana. AAP wanted Gurgaon, Karnal, and Faridabad and was ready to support Congress in Chandigarh.
AAP put up a "nothing or everything" deal
"The talks are on for 18 seats - Delhi (seven), Haryana (10) and Chandigarh (one). We said it (poll understanding) will be possible only if the Congress agreed to an alliance in Haryana," an AAP leader reportedly said.
But why does AAP want these three seats?
AAP spokesperson Sudhir Yadav said people in Faridabad, Karnal, and Gurgaon have closely seen their governance. "When people are referred to hospitals in Delhi, they come to feel the difference in terms of expenses and service," he said, adding volunteer strength in these areas has also increased. Yadav also said caste equations play less role in these constituencies as the population is mixed.