Now, Amit Shah says 'censoring' Vande Mataram led to partition
Now, Amit Shah says 'censoring' Vande Mataram led to partition
Jun 28, 2018, 06:00 pm
2 min read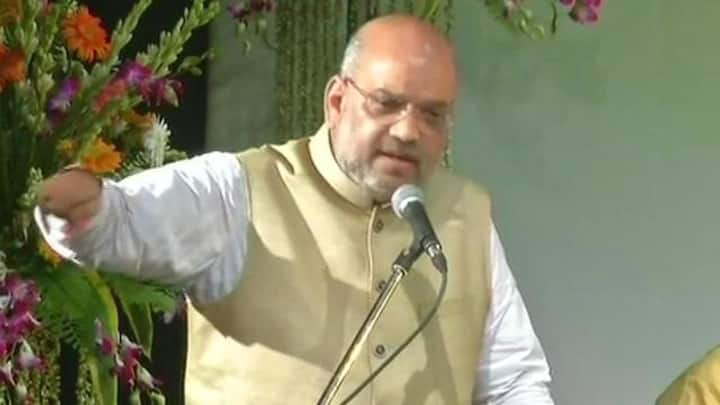 Taking his despise for Congress further, BJP President Amit Shah on Wednesday said Congress was responsible for India's partition in 1947. However, this time Shah didn't blame Congress's policies but said the decision to 'censor' Vande Mataram divided India during Independence. Yes, you read it right. He was speaking at the Bankim Chandra Chattopadhyay Memorial Lecture in Kolkata to mark the writer's birthday.
Shah admits he doesn't agree with historians on partition
Speaking at the event, Shah admitted historians blamed Khilafat Movement or Muslim league's two-nation theory for the partition. But not the BJP President! Shah said, "But I am sure that the appeasement politics that Congress introduced by censoring Vande Mataram as national anthem led to the country's partition in the long run." Maybe, Shah read some alternate history.
Congress censored Vande Mataram to suit appeasement politics, said Shah
Continuing his attack, Amit Shah said Congress brought religion into Vande Mataram to suit its politics. "It censored the national song to two stanzas instead of accepting the whole song to suit its appeasement politics," said Shah. He further said India's definition of nationalism is not narrow. "India is not a geopolitical nation, it is a geo-cultural nation," he said.
In 'mindblowing' theory, Amit Shah links Vande Mataram to partition
Cong introduced appeasement policy with this step, that later led to country's division. Vande Matram wasn't, still isn't related to any religion. There's no attempt to show anyone in bad light. But Cong gave nod to controversy some ppl created by linking it to religion: A Shah pic.twitter.com/7ylxoGYm47

— ANI (@ANI) June 28, 2018
Twitterati isn't pleased with Shah's history lesson, and rightly do
The statements didn't go without reactions on Twitter, where users either asked him to read history or get out of it. A user @conscience_god wrote: The rate at which this man is going backwards, we should soon be contemplating about mistakes committed by Maharaj Dashrath. And another one @rahul_luthra7 asked if he plans to do something about present and future.
Shah's 'intellectual' event wasn't attended by known personalities
The event, in which Shah spoke, was supposed to be 'intellectual', but many influential personalities like actor Soumitra Chatterjee, former SC Judge Ashok Ganguly, activist-writer Santosh Rana, theatre personalities Rudraprasad Sengupta, Chandan Sen and Manoj Mitra, and singer Amar Paul didn't show up. Most were unhappy with BJP's policies. Had they attended, would they have walked out of this history lesson?