Calling him 'naamdaar', PM Modi mocks Rahul Gandhi's 15-minute-speech challenge
Calling him 'naamdaar', PM Modi mocks Rahul Gandhi's 15-minute-speech challenge
May 01, 2018, 03:48 pm
2 min read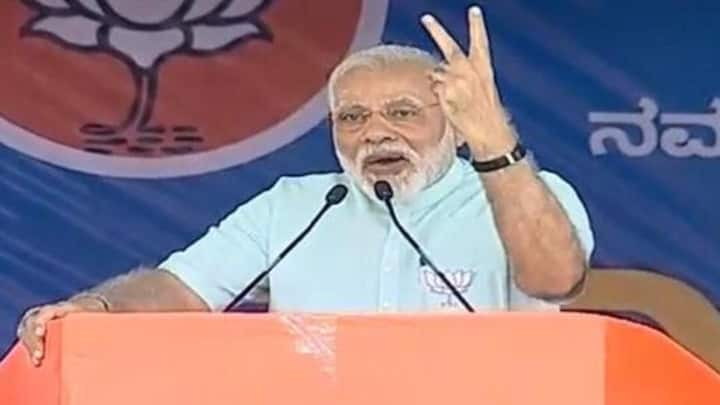 Addressing a mega-rally in Karnataka, Prime Minister Narendra Modi, on Tuesday, took several digs at Congress President Rahul Gandhi, and dared him to speak for 15 minutes without a paper. The Prime Minister addressed first of his many rallies in poll-bound Karnataka. PM Modi challenged Rahul to list achievements of Congress in Karnataka for fifteen minutes to prove his point.
You can speak in your mother tongue too: PM Modi
I challenge you (Rahul Gandhi) to speak for 15 minutes on the achievements of your government in #Karnataka without reading from any piece of paper. You can speak in Hindi, English or your mother tongue: PM Modi in Mysuru pic.twitter.com/BqVx9XThya

— ANI (@ANI) May 1, 2018
PM Modi lashes out at Congress from various fronts
Speaking of Central Government's achievement, where all villages got electricity, PM Modi said Rahul Gandhi did not even care to congratulate workers. "He did not even bother to congratulate the hardworking 'mazdoors' due to whom India's villages are getting electricity," said PM Modi. PM Modi said NDA was committed to improving farmers' lives, unlike UPA which was only concerned about family politics.
PM Modi draws a 'naamdaar'-'kaamdaar' reference
Making a sarcastic comment, PM Modi said he couldn't sit in front of 'naamdaar' Rahul Gandhi. He quipped, "The Congress president is a Naamdaar, so how does he know about the efforts of Kaamdaars. We are Kaamdaars. What is our level that we can sit with people like the Congress president, who look down on us?" Modi drew this reference multiple times today.
Karnataka has no law and order, claims PM Modi
Modi furthered his campaign blitzkrieg by saying all roads to Karnataka's development were blocked because of Congress. Taking a jibe at Siddaramaiah, he said the Karnataka CM was contesting elections from two seats because he feared defeat. "The relatives of Ministers are fighting polls, which is hurting Congress workers," said PM Modi.
Siddaramaiah quick to respond to PM Modi
Was it fear that drove you to contest from 2 parliamentary constituencies (Varanasi Vadodara) Mr. PM @narendramodi ? Of course you are a 56 inch man, you would have some clever explanation!!

Forget 2 seats, Sir. Worry about the fact that your party will not cross 60-70! https://t.co/Hr3V5x6sDE

— Siddaramaiah (@siddaramaiah) May 1, 2018