Rahul will be PM if Congress wins, says sister Priyanka
Rahul will be PM if Congress wins, says sister Priyanka
Mar 28, 2019, 12:03 pm
3 min read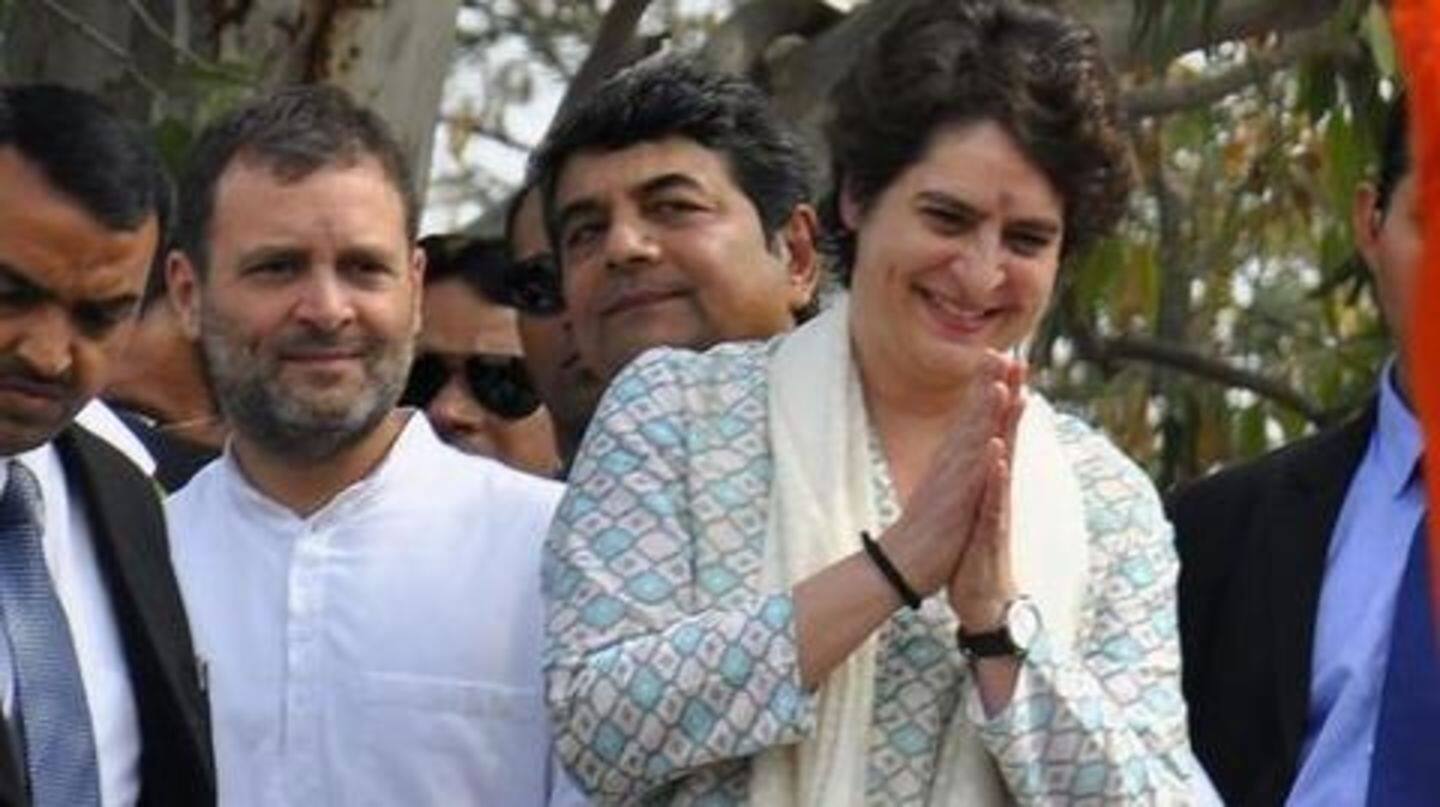 For the first time after being given a top Congress post, Priyanka Gandhi Vadra on Wednesday said that if her party comes to power, Rahul Gandhi will become the Prime Minister. Priyanka made the remark while speaking to Congress workers in Amethi, Rahul's constituency. "We will win this (2019) Lok Sabha election and Rahul will become PM," Priyanka said. Here's more.
Rahul's victory will be India's victory: Priyanka
Priyanka has also been tasked with ensuring a Congress win in the state in 2022 Assembly polls, she informed the workers. She said she was working on "Mission UP" on Congress President Rahul's instructions. "This election is being fought to save the country and Rahul Gandhi's victory will be the victory of India," Priyanka added. She slammed NDA for politicizing all issues.
Priyanka says Congress will restart development projects
Priyanka, who is on a two-day visit to Raebareli and Amethi, spoke about "Mission UP" and promised Congress would start several development projects. "We will restart all development projects initiated during the tenure of my father, former Prime Minister late Rajiv Gandhiji. Their (BJP) government took away major projects like mega food park, paper mill and IIIT from here," she said.
Have learned a lot since 1999: Priyanka
"I have learned a lot while working with you here since 1999. We need to strengthen the party at the booth level. I have been doing this over the years. This is my area of specialization," Priyanka told party workers.
Priyanka claimed Smriti came to Amethi for "time pass"
Speaking about the interaction with Priyanka, a group of workers said they were tasked with going door to door and tell people about failures of BJP government, including hardships faced during demonetization and GST imposition. Reportedly, Priyanka also slammed Smriti Irani, BJP's candidate for Amethi, and said she came to the constituency only to pass time.
Earlier, Opposition parties spoke about choosing PM after elections
Notably, Priyanka's big push for Rahul as PM comes at a time when the Opposition bloc hasn't been able to make up their mind. When mahagathbandhan talks were at its peak, leaders had opined they will choose the PM after winning elections. But over months, Congress failed to keep Opposition parties together, casting doubts on his leadership qualities.
Rahul has support of allies but not senior leaders
In October last year, Rahul had said he is open to becoming the PM if allies want. Notably, allies like MK Stalin (DMK), Tejashwi Yadav (RJD), and Kumaraswamy (JDS) have said they will like to see Rahul as PM. But senior leaders like Sharad Pawar and Mamata Banerjee have maintained silence. In fact, Banerjee and Mayawati are also in the fray for PM chair.