Puducherry CM sleeps outside L-G Kiran Bedi's house: Here's why
Puducherry CM sleeps outside L-G Kiran Bedi's house: Here's why
Feb 14, 2019, 02:16 pm
3 min read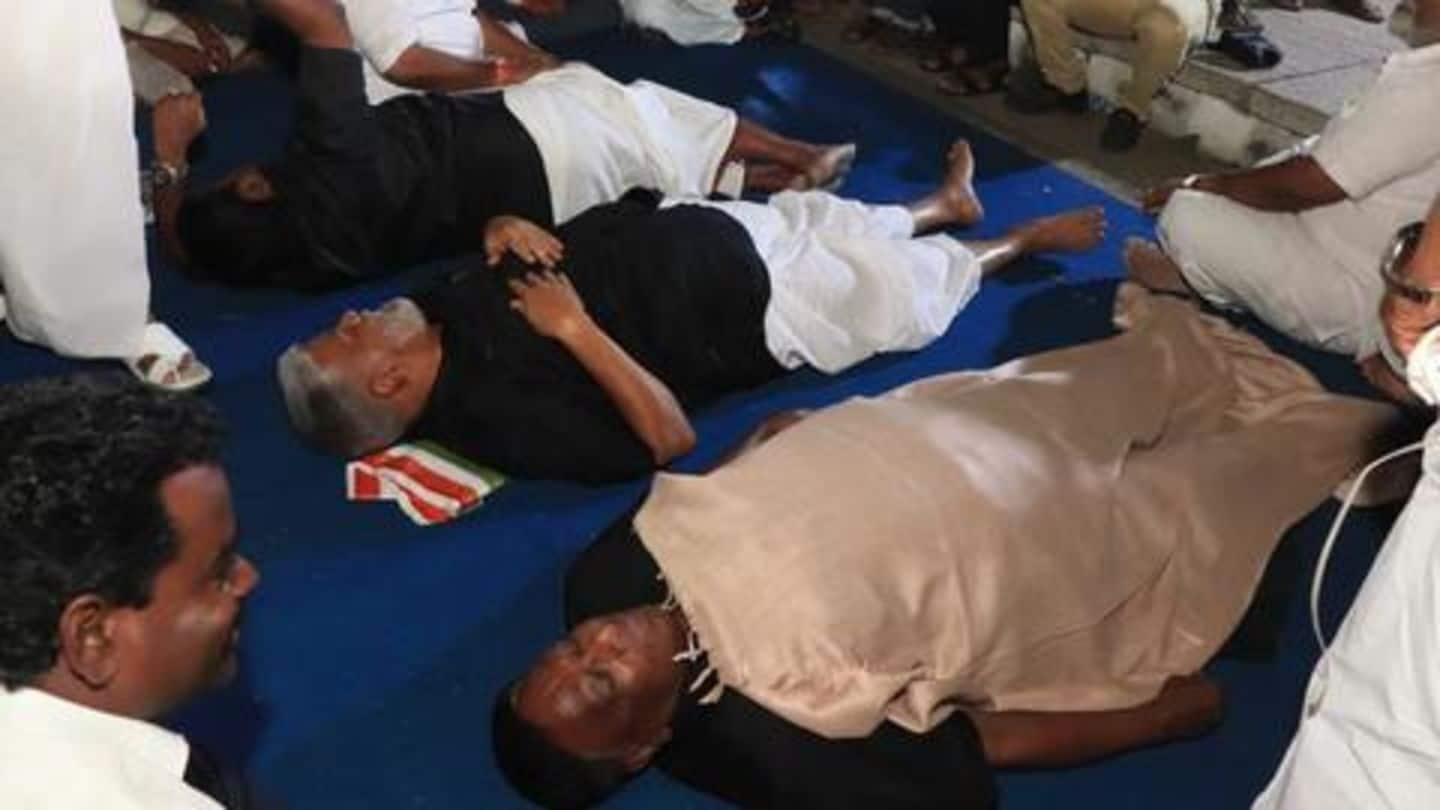 Following the footsteps of his Delhi counterpart Arvind Kejriwal, Puducherry Chief Minister V Narayanasamy spent Wednesday night outside Lieutenant-Governor Kiran Bedi's house to protest against her actions. Accompanied by his cabinet colleagues, Narayanasamy staged a sit-in protest alleging interference from Bedi in governing matters. Meanwhile, Bedi left for Chennai from the union territory on Thursday morning and is likely to go to Delhi later.
Bedi's rule of compulsory helmets irked Narayanasamy
The tussle between Narayanasamy and Bedi isn't new. His government wants Bedi to approve 39 proposals, including free rice distribution, payment of salaries and release of funds. However, it was Bedi's order which made wearing helmets compulsory for motorists from February 11 that added fuel to fire. Police said those violating the order would be fined Rs. 100. But the Congress government claimed Bedi can't give orders.
Bedi's order invited criticism from several quarters
Narayanasamy flayed with Bedi over this 'compulsion' asking her to explain the 'need' for helmets first. Bedi, who was in charge of traffic in Delhi, remained stern and said anyone who delays implementation owes an explanation. On Tuesday, AIADMK legislators broke helmets outside Bedi's residence to protest against the rule, prompting her to ask on Twitter if they were law-makers or law-breakers.
Dharna politics reaches Puducherry with CM protest
But on Wednesday, the tension took a new turn. Dressed in black clothes, Narayanasamy sat outside Raj Nivas. His cabinet colleagues and members of DMK lent him support. Speaking on the protest, Narayanasamy said, "The protest is against the attitude of the Lt. Governor and her way of functioning." He claimed Bedi was acting on Prime Minister Narendra Modi's directions and obstructing administration.
Narayanasamy claims Bedi is interfering in administration
"She has been poking her nose into the administration for the past two-and-a-half years by not allowing the elected government to function at its will. Her (Bedi's) attitude is unconstitutional and I am determined to continue till she resolves at least few issues," he added.
Narayanasamy refuses to return home, sleeps on floor
Narayanasamy added Bedi was giving money to people when they wanted free rice. She had always acted against the will of people, he alleged. "The L-G is creating troubles in the long-held policy of government paying 95% of the salary of unaided school teachers," he went on. As night descended, Narayanasamy didn't return home but slept on the road, covering himself with a shawl.
Check out the visuals from the night
Meanwhile, Bedi writes to Narayanasamy dissing his protest
The turn of events miffed Bedi who shot off a letter to Narayanasamy and got it hand-delivered. Calling his protest "unlawful", Bedi wrote, "Instead of waiting for my response to your February 7 letter, you have come to Raj Nivas, demanding a reply in this unlawful manner." When Narayanasamy was asked if he would talk to Bedi, he replied, "Why should we?"