Jaitley questions Rahul's qualification, says he got M.Phil without Masters
Jaitley questions Rahul's qualification, says he got M.Phil without Masters
Apr 13, 2019, 02:11 pm
3 min read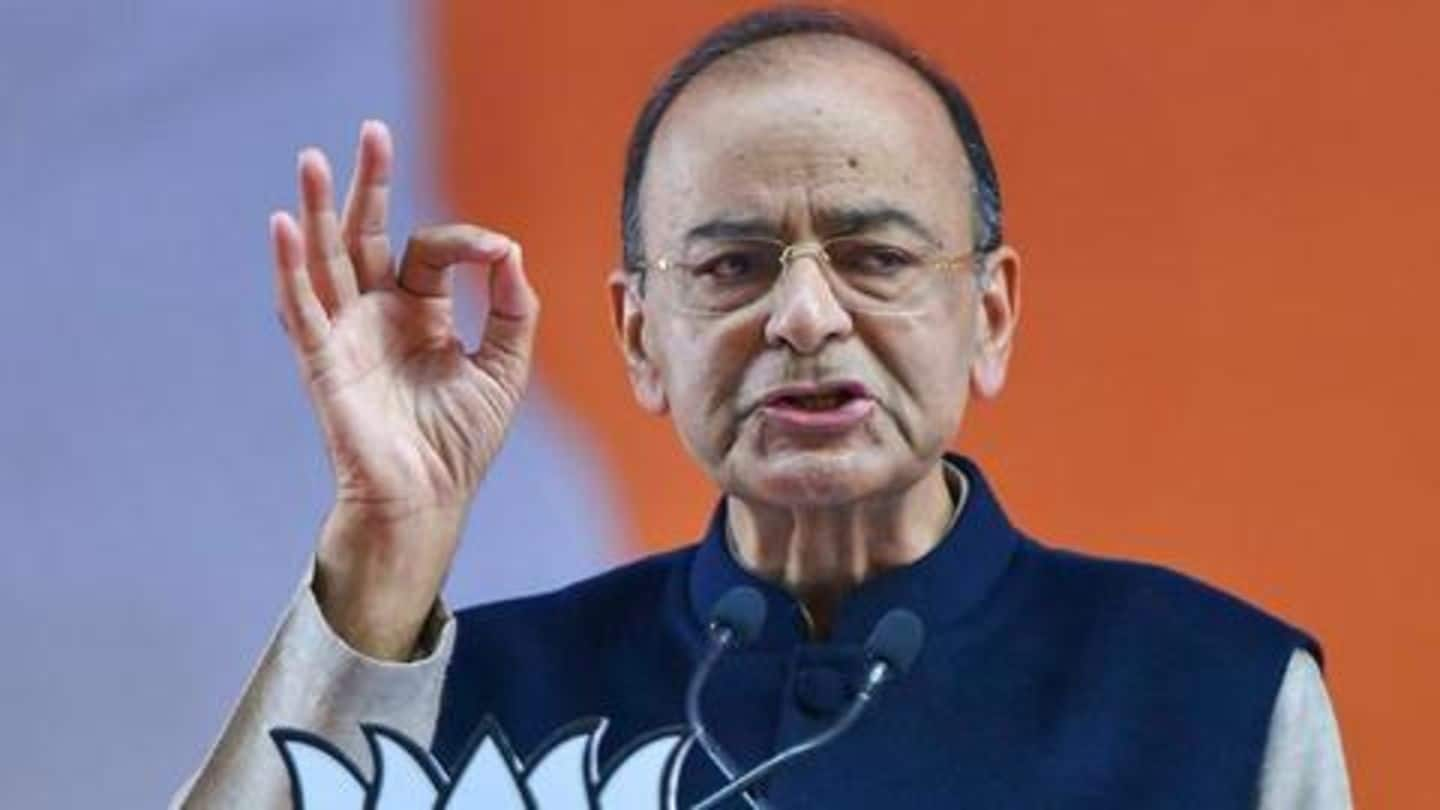 A day after Union Minister Smriti Irani's educational qualification dominated political conversations in the country, Finance Minister Arun Jaitley took a swipe at Congress President Rahul Gandhi saying he got his M.Phil degree without completing Masters. In his latest Facebook post, he posted on Saturday, Jaitley said India's Opposition was on a "Rent a cause" campaign and "manufactured" issues. Here's more on the issue.
Congress ripped into Smriti's educational qualification, Jaitley shot back
The row over Smriti's educational qualification reignited on Thursday after she filed her nomination for Amethi Lok Sabha seat. In her affidavit, Smriti wrote she didn't complete her graduation. Soon, Congress attacked her and spokesperson Priyanka Chaturvedi gave a musical twist to her jibes. But Jaitley reminded Congress that an "audit" of Rahul's credentials would open a can worm of questions.
Rahul got an M.Phil without Masters degree: Jaitley
"One day the focus would be on the BJP candidate's educational qualification, fully forgetting that a public audit of Rahul Gandhi's academic credentials may leave a lot to be answered. After all, he got an M.Phil without a Masters degree!" Jaitley wrote.
Reportedly, Rahul has completed M.Phil from Trinity College
In 2009, after Rahul filed his nomination from Amethi, a newspaper raked issue of his educational qualification. Rahul served a legal notice to the newspaper and furnished a letter from Cambridge Vice-Chancellor Prof. Alison Richard to prove he completed his M.Phil from Trinity College in 1995 in Development Studies. In the letter, Richard said it was "unfortunate" Rahul's degree started a controversy.
Jaitley also questioned Opposition's unity and leadership again
Not restricting himself to Rahul's degrees, Jaitley launched a fresh salvo at the Opposition. He wrote they wasted last two years in "manufacturing" issues. Jaitley added the leadership issue of Opposition was "gloomier" than what he imagined. "The BSP leader Mayawati, the Trinamool leader Mamata Banerjee leave no stone unturned in running down the Congress President," he wrote.
Jaitley also wrote about 'letter' of Army veterans
Jaitley also berated the purported letter which Army veterans 'sent' to President Ram Nath Kovind. He pointed out that few veterans denied signing the letter and this unearthed the agenda of many. He recalled that such "desperate memorandums" were signed in 2014 as well. He said BJP and its allies spoke directly to people through mass media, rallies, and social media.
You can read Jaitley's scathing blog here
Wading into the controversy surrounding qualification of leaders, BJP MP Subramanian Swamy tweeted an alleged certificate of Rahul from Cambridge University. Swamy revealed that Rahul completed his studies under the name Raul Vinci. He claimed Rahul failed in National Economic Planning & Policy. The senior leader also asked Rahul to furnish his thesis if he completed his M.Phil.