Sambit Patra's video invites questions over Ujjwala scheme
Sambit Patra's video invites questions over Ujjwala scheme
Apr 01, 2019, 02:02 pm
2 min read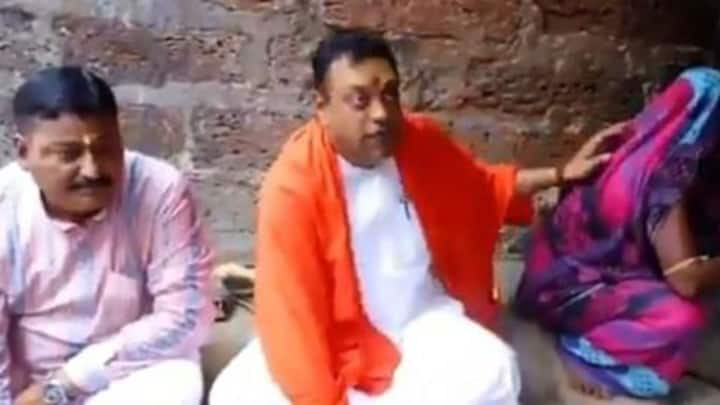 Sambit Patra, the BJP spokesperson who has been fielded from Puri Lok Sabha constituency, shared a video of a woman cooking food on an earthen oven sparking questions about the success of Ujjwala Yojana. The Centre's flagship scheme aims to provide cooking gas to women of below poverty line households. But Patra's video showed the scheme hasn't benefited many. Here's what happened.
Patra visited villages as part of his campaign
Patra began his campaign trail last week and has been visiting rural areas. In the video, which became controversial, Patra can be seen sitting cross-legged on the floor, eating food from a banana leaf. "This is my house. The mother served me her own cooking. I also fed her with my hands and I know that serving humans is serving God," Patra tweeted.
Watch: Poor woman cooked food for Patra and his team
Dharmendra Pradhan couldn't make the scheme successful in Odisha
While Patra may have hoped his "kind gesture" of feeding the woman would project him as a people's leader, it backfired. More so because Dharmendra Pradhan, who is seen as BJP's face in Odisha, has been responsible for Pradhan Mantri Ujjwala Yojana (PMUY). Centre had said the 2016 scheme will ensure women are protected from harmful smoke of chulhas, but not much has changed.
BJD and Congress ask questions about Ujjwala scheme
On seeing the video, Priyanka Chaturvedi of Congress tweeted, "Isn't Dharmendra Pradhan ji the man credited for Ujwala Scheme also from Odisha? #EkHiChowikdarChorHai" (sic) Separately, BJD's Sasmit Patra said, "Our question is why did the lady cooking did not receive one of the 5 crore cylinders BJP claims it has distributed?" He added the Ujjwala scheme has been "exposed" and it shows Pradhan's failure.
Patra busted Centre's lies, claimed Twitter user
Currently Narendra Modi's AD running on Radio, about how everyone has got Gas Cylinder. Kudos to Sambit Patra for busting Modi's lies about success of Ujjwala Yojana https://t.co/W5H33Ycmnr

— Joy (@Joydas) March 31, 2019
Earlier, Patra was accused of violating MCC
Earlier last week, Patra landed in trouble after a picture of him with Lord Jagannath's idol surfaced. He was accused of evoking religious sentiments to garner votes in polls and violating Model Code of Conduct. In his defense, he said he visited Jagannath temple to seek blessings. "People gave different things, like garlands. In Pipili, one elderly person gave me the idol," he said.