Video: Chaos inside West Bengal Assembly as TMC-BJP MLAs clash
Video: Chaos inside West Bengal Assembly as TMC-BJP MLAs clash
Mar 28, 2022, 03:16 pm
2 min read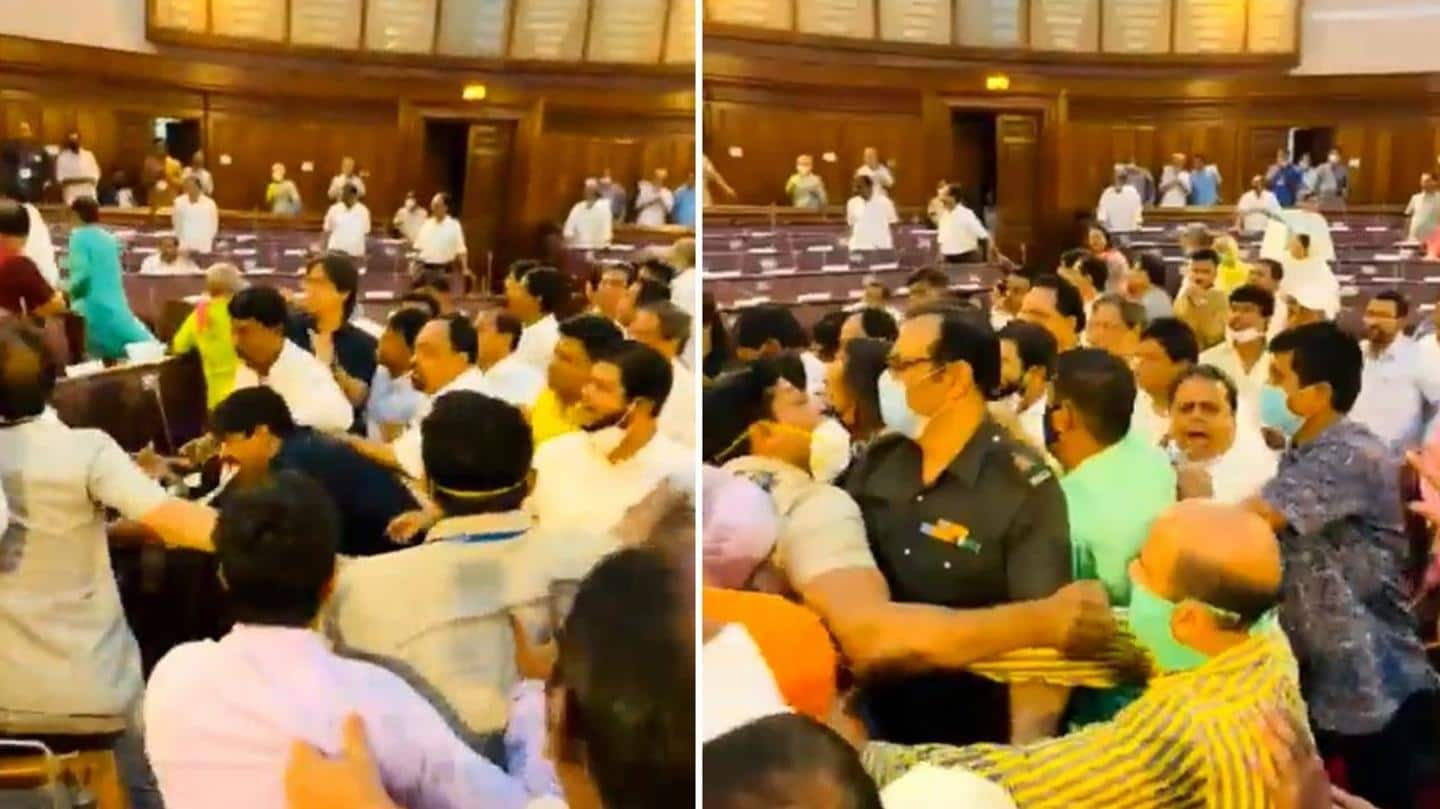 The West Bengal Assembly descended into chaos on Monday with Trinamool Congress (TMC) and Bharatiya Janata Party (BJP) MLAs exchanging blows after the saffron party legislators demanded a statement from Chief Minister Mamata Banerjee over the Birbhum violence and "worsening" law and order situation. Following the clash, five BJP MLAs, including Leader of the Opposition Suvendu Adhikari, were suspended from the Assembly.
BJP MLAs walk out, TMC MLAs claim to be injured
Following the scuffle, nearly 25 BJP MLAs led by Adhikari walked out of the Assembly, alleging that TMC MLAs roughed up their party legislators inside the House. TMC MLA Asit Majumdar also claimed to have been injured during the clash. Firhad Hakim, TMC leader and state minister, claimed that the BJP is staging a drama in order to cause chaos in the state assembly.
'They pushed me...tore my shirt': MLA
Meanwhile, BJP leader Amit Malviya shared a video on Twitter showing a group of MLAs pushing each other and shouting, causing "pandemonium" inside the assembly. In another video shared by India Today, an MLA accused other MLAs of pushing him and ripping his shirt. "They pushed me...tore my shirt," he said. BJP MLA Manoj Tigga was also allegedly manhandled during the scuffle.
Absolute pandemonium in the West Bengal Assembly. After Bengal Governor, TMC MLAs now assault BJP MLAs, including Chief Whip Manoj Tigga, as they were demanding a discussion on the Rampurhat massacre on the floor of the house.

What is Mamata Banerjee trying to hide? pic.twitter.com/umyJhp0jnE

— Amit Malviya (@amitmalviya) March 28, 2022
West Bengal politics reaches another low: BJP
"West Bengal politics reaches another low today. Actually, it's been on free fall ever since Mamata Banerjee took charge in May. Today, BJP Bengal chief whip Sri Manoj Tigga and others were assaulted by TMC inside Assembly," BJP leader BL Santhosh said.
What is the Birbhum violence case?
As many as eight people, including two children, were charred to death in violence that broke out in the state's Birbhum district on March 22 after the murder of local TMC leader and panchayat deputy chief Bhadu Sheikh. Around 10 houses in the Rampurhat village were set on fire by unknown miscreants. The violence reportedly happened in retaliation for the TMC leader's murder.
Case has been handed over to CBI
Last week, the Calcutta High Court transferred the case to the Central Bureau of Investigation (CBI), denying the state government's request to not hand over the investigation to the central agency. The state government's Special Investigation Team (SIT) has transferred the case to the CBI which has also started its investigation. The HC also asked CBI to file a progress report by April 7.