Mamata Banerjee gets angry over 'Jai Shri Ram' slogans, again
Mamata Banerjee gets angry over 'Jai Shri Ram' slogans, again
May 31, 2019, 12:35 pm
2 min read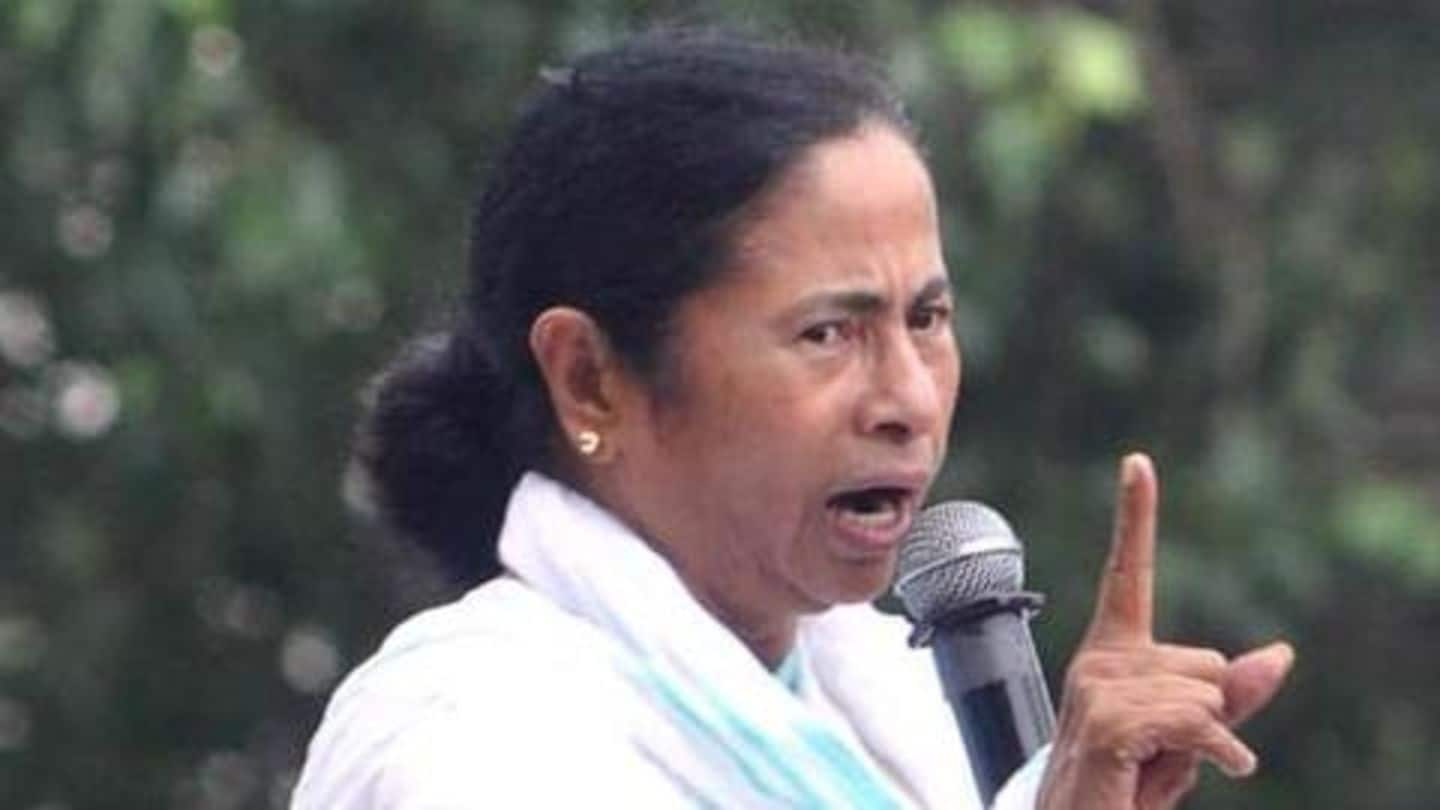 The ferociousness of Trinamool Chief Mamata Banerjee isn't hidden from anyone. The West Bengal Chief Minister doesn't think twice before reprimanding people. But it comes as a surprise when 'Jai Shri Ram' slogans make her angry. Banerjee lost cool for the second time, this month after she heard people chanting the slogans. She even threatened to take action. But why? What happened to democracy?
Locals greeted Banerjee with 'Jai Shri Ram', she scolded them
On Thursday evening, Banerjee was passing through the Bhatpara area of North 24 Parganas district. She was on her way to Naihati to stage a protest against violence during Lok Sabha polls in which her party members got injured. As her cavalcade passed through the area, locals started shouting 'Jai Shri Ram', infuriating Banerjee. She came out of the car and "scolded" them.
We will take action: Banerjee threatened people raising slogans
In a video which has gone viral, Banerjee can be seen calling the people "outsiders". "They are BJP people and criminals from outside the state. They are criminals and were abusing me. They are not from Bengal. We will take action," she said. She claimed all their names and details "will be noted". The area is a stronghold of BJP MP Arjun Singh.
Banerjee borrowed a movie dialog to make her point
"Remember the Mithun Chakraborty dialog? 'If I hit you here...' I can't say the dialogue as he talks about dead bodies and I will not say such things. But I will say -- I will hit you here and justice will be delivered somewhere else," she added.
You can watch the video here
#WATCH North 24 Parganas: West Bengal CM Mamata Banerjee gets off her car and confronts people chanting 'Jai Shri Ram' slogans, Banerjee says'These are all outsiders and BJP people, they are criminals and were abusing me. They are not from Bengal.' pic.twitter.com/haGjQmQYlv

— ANI (@ANI) May 30, 2019
Earlier too, 'Jai Shri Ram' slogans miffed Banerjee
Something similar happened with Banerjee earlier this month. When her convoy was moving in West Midnapore district, men started chanting "Jai Shri Ram". She got down and claimed they were hurling abuses at her. Notably, her reactions to these incidents have only helped BJP, which played on Hindu sentiments. BJP President Amit Shah even dared her to arrest him for remembering the Lord.
Mamata 'Didi', can you stop behaving like a child?
Banerjee's reactions to slogans are childish, to say the least. Those who raise the slogans definitely intend on teasing her and her angry reactions validate them. Also, how can she think of taking action against someone for raising slogans? That's not what democracy means, Didi!