VK Singh says Army isn't Modi's sena, then takes U-turn
VK Singh says Army isn't Modi's sena, then takes U-turn
Apr 05, 2019, 11:17 am
2 min read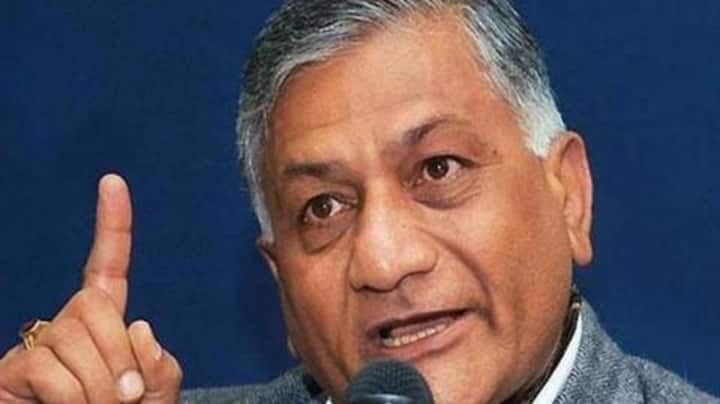 In what seemed like a clear denunciation of Yogi Adityanath's "Modiji ki sena" comment, Union Minister General VK Singh said on Thursday the Indian Army belonged to the entire country. However, as his statement got traction, Singh claimed BBC, to whom he gave the interview, "misquoted" him. To prove a point, the portal released the uncut bit of his video interaction. Here's what happened.
Singh was asked for opinion on "Modiji ki sena"
During his interview, Singh was asked about using the term "Modiji ki sena" and the Union Minister asked for the context. Singh was reminded that this phrase was used in a rally. Interestingly, Adityanath had made the comment while campaigning for Singh in Ghaziabad. The leader then said such words are sometimes used to refer to BJP workers. Subsequently, he was told the Indian Army was called Modi's army.
Indian Army is not Modiji's army: Singh
"If anyone says that the Indian Army is Modiji's army, then he is not just wrong but also a traitor. India's Army is India's, not a political party's. India's Army is neutral, capable and apolitical. I don't know who is talking like this," said Singh.
Even Opposition leaders agreed with Singh's words
Singh's comments stirred a debate on social media with Opposition leaders also agreeing with him. Congress' Ahmed Patel tweeted Singh was right and hoped BJP would act against such anti-nationals. But Singh soon tweeted that reporter must have been sleeping in the interview. "Either the reporter was sleeping or he intentionally made a false statement by cutting and pasting my remark," he tweeted.
BBC stood by its journalist, tweeted uncut video
Meanwhile, EC served notice to Adityanath
Notably, Adityanath's statement got the attention of the Election Commission. The primary poll conducting body received numerous complaints from parties, including Congress, after Adityanath credited PM Modi for Balakot airstrike's success. EC sent a showcause notice to Adityanath for allegedly violating Model Code of Conduct, which has been in place for weeks now. He has been asked to reply by April 5.