West Bengal: EC cuts short campaign period after #AmitShahRoadshow violence
West Bengal: EC cuts short campaign period after #AmitShahRoadshow violence
Written by
Ramya Patelkhana
May 16, 2019, 09:53 am
3 min read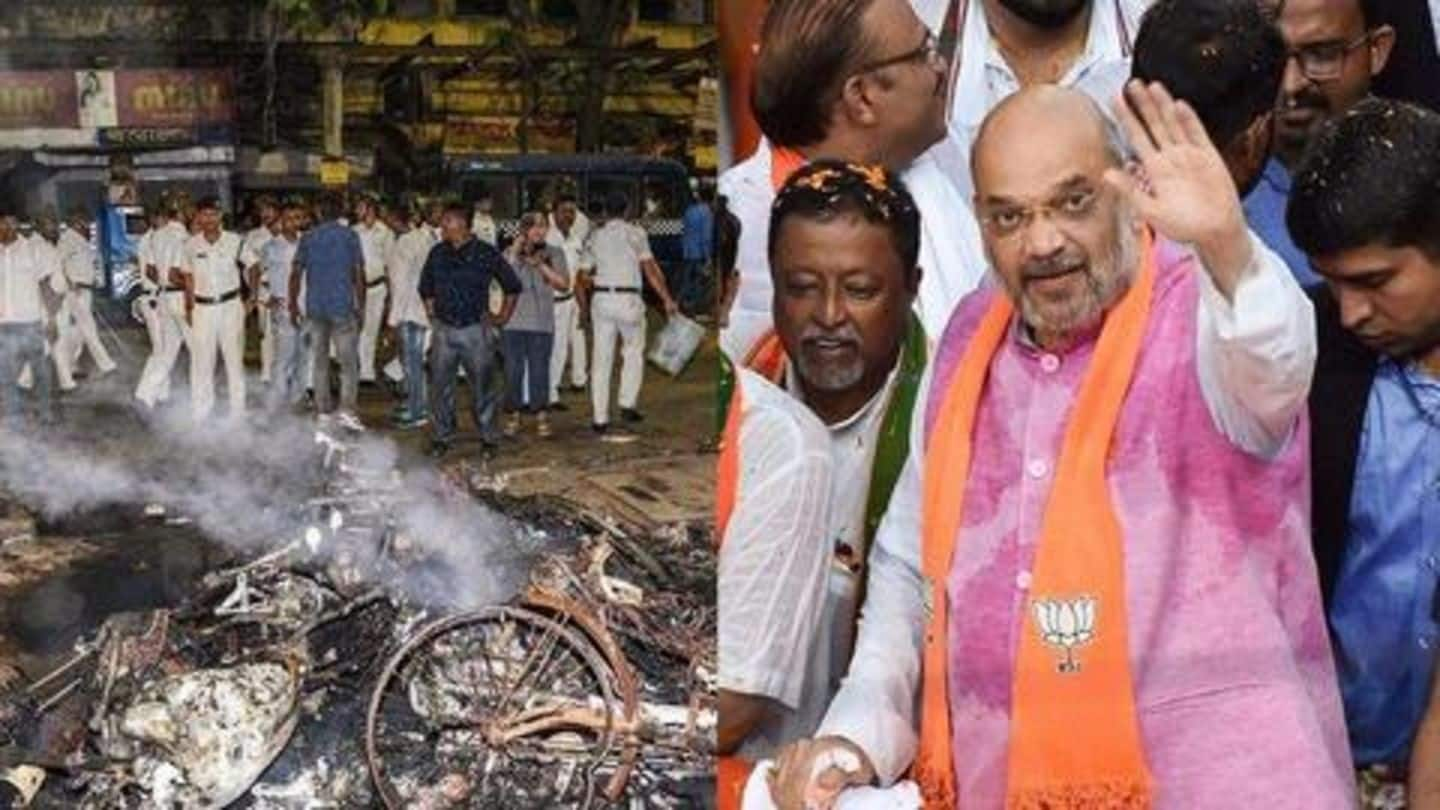 In an unprecedented move, the Election Commission (EC) has cut short the campaigning time for the last phase of Lok Sabha elections in West Bengal by a day. The EC's decision comes after the violence at BJP chief Amit Shah's Kolkata roadshow on Tuesday. While BJP hailed the move, WB CM Mamata Banerjee called it "undemocratic" and a "gift for BJP". Here's more.
EC invokes Article 324 to reduce campaign time
The Election Commission has, for the first time, invoked Article 324 of the Indian Constitution to reduce the campaigning time. Article 324 allows the poll body to restrict poll campaigns by giving it the power of "superintendence, direction, and control of elections".
When will campaigning end in WB for the last phase?
Since the campaigning time has been reduced by the EC for the nine seats in WB that will vote on 19 May, the campaigning will end at 10 pm on Thursday night instead of 5 pm on Friday. Meanwhile, the poll body has also ordered the removal of two senior WB officers, Principal Secretary (Home) and Additional Director General of CID (Criminal Investigation Department).
Instead of punishing Shah, EC has given a gift: Banerjee
Banerjee, however, said the EC's move was "unethical, unconstitutional, undemocratic and biased." She said, "... (PM) Modi has two meetings in Bengal. When he finishes, the campaigning also ends... Instead of punishing Amit Shah, the Election Commission has given a gift to the BJP".
BJP and TMC supporters clashed during Shah's roadshow
During Shah's Kolkata roadshow, clashes between BJP and TMC supporters broke out initially at Calcutta University, where BJP rallyists reacted to "Amit Shah Go Away" posters, and later at College Street. The WB government blamed BJP for the violence. BJP supporters allegedly set motorcycles on fire in Vidyasagar College and vandalized the bust of the iconic 19th-century educationist and social reformer, Ishwar Chandra Vidyasagar.
Deeply anguished at the vandalism done to the statue: EC
The political fight over the vandalization of Vidyasagar's statue escalated, following which EC reduced the campaign time. "Deeply anguished at the vandalism done to the statue. Besides his many other achievements as a philosopher, academic educator, writer and philanthropist, worked all his life in the cause of widow remarriage which was unthought and unheard of in the ultra-conservative society in those days," EC said.
Shah claims TMC attacked roadshow; TMC blames BJP for violence
Shah accused TMC of attacking his roadshow while TMC blamed BJP for the violence. Shah also denied that BJP workers broke the Vidyasagar statue, claiming the college gates were locked. The TMC, however, released evidence that BJP supporters broke the gates to enter the college.