When Amit Shah called up Yediyurappa at midnight, gave nod
When Amit Shah called up Yediyurappa at midnight, gave nod
Jul 27, 2019, 11:47 am
3 min read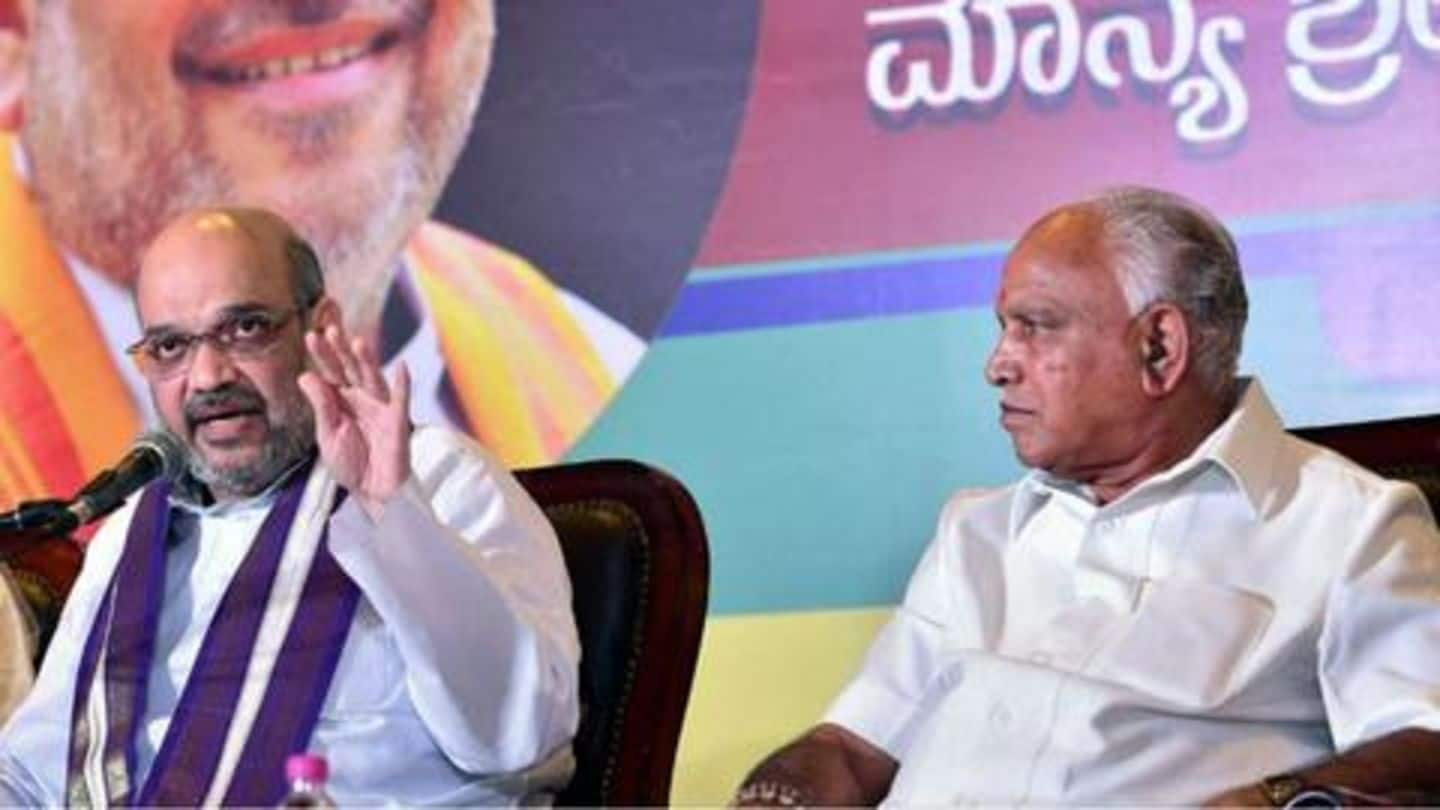 In Karnataka, the Congress-JD(S) coalition collapsed on Tuesday evening, putting a halt on the crisis which had been going on for weeks. It was expected BS Yediyurappa would soon rush to stake claim to form the government. But he didn't. Apparently, the new CM was waiting for a call from BJP President Amit Shah. So what did Shah tell Yediyurappa? Read on to know.
Background: Yediyurappa took oath as Karnataka's CM for fourth time
Yediyurappa, who took oath as CM in 2018 but resigned merely two and a half days later as he lacked numbers, was sworn-in to the top post on Friday around 6:30 PM. Earlier in the day, he met Governor Vajubhai Vala and declared his intentions. This is the fourth time Yediyurappa became Karnataka's CM. He will have to prove majority on Monday.
Shah gave green signal to Yediyurappa, but with conditions
According to TOI, Shah called Yediyurappa at 11:45 PM on Thursday, and gave a green signal. He was informed that the high command is in favor of him staking claim to form the government. But, Yediyurappa was told he should form the government at his "own risk". "Shah also asked Yediyurappa to wait till Friday morning before making any announcement," a source said.
After initial call, Shah again rang Yediyurappa up on Friday
On Friday, at around 8:30 AM, BJP working president JP Nadda called Yediyurappa to ask how he was confident of forming the government, especially when confusion regarding the resignation of rebel MLAs hasn't ended. In response, Yediyurappa assured Nadda he would take "full responsibility". "After this, Shah called and gave the final nod and asked him to complete formalities quickly," the source went on.
Yediyurappa took oath alone, Cabinet expansion likely next week
Further, the source added Shah's final approval came after he met Prime Minister Narendra Modi. Earlier, the oath-taking ceremony was supposed to happen between 12:30 and 1 PM. It was rescheduled to 6 PM, and it was decided that Yediyurappa would take oath alone. The Cabinet expansion is likely to happen after Yediyurappa appears for (and clears) the trust vote.
Initially, Shah wasn't sure, but BJP delegation gave him assurances
Meanwhile, Shah was reluctant to agree to Yediyurappa's demands, but gave in after a delegation promised him the rebel MLAs won't "backtrack". "They (rebels) will get fidgety if we prolong the crisis, as they have been sequestered in a resort for nearly 20 days," a senior leader told Shah. The said delegation also told Shah that if rebel MLAs skip Yediyurappa's trust vote, BJP could easily prove the majority.
Notably, Vala was also not sure how this would work
In fact, Governor Vala was also unsure about the entire scenario. When a group of BJP leaders approached him, he asked, "Where are the numbers?" To note, when Yediyurappa took oath in 2018, he had 104 legislators by his side. 14 months later, BJP's strength in the Assembly increased by only one, i.e., 105. This isn't enough, but Yediyurappa took the chance nevertheless.
Meanwhile, Shettar said BJP didn't want to take any chance
On the developments in the state, former CM and BJP leader Jagadish Shettar said, "It looked as if the Congress-JD(S) camp took advantage of the speaker's decision to threaten rebel MLAs. We didn't want to take a chance." He added the high command favored a new leadership in the state under Yediyurappa. The questions is- Will the fourth stint prove to be lucky for Yediyurappa?