Apple Watch Series 5: What to expect
Apple Watch Series 5: What to expect
Aug 25, 2019, 02:05 pm
2 min read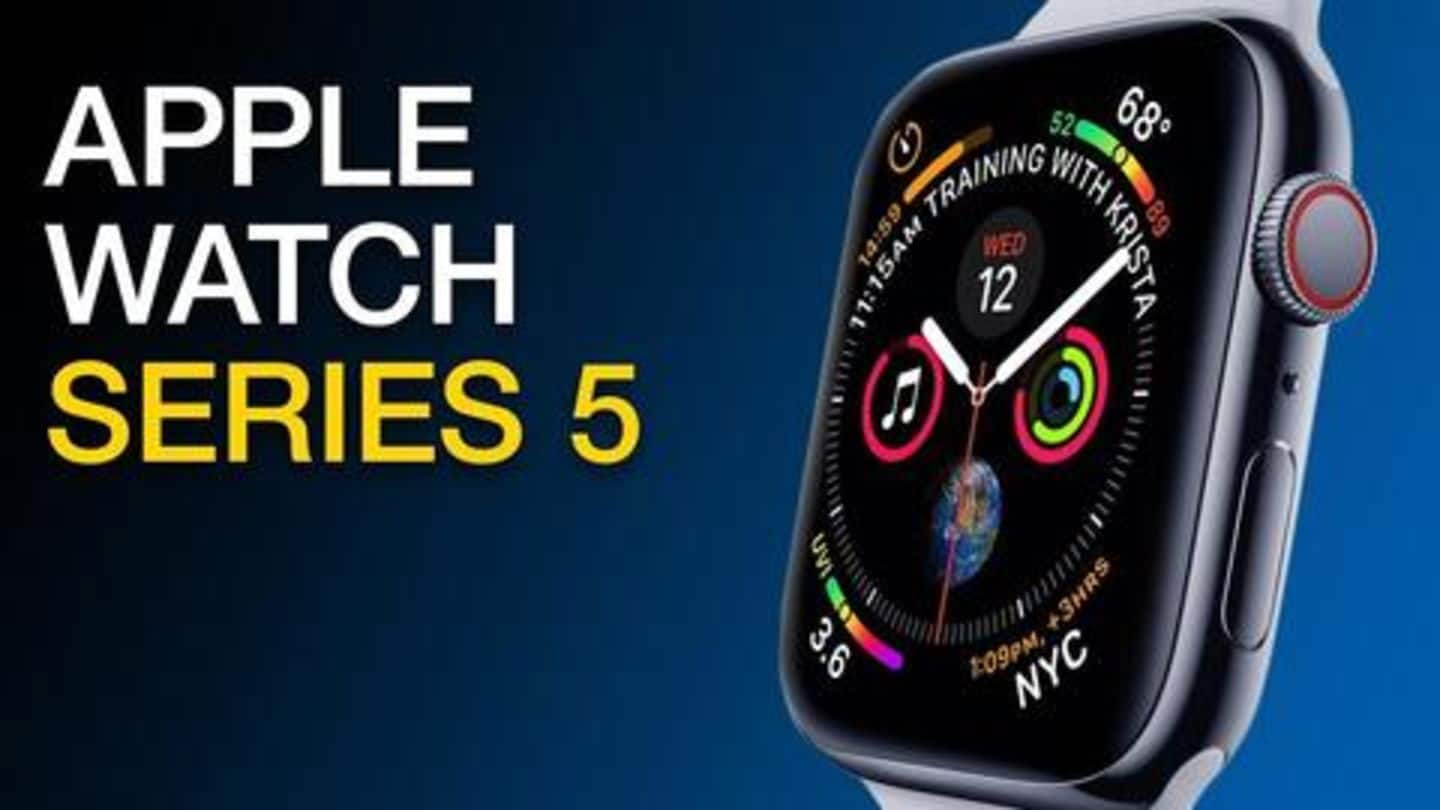 A couple of weeks from now, Apple will announce a clutch of new hardware including the latest iPhones, updated iPads, a new 16-inch MacBook Pro, and a new Apple Watch. Talking of the wearable, a couple of credible leaks have confirmed that the company would be launching at least two new variants of the Apple Watch at its September 10 event. Here's more.
Apple Watch Series 5 or updated Series 4?
Last week, iHelp BR discovered references for two new 44mm models in ceramic and titanium finish. Notably, Apple has never offered a titanium Watch, and in the 44mm size, there's no ceramic version at present. Hence, these must be the two new models Apple may unveil, but we don't know if they'd arrive as Series 5 or upgrades to the Series 4 line-up.
Ceramic, titanium models should be offered in 40mm size also
The existing Apple Watch Series 4, offered in Aluminum and Stainless Steel cases, comes in two sizes of 40mm and 44mm. Hence, if Apple sticks to the existing product mix, we would see 40mm variants of the ceramic and titanium models as well.
Apple has registered four new Apple Watch models with EEC
Further, according to MacRumors, Apple has registered four new Apple Watch models with the Eurasian Economic Commission (EEC). It's a mandatory requirement to register products before bringing them to the market in that region. The four models could be 44mm and 40mm variants of the ceramic and titanium models, suggesting Apple is planning to launch only these new editions in the existing Series 4.
However, Ming-Chi Kuo claims Series 5 is coming in 2019
Meanwhile, reputed analyst Ming-Chi Kuo recently claimed that Japan Display will supply OLED displays for new Apple Watch Series 5 slated to launch in the second half of 2019. He also predicted that Apple would introduce a ceramic model of the watch. But given this is the only Series 5 specific rumor we've heard so far, it isn't the most convincing.