NASA, ESA astronauts baked 'space cookies' for the first time
NASA, ESA astronauts baked 'space cookies' for the first time
Written by
Shubham Sharma
Jan 25, 2020, 07:25 pm
2 min read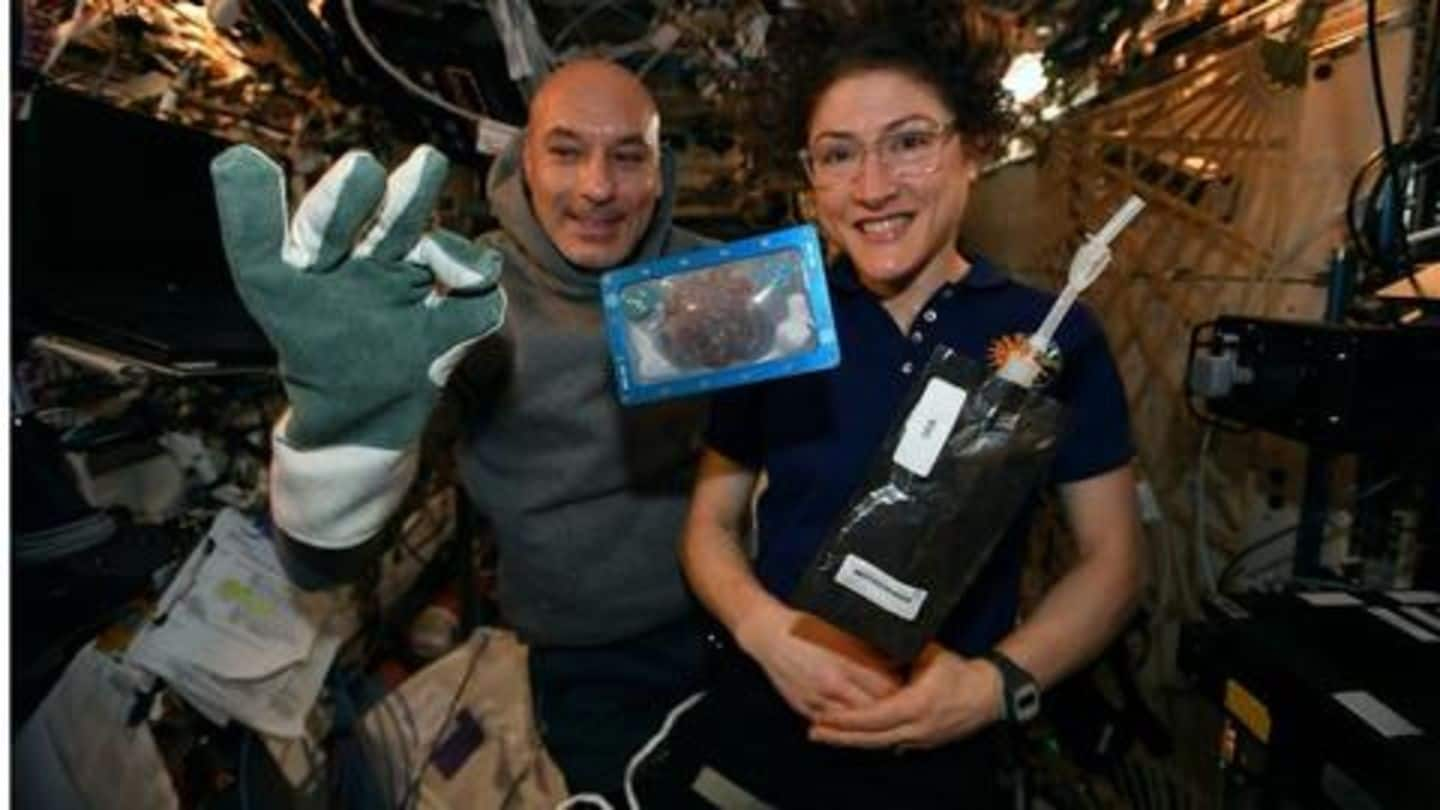 For the first time in the history of human spaceflight, astronauts have baked something in space - a batch of cookies. The choco chip treat was prepared on the International Space Station (ISS) in December, using a new zero-gravity oven. However, the sad part is, nobody knows what exactly these 'space cookies' taste like. Here's all you need to know about it.
Goal to study cooking options for deep space astronauts
NASA plans to send astronauts back to the Moon with an eventual goal of establishing a long-term presence there as well as sending humans to Mars. However, in order to help astronauts survive the Mars trip, the agency needs some viable cooking options. For this, it conducted the first-of-its-kind experiment to try baking in the zero-gravity oven, which went to the ISS in November.
Astronauts Luca Parmitano and Christina Koch led the experiment
In the experiment, astronauts Luca Parmitano and Christina Koch used the oven to prepare five space cookies over several days. However, they didn't get an opportunity to try the cookies and three of them were shipped to Earth. Double Tree, the company that provided the cookie dough, said they will "undergo additional testing by food science professionals" to determine if they're safe to eat.
ISS smelled like choco-chips during the baking experiment
"I can smell it," said European Space Agency's Luca Parmitano while preparing the cookies and detailing how the dough changed in real-time. Notably, the station also smelled like freshly baked choco-chip during the baking experiment.
The astronauts deemed that the finest cookies were the ones that took the longest to be prepared. On Earth, 20 minutes are enough to bake cookies at a temperature of around 150 Celsius degrees. However, on the space station, 25 minutes left the first cookie undercooked while the rest, baked for over 75 minutes, released the fresh choco scent and were deemed successful.
Meanwhile, here's a bit about the unique 'zero-gravity' oven
The oven that led to these cookies and will hopefully help with future baking endeavors in space has been developed by NanoRacks and Zero-G Kitchen. It uses a sleek, cylindrical chamber that houses an insertable silicon frame to hold the food still in microgravity. Meanwhile, the heating part is managed by cylindrical heating coils which increase the temperature slowly to consume less power.