Boeing's hypersonic jet will travel 5 times faster than sound
Boeing's hypersonic jet will travel 5 times faster than sound
Jun 29, 2018, 01:15 pm
2 min read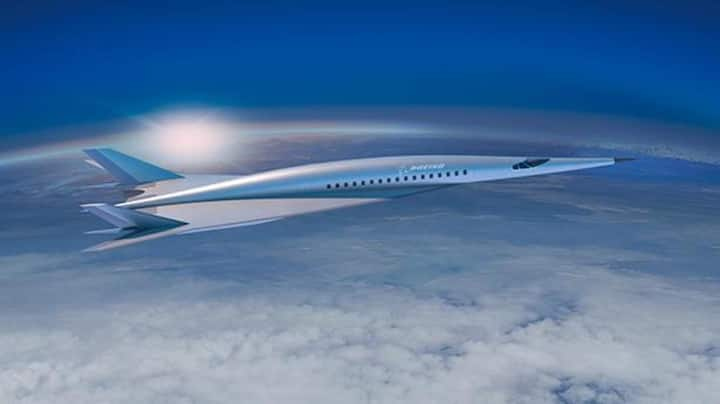 In an aviation conference at the American Institute of Aeronautics and Astronautics (AIAA), Atlanta, Boeing has unveiled the concept of a hypersonic passenger jet. Hypersonic refers to an aircraft that can fly at Mach 5, which is five times the speed of sound. This equals a speed of 3,900 miles per hour. Here is more on the ambitious project.
A two-hour trip across the Atlantic
The hypersonic aircraft would cut down the travel time between Los Angeles and Tokyo from 11 to about three hours. Passengers will be able to fly from New York to London in two hours instead of seven. A flight between India and the UK would take just over an hour instead of nine hours.
CEO Dennis Muilenburg on the vision
Boeing's hypersonic jet isn't close to being a reality
Boeing estimates that the hypersonic aircraft will fully be materialized in the next 20 to 30 years. Tremendous efforts will have to be put in developing lightweight materials along with a powerful engine that can withstand hypersonic speed and new propulsion technologies. The first sketch of the early prototype shows a slim, triangular aircraft with fins on the tail and a sharp nose.
Boeing's hypersonic jet can face competition
Boeing said that the hypersonic aircraft could be used in both civilian and military applications. The concept is wildly expensive, so the actual flights would hardly be affordable. Notably, researchers from the Chinese Academy of Sciences are also in the process of developing a hypersonic jet for military purposes, which can later be branched out into a commercial variant.