This AI-powered 'Virtual Visor' can make your ride safer
This AI-powered 'Virtual Visor' can make your ride safer
Jan 07, 2020, 11:34 am
2 min read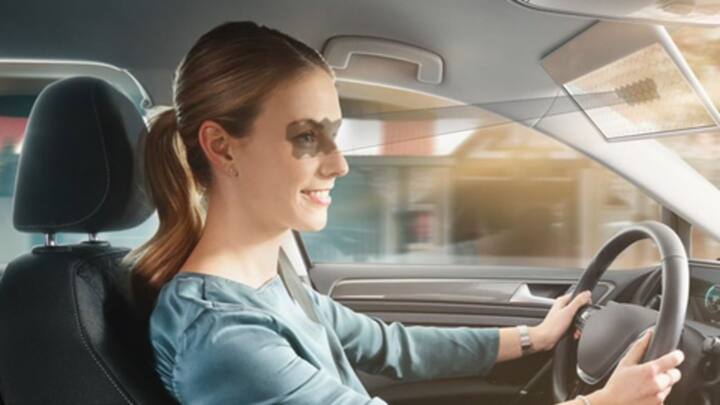 For anyone driving in the sun, flipping the visor up-down can be annoying. The manually-controlled component helps with dodging the sun's glare, but it also obscures the field of view of the driver, making it difficult for them to see what's on the road. Now, to tackle this problem, the engineers at Bosch have come up with a new AI-powered 'Virtual Visor'. Here's more.
Bosch's AI-powered Virtual Visor LCD
Unveiled at CES 2020, Bosch's Virtual Visor is a transparent LCD screen that darkens only partially to save the driver from sun glare. It judges the lighting conditions - and the associated glare falling on the face of the driver - to automatically turn dark/opaque. Meanwhile, the rest of the panel remains completely transparent, preventing the vision of the driver from being obscured.
The driver-facing side of the visor packs an AI-powered camera with facial detection and tracking capabilities. So, when the car goes in the sun, it detects the driver and determines where the glare is falling on their face. After this, the visor's algorithm analyzes the data and uses liquid crystal tech to darken only that portion through which the light hits the driver's eyes.
Traditional visors helped with the development
"We discovered early in the development that users adjust their traditional sun visors to always cast a shadow on their own eyes," Virtual Visor co-creator Jason Zink said. "This realization was profound in helping simplify the product concept and fuel the design of the technology."
When it will be available in cars?
Bosch has not said anything about the pricing of the Virtual Visor or when it will be available in commercial vehicles. However, Zink emphasized that the company is in talks with certain OEMs to bring the product into the market. "We have every intention of making this a real product," he said, adding that the product could change the way drivers see the road.