Oculus VR Conference: New $199 "Oculus Go" headset unveiled
Oculus VR Conference: New $199 "Oculus Go" headset unveiled
Written by
Ramya Patelkhana
Oct 12, 2017, 11:41 am
2 min read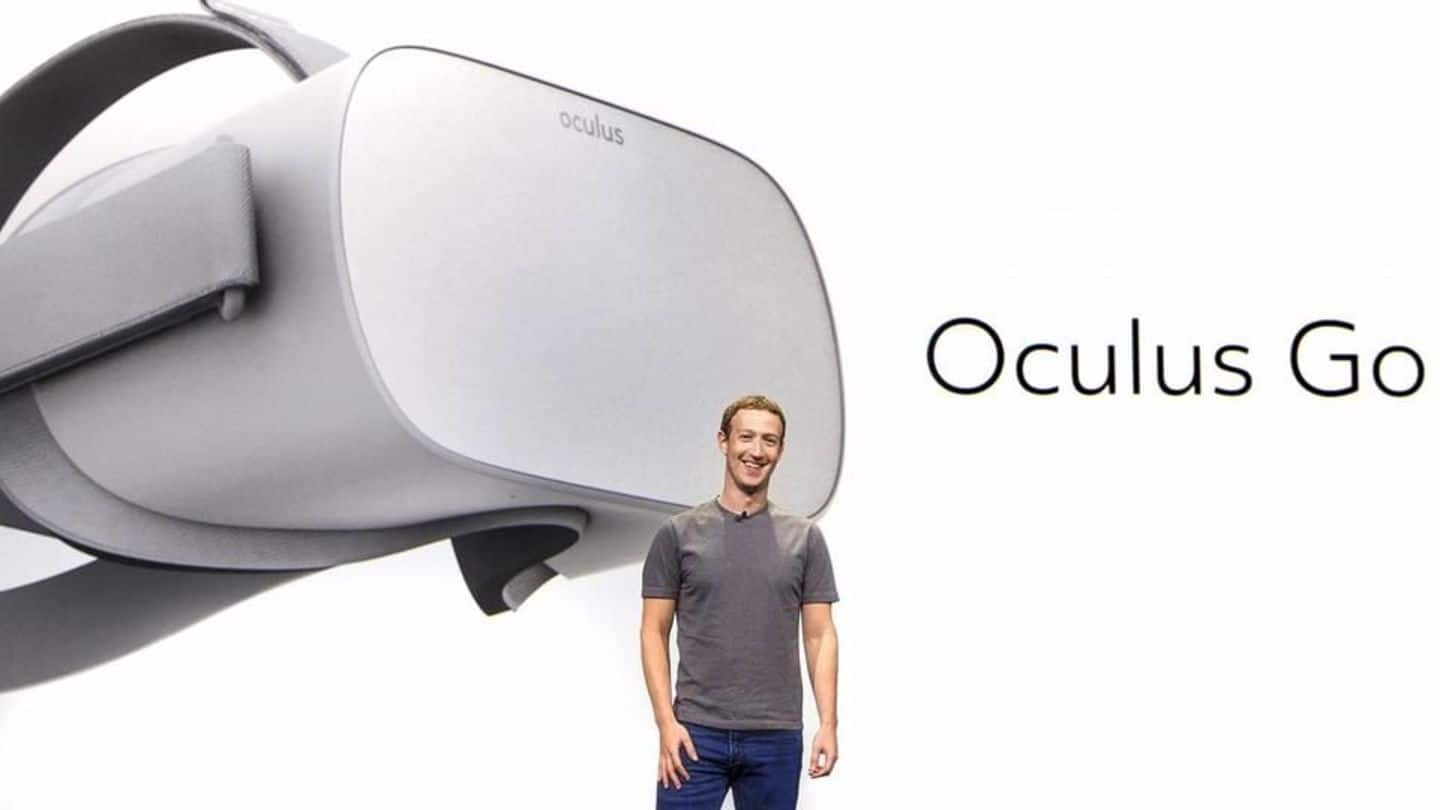 Facebook CEO Mark Zuckerberg unveiled Oculus VR's new mobile headset called "Oculus Go" at the Oculus Connect 4 event. The Facebook-owned VR (Virtual Reality) company's standalone headset would be available next year for $199. Zuckerberg said it was a way to reach Oculus' goal of getting "one billion people in VR." Also, Oculus Rift headset's price has been permanently reduced to $399 from $499.
Oculus Go to enable everyday VR uses at affordable price
The $199 standalone Oculus Go (priced between the $129 Gear VR and the $399 Rift) is aimed at enabling everyday uses of VR (Virtual Reality) without plugging in phone/computer. It stated, "It's awesome for watching movies or concerts, playing games, or just hanging out with your friends in VR." Oculus Vice-President Hugo Barra called Go "hands-down the easiest way to get into VR."
All-in-one Oculus Go makes VR more accessible
Oculus said Go offers "comfort, visual clarity, and ease-of-use." The headset would be super lightweight; the facial interface is made of new soft and breathable fabric. It features a high-resolution 2560x1440 LCD screen, next-generation lenses offering wide-field-of-view, and integrated spatial audio. Though speakers are built into headset, it can also be used with headphones. Developers world start receiving the "Go" development kits in November.
Oculus Go uses controller similar to Gear VR's remote
Oculus said, "Gear VR and Oculus Go apps are binary compatible, and they share the same controller input set—that means developers building for Gear VR are already building for Oculus Go." It added the mobile VR content library would be available on day one.
Updates on Santa Cruz headset; no word on specs yet
Last year, Oculus announced "Santa Cruz" standalone headset concept. This year, it said developers would start receiving the headsets, working with new motion-tracked controllers, in 2018. Santa Cruz wouldn't have a giant cable or external wired sensors for tracking. Instead, four onboard cameras would be tracking the headset. Oculus said the headset+controller combo brings "the power of Rift and Touch to the standalone category."
Ahead of Oculus Connect, there were rumors that Oculus Go is the commercial version of Santa Cruz. However, Go is a separate headset, without inside-out tracking fully-tracked motion controllers, which reduced its cost. Santa Cruz would be a high-end headset, having both the above features.