You can talk to books using this tool from Google
You can talk to books using this tool from Google
Written by
Bhavika Bhuwalka
Apr 18, 2018, 05:44 pm
2 min read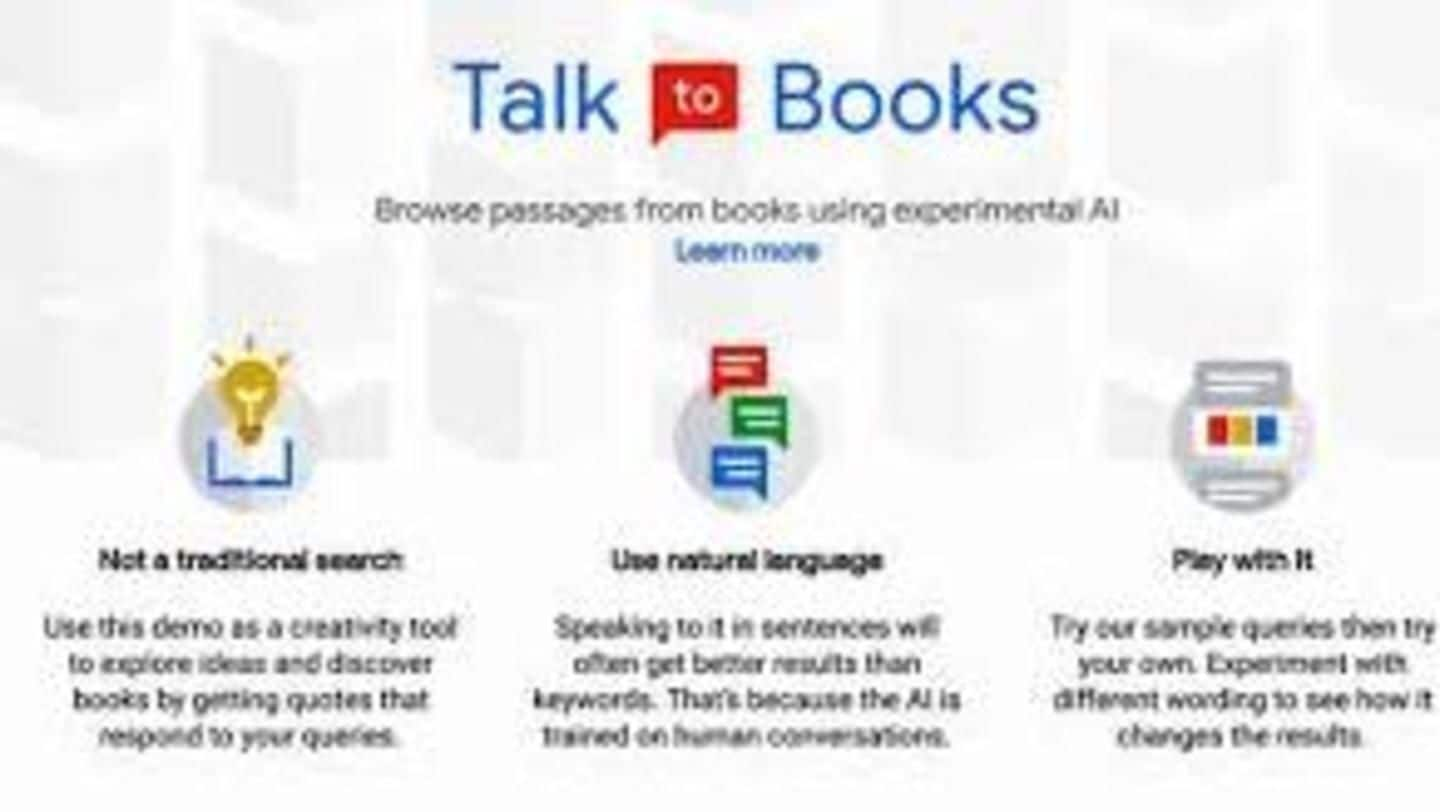 Google's Research division has launched Semantic Experiences, two new AI experiments with interesting activities involving semantics and natural language processing. This includes Semantris, a game powered by semantic search that tests your word-association abilities, and "Talk to Books," which lets you ask conversational questions and receive answers in the form of relevant passages from books. We will look at "Talk to Books" in detail.
Get conversational with Google
Users can type in a statement or a question in a conversational manner and the ML-trained algorithm will surface entire sentences from books related to the query. For example, if you type "Best detective in the world," the AI will respond with several paragraphs that go on to define the world's best detective. It is a fun tool to find exact lines from books.
A sample conversational response
If you type "Who are the smartest characters in Harry Potter," the top response would be: "It is Lupin who acknowledges Hermione's intelligence during the scene in the Shrieking Shack in which both Lupin's and Sirius Black's identities come fully to light."
"Talk to Books" doesn't function as a traditional search engine
Google Research's Director of Engineering Ray Kurzweil and Product Manager Rachel Bernstein said that the AI platform does not depend on keyword matching and that the service is designed around semantic analysis. This means that you have to type "Why Frodo didn't throw the ring into Mount Doom" instead of "Frodo mount doom ring" (from J.R.R. Tolkien's The Lord of the Rings).
The AI was trained on a billion conversational sentences
"The models driving this experience were trained on a billion conversation-like pairs of sentences, learning to identify what a good response might look like," Kurzweil and Berstein explained. "Once you ask your question, the tools searches all the sentences in over 100,000 books to find the ones that respond to your input based on semantic meaning at the sentence level," they added.
It should be noted that the tool will answer raw factual questions that are linear in nature more accurately than the more nuanced ones that might involve a complex concept or query from a particular book.