#TechBytes: 5 awesome features of Mozilla Firefox Quantum
#TechBytes: 5 awesome features of Mozilla Firefox Quantum
Written by
Sarthak Kapoor
Sep 04, 2018, 10:17 am
2 min read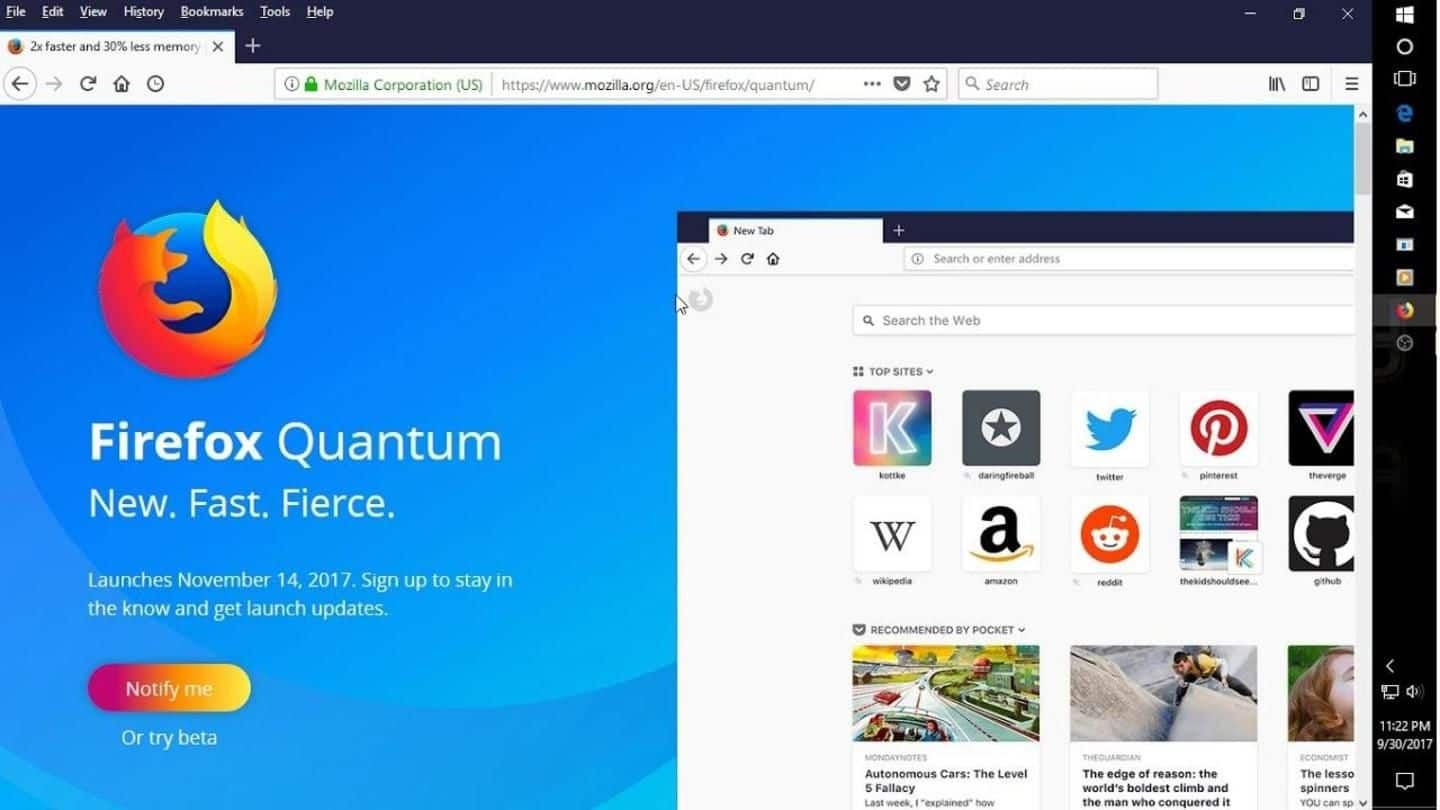 Tired of using unprotected, slow, convoluted web browsers? Well, then you should give the relatively new Firefox Quantum browser a try. With several improvements and an easy-to-use interface aimed at convenience, Firefox Quantum offers fast browsing and comes with tons of features. The browser is 2x faster and lot more secure than previous Firefox versions. Here are the 5 awesome features of this browser.
Enhanced privacy with Private Browsing and Tracking Protection
Unlike Incognito Mode on Google Chrome, Private Browsing on Firefox Quantum offers serious privacy protection tools. While it still doesn't make you anonymous on the internet, Private Browsing and Tracking Protection on Firefox Quantum block online trackers, including those hidden within ads. Additionally, by blocking some ads and scripts that slow down browsing, Private Browsing also offers significantly improved page loading times.
Firefox Quantum is considerably lighter than most browsers
Firefox Quantum works flawlessly on most computers as it uses considerably less memory than most other web browsers. Notably, Quantum uses 30% less memory than Google Chrome, and its graphic engine enhancements allows users to open several tabs simultaneously without any lag or clutter. Even on webpages that use heavy JavaScript, Quantum ensures smooth performance.
Screenshots and Pocket are great time saving features
Firefox Quantum also makes taking and sharing screenshots significantly simpler. By allowing users to take and share screenshots directly from the browser, Quantum eliminates the need to save screenshots on your computer first. Another great feature is the Pocket integration. Built into Quantum's toolbar, the feature acts as a universal save-for-later button that allows users to view articles, videos and photos later.
Firefox Quantum offers gaming, PWA support
Firefox Quantum lets users play web-based games seamlessly with pre-installed WASM and WebVR for VR gaming. The browser also supports PWA (Progressive Web Apps) for Firefox on Android. For those unaware, PWAs are websites which appear as mobile apps on your phone. Users can access these websites like apps outside the browser, without the need for typing in lengthy web addresses.
Library and customization offer great convenience
Quantum's Library is a catalog of all your downloaded files, saved bookmarks, Pocket saves, browsing history, and screenshots, all in one location. Quantum also allows importing bookmarks, passwords, autofills from Chrome which make it easy for users to switch to the new Firefox browser. Additionally, the browser supports thousands of extensions and customizable themes for both convenience and pleasure.