Artemis 1 SLS moon rocket "exceeds all expectations," reveals NASA
Artemis 1 SLS moon rocket "exceeds all expectations," reveals NASA
Dec 01, 2022, 05:25 pm
3 min read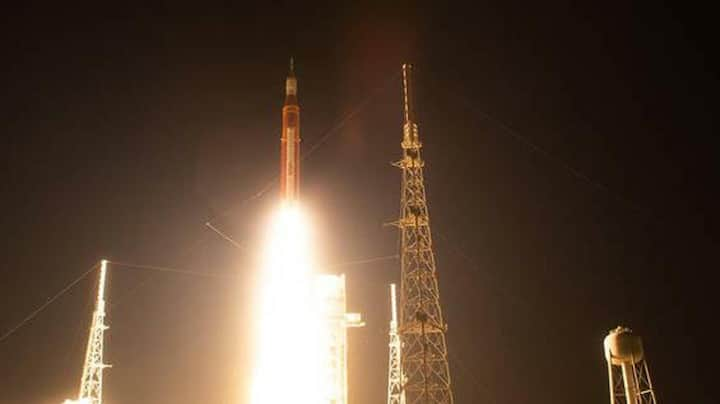 Artemis 1's Space Launch System (SLS) rocket, which launched the Orion spacecraft, has exceeded all expectations and "performed with precision," revealed NASA after the initial investigation of the mission. SLS is the world's most powerful rocket to date. These positive results pave the way for the upcoming Artemis 2 and 3 missions, both of which will be manned expeditions to the Moon.
Why does this story matter?
The Artemis 1 mission, which took to space on November 16, is an uncrewed test flight of the Orion Spacecraft and SLS rocket.
The Orion spacecraft has been shattering previous records, including the one set by Apollo 13 mission. Recently, the space capsule set a new record when it traveled 432,210km from Earth, the maximum distance that any spacecraft built for humans has reached.
The rocket's boosters successfully attained their performance target
The twin solid boosters on the SLS rocket attained their target and propelled the rocket and spacecraft almost 43km from the launch pad and helped reach a speed of about 6400km/h in just over two minutes before the boosters separated. No issues were reported with the boosters' subsystems, including the thrust vector control system used for steering.
Engineers will continue to study the performance of the rocket
According to the analysis, the SLS rocket's core stage and its four engines met every expectation in the final minutes of the countdown preceding the liftoff as well as during launch. Engineers will conduct more detailed investigations on the performance of the SLS rocket over the next few months. The Orion spacecraft is expected to return from its 25-day mission on December 11.
The same system has powered various successful space missions
"The upper stage's single RL-10 engine has powered successful missions to every planet in the solar system and to interstellar space over its more than 50 years in operation," explained NASA on its official blog. "It set a single-duration burn record, firing for more than 18 minutes to set Orion precisely on its multi-day outbound trek to intercept Earth's nearest celestial neighbor."
The lag in performance was less than 0.3%
"The first launch of the Space Launch System rocket was simply eye-watering," said Mike Sarafin, Artemis' mission manager. "While our mission with Orion is still underway and we continue to learn over the course of our flight, the rocket's systems performed as designed and as expected in every case," he added. "Performance was off by less than 0.3% in all cases across the board."