Mark Zuckerberg says Apple's App Store policies are 'problematic'
Mark Zuckerberg says Apple's App Store policies are 'problematic'
Dec 01, 2022, 03:39 pm
3 min read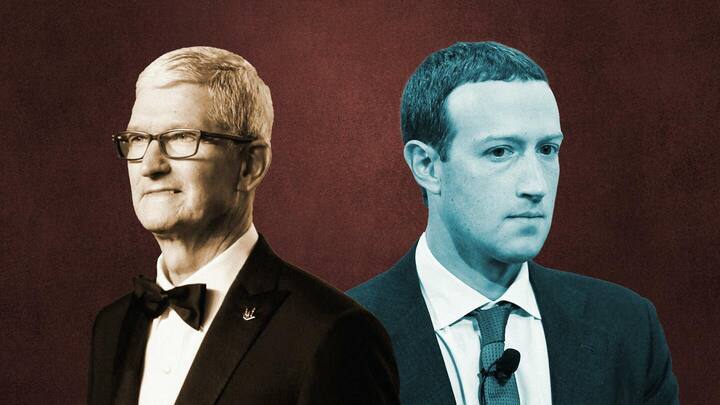 Mark Zuckerberg and Elon Musk agree on one thing - Apple's App Store policies are not fair. The Meta CEO has always been a staunch critic of Apple and its policies. During an interview at The New York Times' DealBook Summit, Zuckerberg said that Apple's policies are not sustainable. Recently, Twitter CEO Musk too fired shots at Apple's App Store policies.
Why does this story matter?
The Meta-Apple rivalry has been brewing for a while. Meta has been the biggest casualty of Apple's new privacy policy, and Zuckerberg has never shied away from voicing his anger at that.
Neither Zuckerberg nor Meta has been able to tackle Apple's offensive. Apple, on the other hand, has been continuing to exert its control over the app ecosystem unchallenged.
Apple's control over App Store is problematic: Zuckerberg
Zuckerberg had harsh words for Apple. He said, "Apple has sort of singled themselves out as the only company that is trying to control unilaterally what apps get on a device. " He called the tech giant's practice unsustainable. "I do think it is problematic for one company to be able to control what kind of app experiences get on the device," he added.
Meta CEO drew comparisons between Apple and Google
Zuckerberg drew comparisons between Apple and Google. He said that Apple is the only company that decides what apps can be installed on a device. He said that Android users don't have to rely just on the Play Store to download apps. "They've always made it so you can sideload and have other app stores and work directly with phone manufacturers," he added.
Both Meta and Apple have been critical of each other
The rivalry between Meta and Apple has been taking shape for a while now. Meta's ad business was seriously wounded this year after Apple's privacy update that prevented third-party tracking. Similarly, Apple's CEO Tim Cook has been critical of how Meta collected user data. He once said that Meta's business is built on misleading users and exploiting their data and that "it needs reform."
Apple isn't just looking out for the people: Zuckerberg
Zuckerberg described Apple as one of meta's "biggest competitors." He said that there is an element of "conflict of interest" in how Apple manages the App Store. Apple is not just looking out for the interest of people, he added. "I think they also have a lot of their own strategic interests, which makes it very challenging."