Philae wakes up from hibernation after 7 months!
Philae wakes up from hibernation after 7 months!
Written by
Sripriya Yegneswaran
Jun 15, 2015, 03:16 pm
2 min read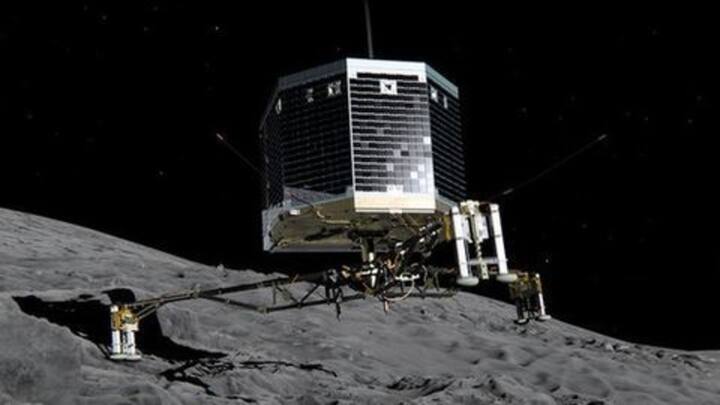 European Space Agency's Comet Lander-Philae woke up from its seven month long hibernation and sent a 300 data packet signal to ESA's operations at Darmstadt, Germany. Scientists are now eagerly awaiting Philae's next signal to know more about the recent happenings at Comet 67P. According to estimates, Philae's memory still has 8,000 data packets, which can be used to send more useful information.
Philae is one of the robotic comet landers of European Space Agency (ESA) which accompanied the Rosetta spacecraft in 2004. 10 years after departing from Earth, Philae landed on Comet 67P/Churyumov-Gerasimenko on 12 November 2014. DLR's Lander Control Centre in Germany operates and monitors Philae's functions and activities. It was named after Philae Obelisk in Egypt, which has bilingual inscriptions to decipher Egyptians hieroglyphs.
Philae sends data before losing its power
Rosetta's little probe, Philae delivered all the expected information from Comet 67P before its batteries failed and it lost its power. The probe became stuck against a cliff and was unable to receive any sunlight which could re-charge its batteries. Every possible effort was being made to re-set Philae's orientation on the comet so that the largest solar panel was able to receive sunlight.
Rosetta's probe, Philae is the first probe in history to land on a comet. And to celebrate its uniqueness, ESA had made a Twitter account for the probe. It has 741 tweets about its activities till date with about 428K followers.
Philae may start working in spring again!
Scientists were hopeful that comet lander, Philae which landed on Comet 67P and eventually ran out of power and went in hibernation mode, may resume functioning properly by March. The lander was expected to re-charge its batteries when the comet delves closer to the Sun, making the lander receive sunlight and heat in order to dig out rocks and collect ice samples.
Comet 67P lander may wake up from hibernation!
With brighter, sunny spring days around the corner, Philae-the Comet 67P lander, may wake up to report to its duties. ESA's spacecraft Rosetta which had been orbiting Comet 67P, aligned itself with Philae in order to establish communication with its comet lander. Scientists aren't expecting too much but by aligning Rosetta, they were making sure that nothing is left on their behalf.