Redmi Note 6 Pro explodes at service center, video captured
Redmi Note 6 Pro explodes at service center, video captured
Written by
Shubham Sharma
Feb 05, 2020, 07:34 pm
2 min read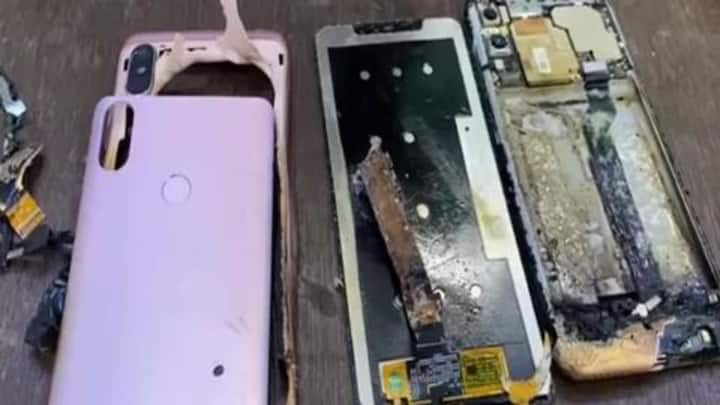 According to reports, Xiaomi's Redmi Note 6 Pro has exploded at a service center in Gujarat. The device was in the hands of an executive when it caught fire and exploded into flames, although no one at the center was injured in the incident. Xiaomi says it is investigating the matter and is trying to get in touch with the owner of the device.
As seen in the CCTV footage released by a Gujarati outlet, the Note 6 Pro exploded when the technician of local service shop Dhriti Mobiles was trying to service it. The person is seen trying to open the phone, but within a matter of seconds and a few attempts, it started emitting smoke and caught fire, prompting the executive to throw the thing away.
Here's the video of the explosion
No one was injured in the incident
The fire seen in the clip and the charred condition of the device indicates that it could have been the battery of the phone that exploded, damaging it beyond repair. Luckily enough, everyone at the store, which was not a Xiaomi-authorized service center, got away from the burning device on time and nobody was injured in the whole incident.
Xiaomi trying to obtain exploded unit for investigation
Following the explosion, the owner of the exploded device questioned the safety of Xiaomi phones on Facebook. However, the Chinese company, on its part, highlighted its safety practices and emphasized that it is "trying to establish contact with the customer and retrieve the device for further investigation." "We will share an update at the earliest," it added in the statement.
Users urged to visit authorized centers for repairs
Along with highlighting its stance on the matter, Xiaomi also requested its users to visit only authorized service centers with qualified professionals for repairs, not local shops. "One can see in the video that the customer had reached out to a local repair shop and the phone was being forcefully opened which might have led to further damage to the device," the company asserted.
Other Xiaomi phones have been involved in explosions too
To note, this isn't the first case of a Xiaomi phone exploding. Prior to this, there have been reports of Mi A1, Redmi Note 4, Redmi Note 7S, and Redmi 6A also catching fire.