Samsung's foldable phone to launch in March 2019 for $1,770
Samsung's foldable phone to launch in March 2019 for $1,770
Nov 13, 2018, 12:32 am
2 min read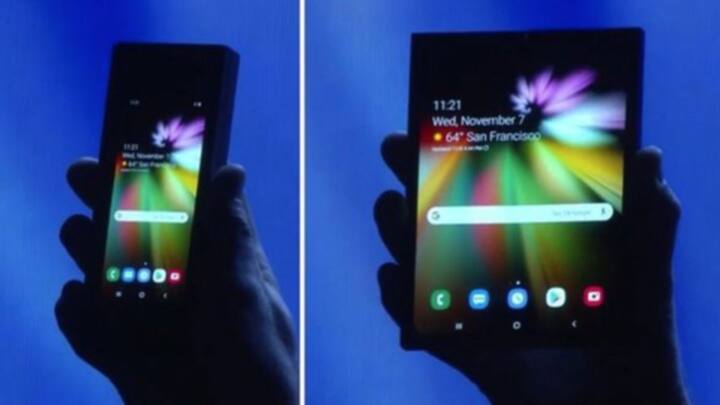 At its recently concluded developers conference, Samsung unveiled its two-screened foldable smartphone. In the brief unveiling, the tech giant showcased the device's Infinity Flex Display. And now, a Korean publication has confirmed that Samsung plans to launch its first foldable smartphone in March 2019. Further, industry insiders suggest the phone may cost around 2 million won ($1,770). Here's more.
Samsung's foldable phone to launch alongside Galaxy S10 5G model
The Korean publication, citing industry sources, claims that Samsung is working to launch its foldable phone in March 2019, alongside a fifth-generation (5G) network-powered Galaxy S10. The tech giant is expected to launch its 10th-anniversary Galaxy S10 in February. And in March, it will unveil the foldable phone - Galaxy F - and another 5G-compatible variant of Galaxy S10.
Koh said at least 1 million devices will be shipped
Previously, Samsung Electronics President DJ Koh had said the phone would be made available globally, confirming the device won't be limited to select markets like Korea and China. Interestingly, Koh also said Samsung will ship at least 1 million units of its foldable smartphone. Further, according to industry insiders, Samsung could launch the Galaxy F at around $1,770 (approx. Rs 1,30,000).
Here's everything we know about Galaxy F
Samsung's foldable phone sports a 7.3-inch main internal display and a 4.6-inch display external screen. When unfolded, this screen will offer features of a tablet, but on being folded, it takes the form of a regular candy bar phone. Meanwhile, reports suggest Galaxy F may not come with 5G network compatibility.
Here's the first official look of Samsung's foldable phone