Twitter Fleets launched globally; Audio Spaces coming to select users
Twitter Fleets launched globally; Audio Spaces coming to select users
Written by
Siddhant Pandey
Nov 18, 2020, 07:59 pm
3 min read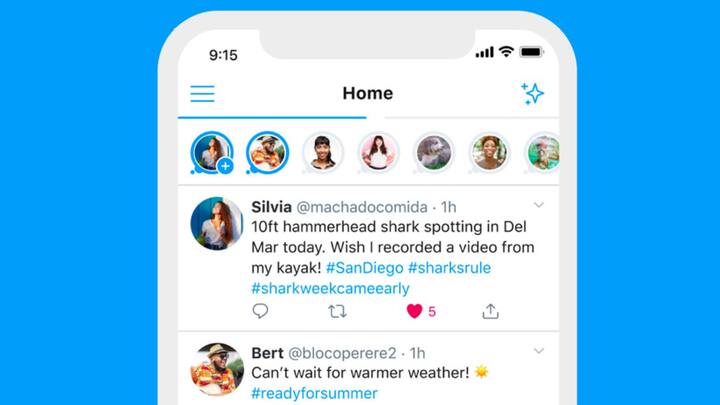 Twitter has launched a new feature called 'Fleets' worldwide, after initially testing it in India, Brazil, Italy, and South Korea. The feature, which has been likened to 'Instagram Stories', was launched in India in June. The micro-blogging site has, so far, not shared any figures on the usage of the feature. However, it said that Fleets allowed people to comfortably share "casual thoughts."
'Fleets creates lower pressure to join conversation'
Twitter's Director of Design, Joshua Harris, said during a virtual press conference, "A lot of people don't tweet. With retweets and replies, it feels like a burden to tweet. People lurk, draft tweets, and then do not send them." "Fleets create a lower pressure to join the conversation," Harris said, "Fleets helped people feel more comfortable sharing personal and casual thoughts, opinions, and feelings."
Fleets are Twitter's version of the Stories feature, which has been adopted by nearly every social media platform, including LinkedIn. Much like on other platforms, Fleets disappear within 24 hours. They appear at the top of Twitter's Home feed in what is called the 'Fleetline'.
Twitter to introduce updates to Fleets
However, users cannot control who sees their Fleets and they do not get notified if others have taken a screenshot of their Fleets. Harris said that Twitter is considering making these tweaks to the feature. However, the micro-blogging site will first be adding stickers to the feature, along with more creator tools, and live broadcasting, he said.
Twitter to test Audio Spaces among limited users
Twitter also announced that another feature, Audio Spaces, will soon be tested on a limited set of users. The feature allows users to hold discussions in a public, yet intimate setting, Twitter said. Users can control who can participate in these discussions. Product Designer Maya Patterson said Twitter will first test the feature among women and people from marginalized communities.
Twitter aimed for 'safe and intimate' vibe with Audio Spaces
Patterson said, "Voice tweets allow people to share their thoughts, but we imagined a live audio space to communicate with others." She added, "A space that feels very safe and intimate. We've used the metaphor of a well-hosted dinner party. You don't need to know everyone at the party to have a good time, but everyone should feel comfortable to sit at the table."
'Not just a voice chatroom'
Patterson said that Audio Spaces is not just a voice chatroom. She said the feature will allow users to add tweets and view transcriptions in these spaces. Without sharing a timeline, she added that Twitter is working toward introducing the voice tweet feature to Android.