Worried over COVID-19? Ask NewsBytes anything on WhatsApp
Worried over COVID-19? Ask NewsBytes anything on WhatsApp
Written by
Shubham Sharma
Mar 23, 2020, 05:23 pm
2 min read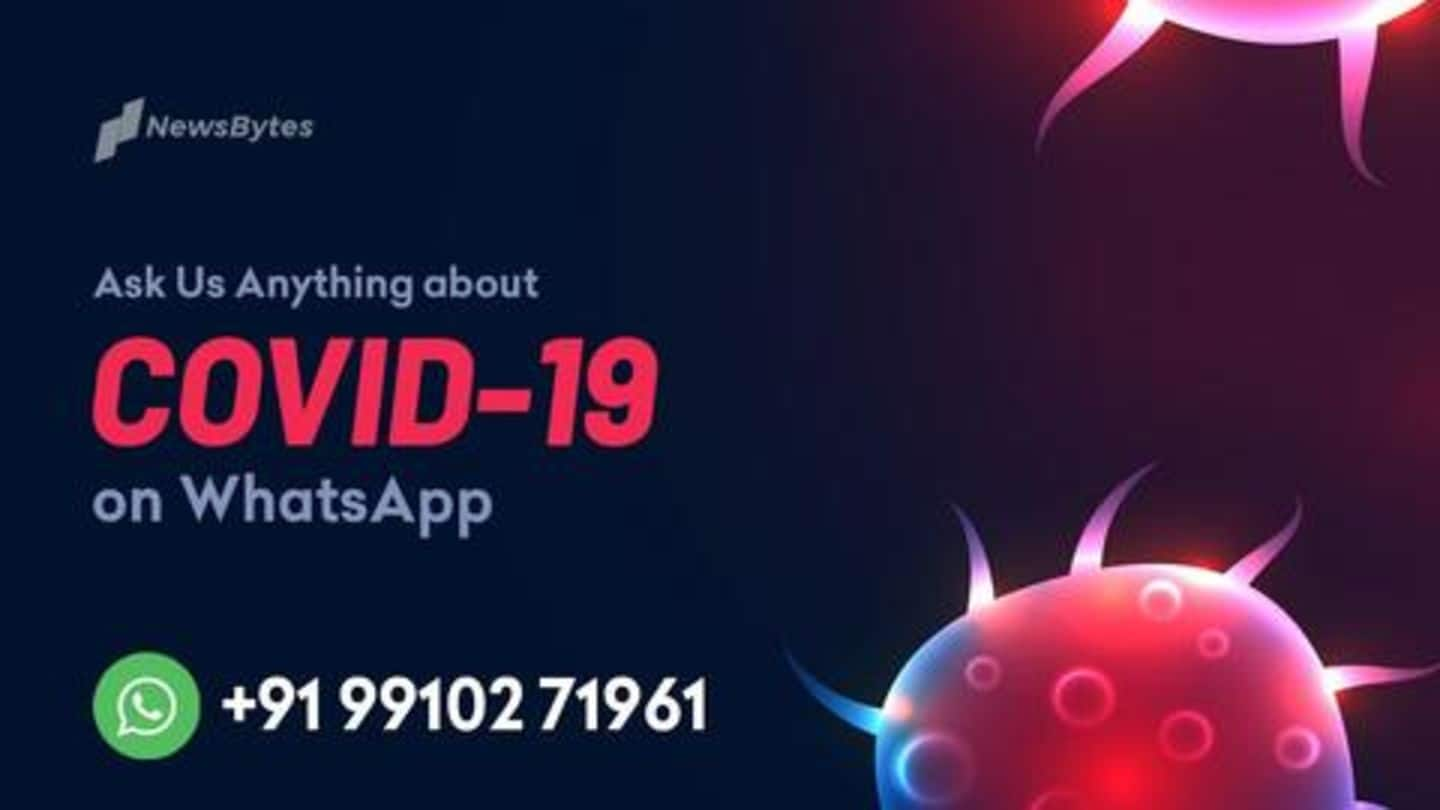 The spread of COVID-19 in India and different parts of the world has got everyone worried. Italy is reeling from a major outbreak, China is recovering from one, while other nations are witnessing fresh cases every day and trying to prevent the spread. In these dark times, NewsBytes is here to help you, allay all concerns you may have around COVID-19. Here's how.
Get in touch through our helpline on WhatsApp
We have set up a helpline on WhatsApp (https://wa.me/919910271961), one you can use to get in touch with us and ask any question on COVID-19 or the coronavirus behind it. This includes anything and everything around the pandemic, starting from how it spreads and how long it lasts on different surfaces to symptoms, nearby testing locations and what can be done for safety, prevention.
Verify dubious WhatsApp forwards/cure promises
Along with validated information on the disease, you can also use our WhatsApp helpline to verify dubious information - like claims of a new cure, prevention technique for coronavirus - sent by someone else on the messaging service. A wave of baseless rumors/myths on COVID-19 has been rising on the internet and our team of fact-checkers will help you dodge it, throughout this crisis.
All facts and resources from WHO, Ministry of Health
All the information provided through helpline is sourced from recognized healthcare departments, including the World Health Organization, Ministry of Health, and the US Centers for Disease Control and Prevention. Beyond that, we are also working on an AI-backed WhatsApp bot, which will work in conjunction with our team, to expedite the process of handling queries and support people.
Bot will handle information, humans will provide much-needed support
With the mix of AI and human-assisted capabilities, we strive to serve as many people as possible with not just factual data but also the care, the reassurance they need. These are tough times, and the least we can do in a situation like this is to be there for each other! To get started, click here or text on WhatsApp at +91 9910271961.