West win the 2017 NBA All-Star Game
West win the 2017 NBA All-Star Game
Written by
Rishikesh Malkhede
Feb 20, 2017, 10:28 am
2 min read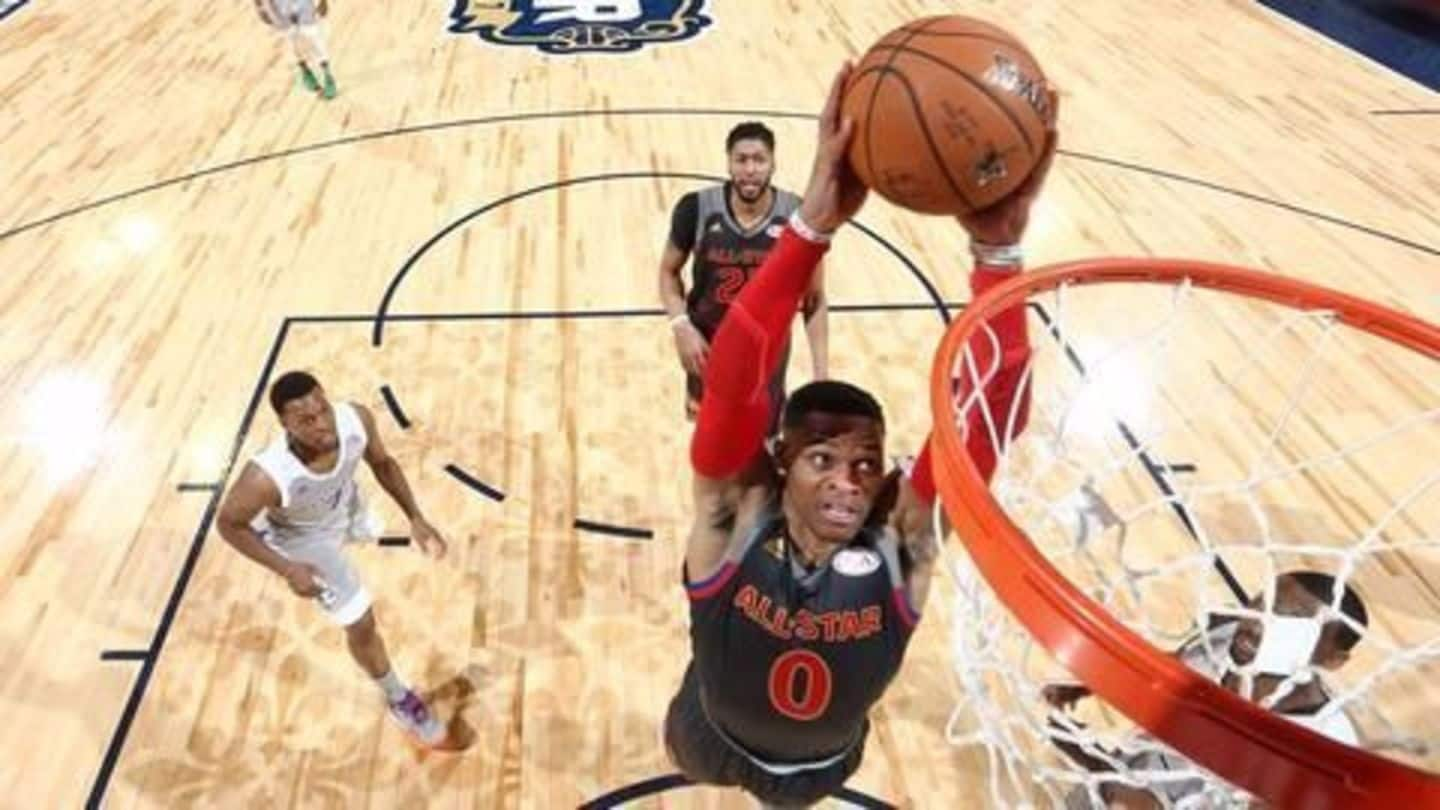 The West Conference defeated their counterparts East Conference 192-182 in the 2017 NBA All-Star Game at New Orleans. The match saw some high-flying dunks from both the teams with an alley-oop between former team-mates Russell Westbrook and Kevin Durant. West's score of 192 was the second highest after their last year's score of 196, when they had won by 23 points.
What is a NBA All-Star Game?
The NBA All-Star Game is a basketball exhibition match played between the star players from Eastern Conference and Western Conference of the National Basketball Association (NBA). First played in March 1951, it is played annually in February during the NBA All-Star Weekend. Selection of every player is done by a fan ballot, with each team consisting of 12 players.
Most appearances by any player at NBA All-Star Game
Six time winner of NBA's Most Valuable Player award, Kareem Abdul-Jabbar has made 18 appearances in his life for a NBA All-Star Game. He was selected 19 times.
The 2017 NBA All-Star Game
The 2017 NBA All-Star Game was played on Sunday, 19 February at the Smoothie King Center in New Orleans. It was the first time that 50% of the votes were done in selection of starters for both the teams. The remaining 50% was equally divided between votes of media and current NBA players. Each team comprises of five starters and seven reserve players.
Anthony Davis wins MVP after setting a scoring record
New Orleans Pelicans' Anthony Davis smashed the scoring record of the NBA All-Star Game as he went on to score 52 points. The previous record was held by Wilt Chamberlain in 1962 game, where he had scored 42 points. He was awarded the MVP award at the game, making him the first player in New Orleans franchise history to win the All-Star Game MVP.