FIFA World Cup 2022: Infantino wants 48-team tournament in Qatar
FIFA World Cup 2022: Infantino wants 48-team tournament in Qatar
Apr 14, 2018, 11:59 am
2 min read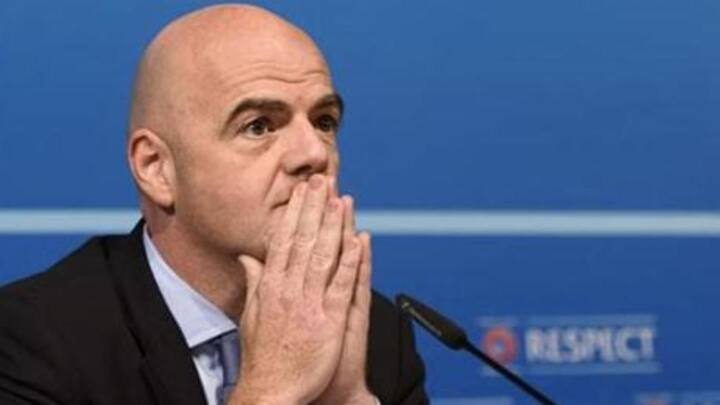 FIFA President Gianni Infantino wants a 48-team 2022 World Cup that is slated to be held in Qatar. Reports state that the country itself cannot host these many teams alone and that could result in other Gulf states having matches. The 2018 FIFA World Cup has 32 teams and earlier the Governing Board had planned for 48 outfits from the 2026 edition.
Qatar is not keen to host more teams
According to reports, talks have taken place between FIFA and officials from Qatar. The Gulf nation isn't keen to add another 16 teams simply because of logistical reasons. This, in turn, could see FIFA churning out a plan of including the extra teams only if it seems feasible for the hosts. So is there a chance of another nation hosting the extra games?
Which countries can host World Cup matches?
Bahrain, Saudi Arabia and United Arab Emirates all cut diplomatic ties with Qatar last year. This leaves Kuwait as the only nation that can host matches. Last December, Infantino ensured that the country's suspension from FIFA was lifted.
What has Infantino said regarding 48 teams?
The FIFA president feels it could be a very good idea to have 48 teams in the 2022 Word Cup, but only if it is logistically possible. He added that 48-team tournament will help expanding the development of football. FIFA's thoughts on including the same in Qatar comes after South American body CONMEBOL pitched in the idea of forwarding it to 2022.
32-team World Cup came in 1998
The 32-team FIFA World Cup came to fore in the 1998 edition in France. The 2018 World Cup in Russia will be the sixth time the 32-team segment will float. The situation with Qatar means it is highly possible of seeing a 32-team show again.