Infamous controversies of Argentine legend Diego Maradona
Infamous controversies of Argentine legend Diego Maradona
Jun 28, 2018, 11:55 am
2 min read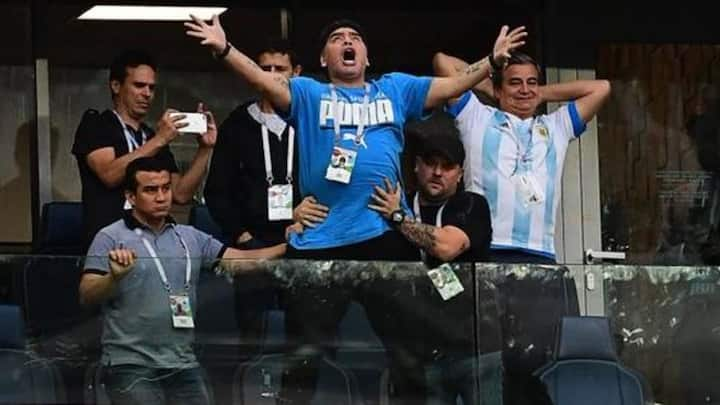 One of the greatest footballers of all time, the life of Diego Maradona has been governed by two things- football and controversies. Regarded as the bad boy, many called him a flawed genius. Maradona won the 1986 FIFA World Cup for his side and was a superstar for club Napoli. He also coached the Argentine team. Here we look at the infamous controversies.
Hand of God- Maradona revelled in 1986
In 1986, during the quarter-final between Argentina and England, Maradona scored the most controversial goal in the history of World Cup. He punched an aerial ball, with his hand, past goal-keeper Peter Shilton. This act came to be known as 'Hand of God'. Interestingly, 4 minutes later, he went on to score unarguably the best goal, of his career, to hand Argentina a win.
When Maradona 'shot' journalists outside his home
This is probably the lowest point of Diego's life. The Argentine legend Maradona was handed a suspended jail sentence of 2 years and 10 months. The reason behind the same was 'shooting' of journalists with an air rifle. In 1994, he shot at the journalists outside his home at Buenos Aires, for 'invading his privacy' This shameful act injured four people.
Cocaine addiction hampered his game
Cocaine addiction hampered his career and it was traced back to 1982 when he started substance abuse. While playing for Napoli, he became a regular user of cocaine and that impacted his play. In 1991, he was handed a 15-month ban for testing positive while at Napoli. In 1994 World Cup, he was sent back home after failing a drug test.
His addiction to drugs and alcohol led to several health issues. Maradona put on a lot of weight and at one stage he weighed close to 128 kg. He suffered a heart attack in 2004. He, then, lost 30 kg excess weight through stomach-stapling.