#AsianGames2018: Indian rowers win gold in Men's Quadruple Sculls
#AsianGames2018: Indian rowers win gold in Men's Quadruple Sculls
Aug 24, 2018, 12:35 pm
2 min read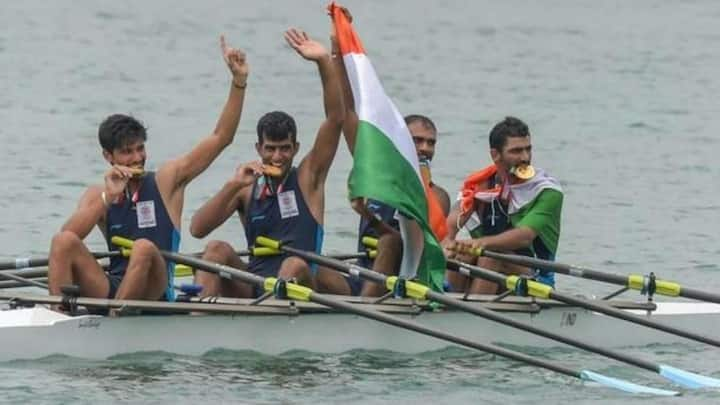 Indian rowers won a gold and two bronze medals in an incredible start to the sixth day of competitions at the 18th Asian Games in Palembang, making up for the disappointment in the days gone by. The team comprising Sawarn Singh, Dattu Bhokanal, Om Prakash and Sukhmeet Singh clocked 6:17.13 to win the gold medal in Men's Quadruple Sculls. Here are more details.
Indonesia, Thailand were placed second, third respectively
Hosts Indonesia (6:20.58) and Thailand (6:22.41) were placed second and third respectively in the Quadruple Sculls.
Rohit Kumar, Bhagwan Singh win bronze in Lightweight Double Sculls
India also bagged two bronze medals in sport through Rohit Kumar and Bhagwan Singh in Lightweight Double Sculls after Dushyant started the day with a third-place finish in Lightweight Single Sculls. Rohit and Bhagwan clocked 7:04.61 to win bronze. Japan's Miyaura Masayuki and Takeda Masahiro won the gold with a timing of 7:01.70 while Koreans Kim Byunghoon and Lee Minhyuk (7:03.22) bagged silver.
Dushyant Chauhan wins bronze in Men's Lightweight Single Sculls
Earlier, Dushyant Chauhan won the country its first rowing medal, claiming a bronze in Men's Lightweight Single Sculls. Korea's Hyunsu Park and Hong Kong's Chun Gun Chiu won gold and silver medals respectively. Dushyant, who was declared the best rower in 2013 National Championships, finished third on the podium with a timing of 7.18.76 as India enjoyed a good beginning on the sixth day.