Ranking the best NBA matches of past 10 seasons
Ranking the best NBA matches of past 10 seasons
Sep 21, 2019, 05:12 pm
3 min read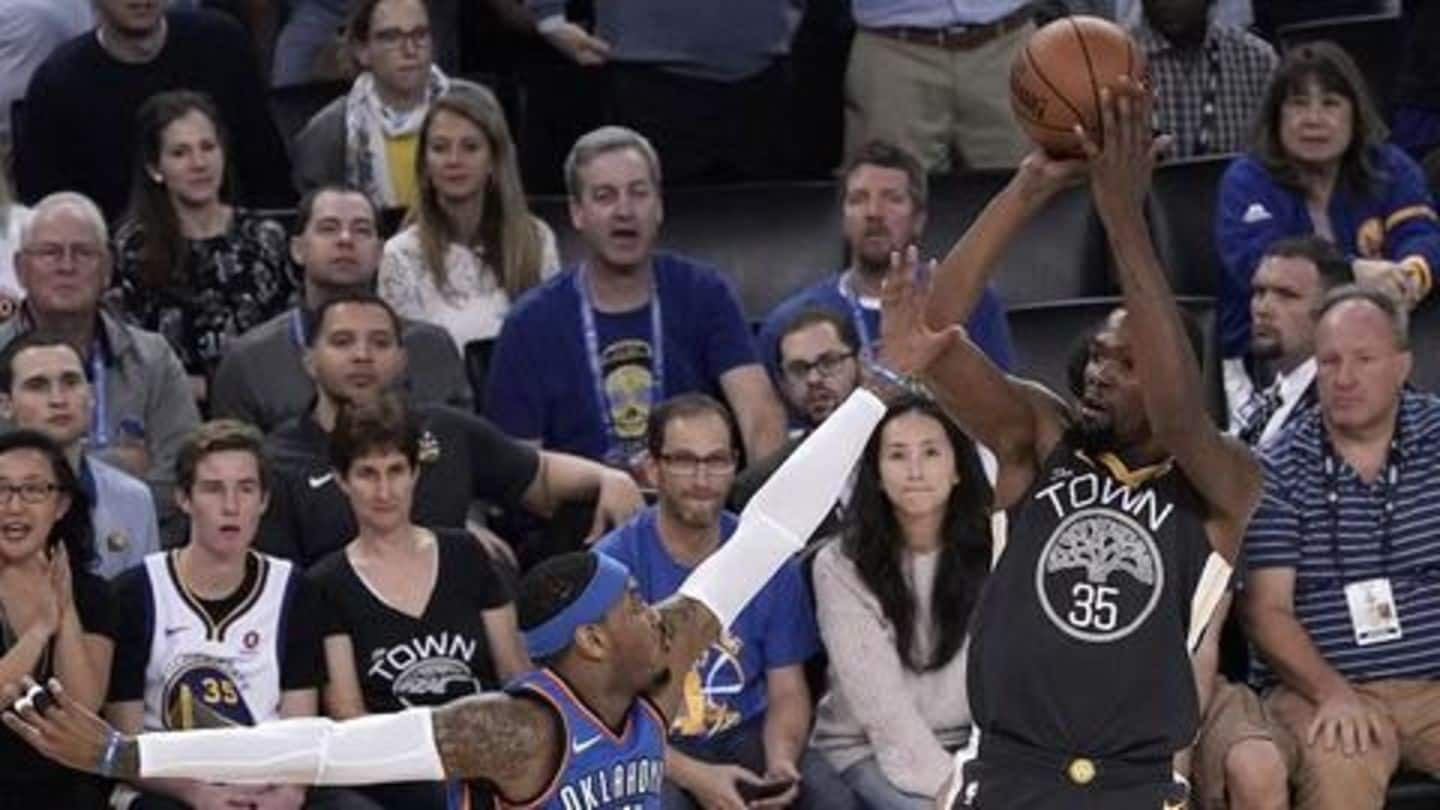 The National Basketball Association (NBA) never fails to thrill fans with the most unique basketball action in the globe. Consequently, it manages to draw millions of fans every single season and continues to grow even bigger with each passing season. Meanwhile, the competition has increased since the past decade, as we take a look at the best matches in the past 10 seasons.
Warriors vs Thunder (2016)
Golden State Warriors strive in a 100-point thriller
In May 2016, as Golden State Warriors were up against Oklahoma City Thunder in the Western Conference finals, it was their star player Klay Thompson who stole the show. Inspired by Stephen Curry, Thompson showed great length and athleticism, along with nice dribbles past Kevin Durant and Russell Westbrook, as Warriors thumped Thunder 108-101. Interestingly, Durant moved to Warriors next season, changing their complexion.
Cavaliers vs Warriors (2016)
Cleveland Cavaliers win their first championship in style
Golden State Warriors already had the 2016 championship in their pocket, as they were leading 3-1. Nonetheless, Lebron James had some other plans, as he ensured an epic comeback for Cleveland Cavaliers in the next two. Meanwhile, the seventh game saw James and Kyrie Irving, scoring the match-winning three-pointer to win 93-89, as the Warriors were left shocked in pursuit of their fifth championship.
Ray Allen's magic ensures Miami Heat go for Game 7
In June 2013, as San Antonio Spurs were up against Miami Heat in a nail-biting Game 6 of the finals. With barely seconds left, Ray Allen produced a magical corner three-pointer for overtime. Meanwhile, another thrilling overtime saw Chris Bosch coming up with a strong defense to block Danny Green's last-second shot attempt to win 103-100, as the series went to the seventh game.
Kobe Bryant pulls off a stunner against Boston Celtics
The Game 7 of the 2010 finals between Boston Celtics and Los Angeles Lakers was one for the ages. It was Kobe Bryant's 23 points which inspired Lakers to make a dramatic comeback in the fourth quarter to win 83-79, despite trailing by a big margin. While Bryant won his fifth NBA title, it was the 11th title for coach Phil Jackson.
Durant and Westbrook ensure insane Thunder win
The most insane match of all came in October 2015, when Thunder took on Orlando Magic in a regular-season game. While the match was again an intense 100-point thriller, what stole the show was Durant and Westbrooks' classic gameplay. Both ensured 91 points for Thunder, as Orlando could not come up with their ultimate magic. With a double-overtime, Thunder stole the win 139-136.