CSA announces fixtures for 2019-20 home season: Details here
CSA announces fixtures for 2019-20 home season: Details here
May 24, 2019, 07:32 pm
3 min read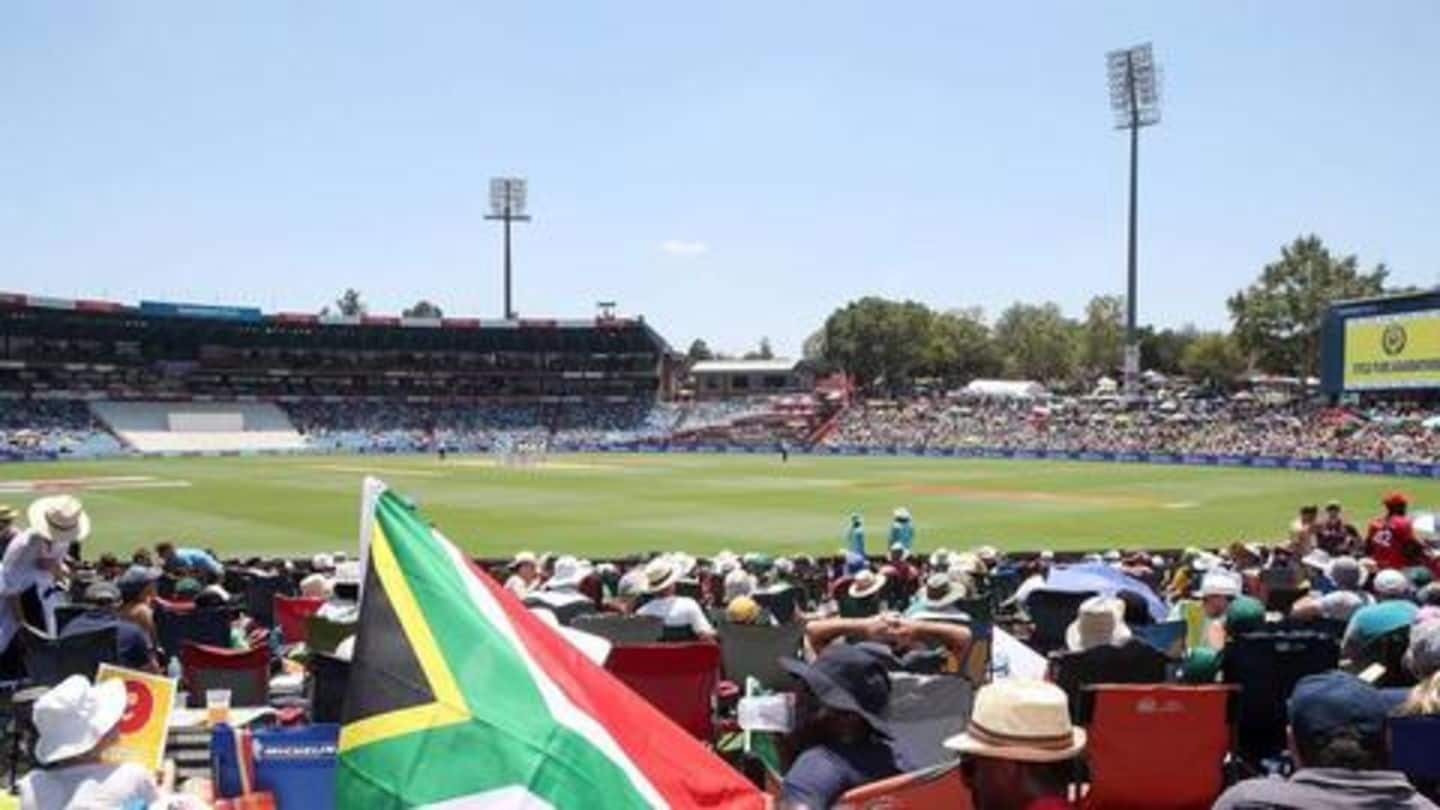 Cricket South Africa has announced the dates and venues for the upcoming 2019-20 home season, while Centurion was retained as the host of the Boxing Day Test. The season would see two nations touring, as England would be coming for a full series, involving all formats, while Australia would tour later for just white-ball series. The season runs from December 26 to March 7.
England start proceedings with Boxing Day Test
The season begins with the Boxing Day Test against England, followed by the second Test in Cape Town. The third and fourth Test would be played in Port Elizabeth and Johannesburg, respectively. The Tests would be followed by three ODIs from February 4 to 9, and three T20Is between February 12 to 16. England would also be playing four warm-ups during the tour.
Australia to focus on limited-overs campaign only
The tour would be followed by Australians arriving for ODIs and T20Is. As they arrive in late February, they would start with three T20Is, while the tour ends with three ODIs between February 29 to March 7. The final ODI would be played at Senwes Park in Potchefstroom, which would be Australia's first visit to the venue since 2003 World Cup.
CSA expects quality entertainment and action for Proteas cricket fans
CSA chief executive Thabang Moroe is thrilled with the two action-packed series, as he expects quality entertainment for the South African cricketing fans. Meanwhile, the focus would be on the Test series, since it would be their first home series of the ICC World Test Championship. Also, CSA is reportedly working with SA Tourism around the Test venues to boost the South African economy.
South Africa to focus on ICC World T20 2020
"The two KFC T20 international series take on extra relevance as we start our preparation for the ICC Men's World T20 to be played in Australia in October and November next year," Moroe further asserted.
Centurion awaits English challenge on Boxing Day
Fixtures vs England: Dec 26-30: 1st Test, Centurion Jan 3-8: 2nd Test, Cape Town Jan 16-20: 3rd Test, Port Elizabeth Jan 24-28: 4th Test, Johannesburg Feb 4: 1st ODI, Cape Town Feb 7: 2nd ODI, Durban Feb 9: 3rd ODI, Johannesburg Feb 12: 1st T20I, East London Feb 14: 2nd T20I, Durban Feb 16: 3rd T20I, Centurion
Australia travel to Potchefstroom after 17 years
Fixtures vs Australia: Feb 21 - 1st T20I, Bidvest Wanderers, Johannesburg Feb 23 - 2nd T20I, St George's Park, Port Elizabeth Feb 26 - 3rd T20I, PPC Newlands, Cape Town Feb 29 - 1st ODI, Eurolux Park, Paarl Mar 4 - 2nd ODI, Mangaung Oval, Bloemfontein Mar 7 - 3rd ODI, Senwes Park, Potchefstroom