Diego Maradona wants to fix Manchester United
Diego Maradona wants to fix Manchester United
Jun 06, 2019, 07:04 pm
3 min read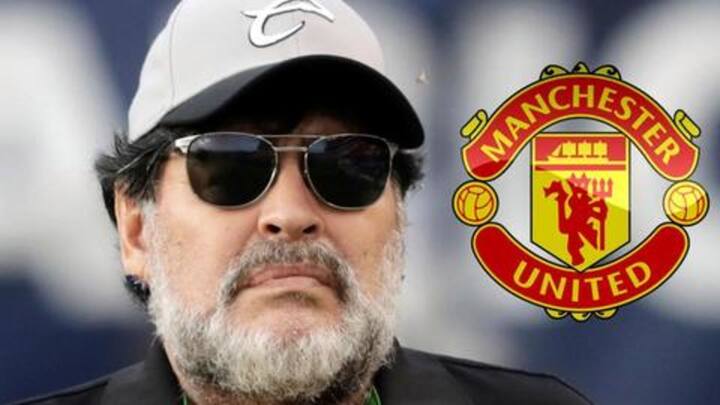 Manchester United have endured one of the toughest seasons in the post-Ferguson era. With new manager Ole Gunnar Solskjaer struggling to get things right at the club, critics have already started suggesting that the club should find a new manager. Meanwhile, Argentine legend Diego Maradona said that he would be interested to fix Manchester United. Here is more on what he said.
Maradona claims he is the man for United's managerial job
"If Manchester [United] need a coach, I'm the man to do it. I know they sell lots of shirts around the world, but they need to win trophies, too. I can do that for them," Maradona was quoted as saying.
Maradona used to admire United at one point
Maradona admitted that at a point, United used to be his favorite club, owing to a number of great players they produced, and especially because of Sir Alex Ferguson. "But now, I have to say Man City. I know you shouldn't change like that, but it's because of Kun [Aguero]. We speak a lot and he plays in a very good team," he added.
Maradona lashes out at Paul Pogba
Maradona further presented some firm views on United, while he mentioned the atmosphere created at Old Trafford by the beautiful fans. "I played at Old Trafford [in the 1983/84 Cup Winners' Cup quarter-final]. What noise, like La Bombonera," he said again. He loves Ander Herrera, but lashed out at Paul Pogba for not working hard enough.
Maradona has a poor record as manager
Talking about the legend's records as a manager, they are not at all promising. He has managed six teams to date in 103 games, and won only 47, with a win percentage of 45.6. While his best stint was with Argentina, where he had a win percentage of 75, but the team performed miserably in the 2010 FIFA World Cup.
Maradona yet to win a silverware as manager
Maradona did not yet win a major silverware with any of the teams he managed. Also, he has the best win percentage of 60 with his current club, Dorados FC, among the clubs he has managed to date.
Maradona would literally struggle as manager at United
Going by the stats, it is almost convincing that he is yet to click as a manager entirely. While he may have been a good player, and critics might believe he could change the fortunes of United, the author is strictly against Maradona getting the reigns of the club. Further, it looks unlikely that United would take this offer seriously.