Tennis star Dimitrov tests positive for COVID-19, Adria Tour canceled
Tennis star Dimitrov tests positive for COVID-19, Adria Tour canceled
Jun 22, 2020, 11:48 am
3 min read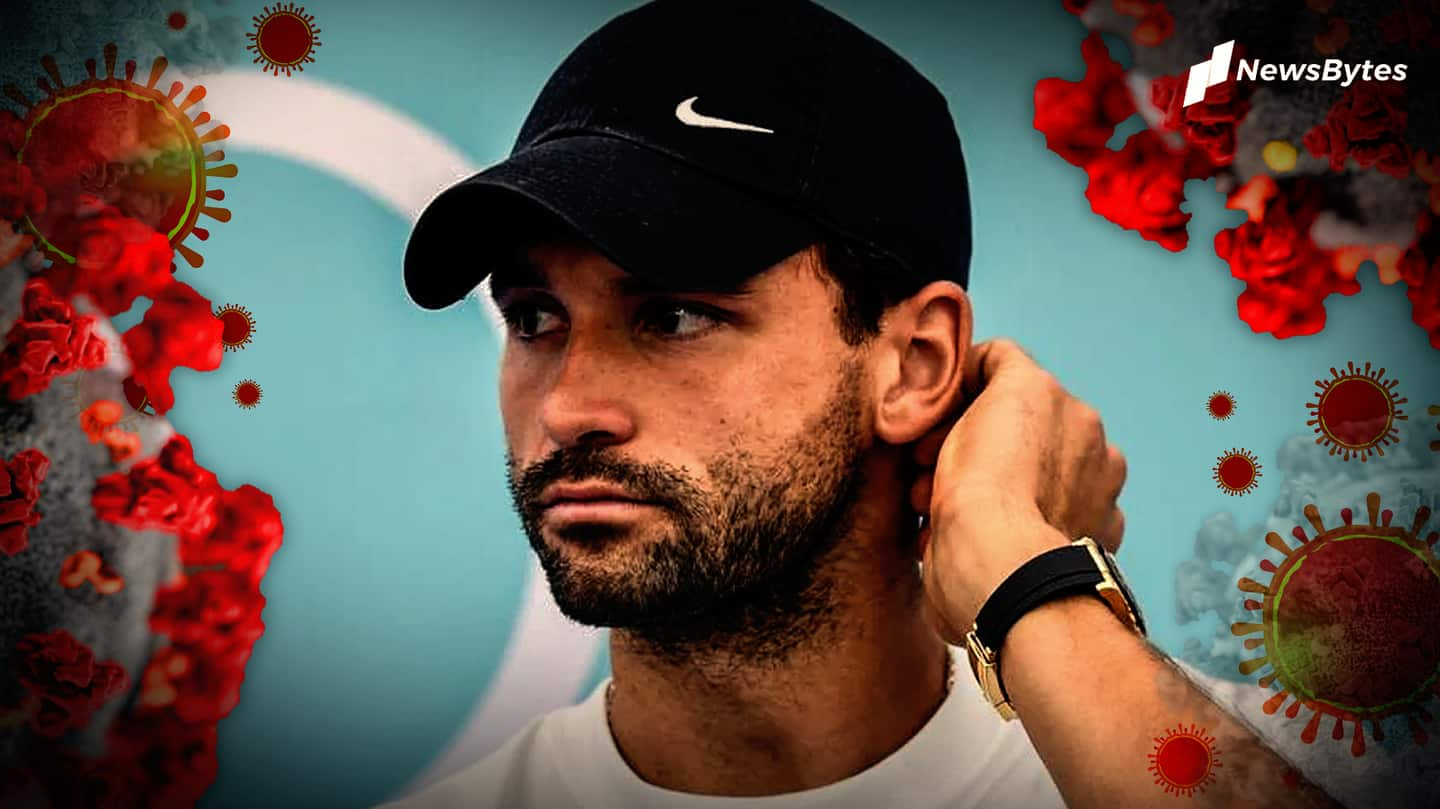 Tennis player Grigor Dimitrov has tested positive for COVID-19, leading to the cancelation of the Adria Tour exhibition event in Croatia. The world number 19 took to Instagram for sharing the news. Notably, top-ranked Novak Djokovic was also due to play in the final. Dimitrov's announcement comes a week after New York Governor Andrew Cuomo gave a go-ahead to US Open. Here is more.
Here is what Dimitrov wrote on Instagram
"I want to reach out and let my fans know that I tested positive back in Monaco for COVID-19. I want to make sure anyone who has been in contact with me during these past days gets tested and takes the necessary precautions," Dimitrov wrote.
Dimitrov's official post on Instagram
Dimitrov featured in the match against Borna Ćorić
Last week, Dimitrov featured in the Serbia leg of the Adria Tour exhibition event, organized by Djokovic. The Bulgarian played a match against Borna Ćorić, on Saturday, in the second leg of the exhibition series at the Adriatic resort of Zadar. Following the match, he complained of fatigue. According to his post, Dimitrov was tested in Monaco.
Djokovic was set to play the final
The event took place with minimal social distancing before packed stands in Belgrade, the Serbian capital. Reportedly, the Serbian government lifted most virus restrictions last month despite a number of new cases being registered. World number one Djokovic was due to play Russia's Andrey Rublev in the final. The likes of Dominic Thiem and Alexander Zverev also participated in the event.
The officials have not shown symptoms
Event director Djordje Djokovic expressed discontent and informed no official involved in the organization has shown any symptoms. "We are really sorry, we tried our best to respect all measures, and we did respect all measures imposed by the governments of Serbia and Croatia," he said. "I have already contacted all players of the Adria Tour, their families, all of the volunteer."
ATP tour still remains suspended
The Adria Tour marked the return of men's tennis, in the wake of coronavirus pandemic. While the ATP Tour remains suspended till July 31, Djokovic, along with other players, agreed to participate in the exhibition matches.
Will the US Open go ahead as planned?
A serious threat of suspension looms over the US Open, with Dimitrov contracting the deadly virus. Last week, the New York Governor confirmed the Grand Slam event will run as per the original schedule (August 31-September 13). However, marquee players Novak Djokovic, Rafael Nadal and Nick Kyrgios expressed reservations on the decision. It remains to be seen if the organizers stall the major event.