#IndiaInEngland: 4th Test Day 3- Key discussion points
#IndiaInEngland: 4th Test Day 3- Key discussion points
Sep 02, 2018, 11:36 am
2 min read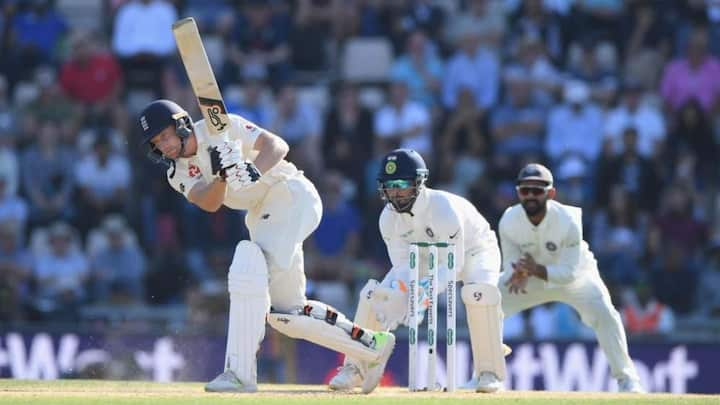 England will be the happier team, taking the field on Sunday, after what they achieved on Day 3. The hosts ended the day at 260/8 and have the lead of 233. Sam Curran, once again, took charge and now England will believe that with him in the middle, they can seek further advantage. Here are the discussion points.
England's lower middle order a thorn in India's flesh
Just like the first innings, the England lower order batsmen took charge of proceedings on Day 3. England were pegged back at 122/5 at one stage, but the duo of Ben Stokes (30) and Jos Buttler (69) frustrated the Indians with a 56-run stand. Jos alongside Sam Curran (37*) then added a 55-run partnership. England ended at 260/8 and have the cushion now.
Buttler turning out to be a classy Test player
Everyone knows about Buttler's heroics in ODIs and the aggression he brings to the table. The versatile batsman has now got that slice of form into Tests as well. Ever since the Pakistan series, he has been among runs. After a ton in the third Test, he showed his prowess with a counter attacking 69. He blunted India's attack and charged like a bull.
Curran the instrument for England's charge
The 20-year-old smashed 78 in the first innings and frustrated India all way. The problem for India have been their inability to get the lower order quickly. The reason for this is the application of Curran. He hardly sets a foot wrong and, even on Day 3, he came in and scored freely. With him remaining unbeaten, England might set a massive target now.
Ashwin disappoints and so does Kohli's captaincy
Ashwin bowled a bulk of overs for India on a pitch that was dry and assisted spin. But the premier off-spinner wasn't consistent and didn't pose many problems. He tried too many things and ended with just a solitary wicket. Why wasn't Shami given more overs? Kohli's captaincy was questionable yesterday. Shami picked crucial wickets during the day and could have created chances.
Shami was India's best player all day
Shami bowled well and got three vital wickets that included Adil Rashid on the last ball of the day. He brought India back into the game just when Joe Root looked settled with a stupendous direct hit. Shami made the ball speak.