Formula 1: Ferrari launch new SF21 car
Formula 1: Ferrari launch new SF21 car
Mar 12, 2021, 01:23 pm
2 min read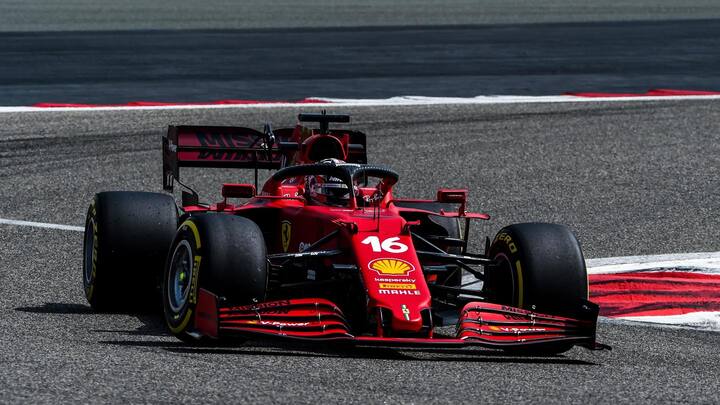 Ferrari have unveiled their new car for the 2021 season as they hope to revive the fortunes after suffering their worst season in 40 years in 2020. Maranello Ferrari unveiled its new car online on Wednesday, becoming the last of the 10 Formula One teams to present their 2021 editions. The car is named SF21. Here are the details.
Key details about the car
The car has a new power unit and a bright green sponsor's logo on the engine cover stands out on the otherwise red car. Team boss Mattia Binotto said the revised car was more efficient and the new engine is more powerful. This is after the straight-line speed proved their biggest weakness last year.
Ferrari had a dismal 2020 campaign
Ferrari had a dismal 2020 campaign and finished sixth, collecting just 131 points. They were 50 points behind fifth-placed Renault (181). Notably, Ferrari managed just three podium finishes in 2020. They failed to win a single race as well. Charles Leclerc finished eighth with just 98 points. Meanwhile, four-time F1 champion Sebastian Vettel had a disappointing 13th-placed finish. He collected 33 points.
Rules for teams regarding the cars in 2021
As per the BBC, all teams have been restricted in terms of the amount of changes they can make on their cars for 2021 season. This is associated with cost-saving reasons amid the pandemic. Bodywork and aerodynamic changes are largely free, however, development of the mechanical and structural parts of the car such as suspension and chassis have been limited to two 'tokens'.
Last year was a big disappointment, says Binotto
According to the BBC, Ferrari have concentrated on the rear of the car in search of performance. "Last year was a big disappointment. We know we cannot repeat such a bad result," Binotto said. "We know we need to do better in 2021."
SF21: Technical specifications of the car
Power unit 065/6 Capacity 1600 cc Max RPM 15,000 Supercharging Single turbo Fuel flow 100 kg/hr max Configuration V6 90° Bore 80 mm Stroke 53 mm Valves 4 per cylinder Injection 500 bar - direct 13" front and rear wheels Overall weight including water, oil and driver: 752 kg
SF21 developed in all permitted areas
According to Ferrari, the SF21 was developed in all the permitted areas, from the engine, which is completely new. The aerodynamics at the rear end sees the two development tokens allowed as per the regulations. The livery blends two shades of red for the car.