Asian Games 2018: Indian women's team claims silver in squash
Asian Games 2018: Indian women's team claims silver in squash
Sep 01, 2018, 07:17 pm
2 min read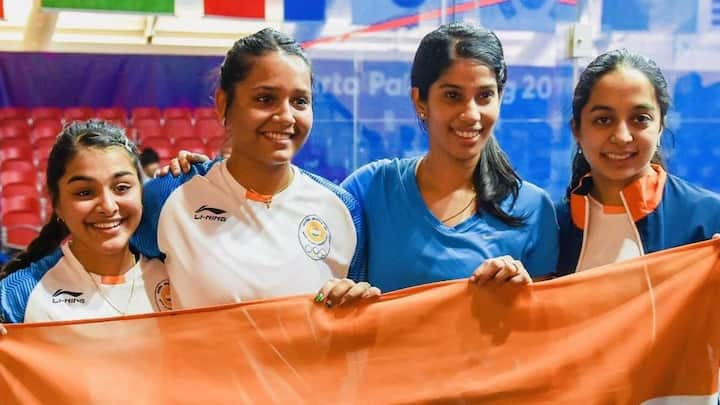 The Indian women's squash team finished second best to a clinical Hong Kong in the final, winning a successive silver at the 18th Asian Games in Jakarta, Indonesia today. Sunayna Kuruvilla and India's No. 1 Joshna Chinappa lost their respective singles as the team suffered its second defeat against Hong Kong in a space of three days. Here's more.
This was Indian squash team's best-ever performance at Asian Games
With a runners-up finish, Indian women's team equaled their best ever performance at the Games. The Indian contingent ended with five medals overall including the women's team silver, men's team bronze, and three bronze medals in the individual event.
Kuruvilla was warned multiple times not to obstruct her opponent
The first singles today was between the World No. 88 Kuruvilla taking on 51st ranked Tze Lok Ho. Not the swiftest of movers around the court, they often came in way of each other, leading to plenty of let calls and strokes which were mostly awarded to the Hong Kong player. The umpire even warned Kuruvilla multiple times to not obstruct her opponent.
Kuruvilla and Ho had a nail biting match
The first game was evenly contested while Ho ran away with the second one to make it 2-0. The third one was fiercely fought. Kuruvilla played stunningly well with 10-9 until Ho made it 10-10. Kuruvilla won the next two points to make it 1-2. Kuruvilla, however, trailed 3-9 in the fourth game and couldn't produce another fightback losing 8-11, 6-11, 12-10, 3-11.
Chinappa sadly didn't play upto her title of India's No.1
In the next, Chinappa faced her familiar foe Annie. The World No. 11 had thrashed the 16th-ranked Indian on Thursday. Chinappa was outplayed in the first game. The second was much more competitive but Annie's relentless attack paid off as she took a 2-0 lead. Annie raced to a 10-2 lead in the third and the game was over. Chinappa lost 3-11, 9-11, 5-11.
Nevertheless, the team played exceedingly well without a proper coach
For the record, Indian players, who were unhappy with regular coach Cyrus Poncha and had demanded a high standard foreign coach, played without a proper coach in the competition and relied on each other for tactical and technical advice.