Wimbledon: Amazing facts about the grass-court Grand Slam
Wimbledon: Amazing facts about the grass-court Grand Slam
Jun 30, 2018, 07:22 pm
2 min read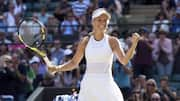 2018 Wimbledon is set to begin from Monday as the fans gear for the third Grand Slam of the year. The grass event sees 20-time Slam winner Roger Federer being seeded as the men's number one player. 2018 French Open winner Simona Halep will start as the top seed in the women's section. Here we look at some amazing facts about Wimbledon.
Historical facts about the Grand Slam
Wimbledon is the oldest Grand Slam event in the world. It was established at the All England Croquet and Lawn Tennis Club, way back in 1877. It is the only Grand Slam which is played on grass. The courts are sown with 100% perennial ryegrass. During World War II, a bomb hit the center ground, which led to massive destruction.
Individual facts about players at Wimbledon
Martina Navratilova has won the most number of women's singles Wimbledon titles (9). Roger Federer has won the most singles titles in the men's section (8). Martina Hingis is the youngest player ever to win a Wimbledon title. She won the women's doubles at the age of 15 years, 282 days. Serena Williams is the current leader in women's singles titles at Wimbledon (7).
Longest ever match happened at the Wimbledon
In 2010, John Isner defeated Nicolas Mahut in a tie that lasted 11 hours and five minutes spread over three days. The final set took 138 games as Isner won 70-68. The 6-4, 3-6, 6-7, 7-6, 70-68 win is the longest ever match at Wimbledon.
On court facts about Wimbledon
Wimbledon has a special dress code as the players are only allowed to wear 'white'. The balls used in Wimbledon are replaced after every 7-9 games. Balls, which aren't used, are kept in refrigerated container to keep them in perfect condition. About 250 ball boys and girls keep track of all the fast-moving tennis balls. They undergo intense training session for months.